German Chancellor Angela Merkel and French President Emmanuel Macron on Friday discussed the prospect of eurozone reforms aimed at strengthening the single currency bloc and deepening cooperation.
"Our ambitions cannot be realized alone. I have said it already several times, they need to be accompanied by Germany's ambitions," said Macron, who assumed office last year after running on a vehemently pro-European campaign.
Read more: Is Emmanuel Macron Europe's new Angela Merkel?
Both leaders were quick to note that while Friday's talks would not include technical discussions, they said the priority was to agree on what they expect from the reforms.
One of the proposals put forth by Macron is the creation of a single finance minister post that would be in charge of coordinating and executing eurozone policy. Another is to transform the eurozone's €500-billion ($611-billion) rescue fund into a European monetary fund aimed at stabilizing member states experiencing economic hardships.
"We still have to define the details," Macron said. "That will be the subject of our discussions today and in the weeks and months to come, to define a path that will take us in that direction."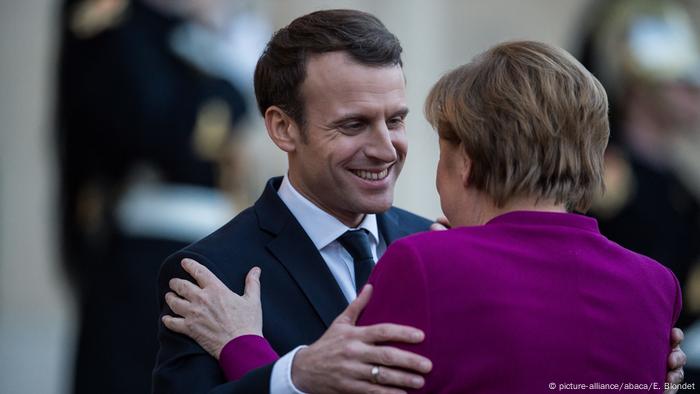 Without Germany's support, it would be practically impossible for Macron to implement his EU and eurozone reforms
Macron wades into German politics
The French president also urged Germany's Social Democrats (SPD) to form a stable government with Merkel's Christian Democratic Union (CDU) and its Bavarian sister party, the Christian Social Union (CSU).
Merkel has struggled to put together a government since her conservatives fell short of an overall majority to rule in last year's general elections.
"I have noted that the SPD had shown a great ambition for Europe, too, and that the preliminary agreement text which will be submitted to a vote on Sunday bears a genuine European tradition."
Read more: Emmanuel Macron's EU vision meets Angela Merkel's realities
Merkel also struck a confident note that the SPD would back forming a "grand coalition" with her conservatives, saying that Europe needed political stability in the EU's largest economy.
"Germany and France can and should take the lead on many questions, (related to Europe) and therefore I understand that France is waiting till we have a new government," Merkel said.
ls/kms (Reuters, AFP, dpa)