In an interview with Russian state newspaper "Rossijskaja Gazeta" on Thursday, former leader of the Soviet Union, Mikhail Gorbachev, addressed the Ukraine crisis and demanded the West to bring an end to sanctions against Russia.
Often regarded as one of the "fathers of German reunification," he also told the Russian Interfax news agency that he hoped the Asia-Europe Meeting (ASEM), which opened in the Italian city of Milan on Thursday, would begin plans to lift Western sanctions against Russia.
Despite describing the ceasefire between government forces and pro-Russian separatists in the east-Ukrainian region of Donetsk as "very fragile," Gorbachev said Thursday's planned negotiations between Russian President Vladimir Putin, German Chancellor Angela Merkel, and their Ukrainian counterpart Petro Poroshenko as "a very positive step."
'New Cold War'
Referring to the countermeasures imposed by Russia against the newest sanctions from the West, however, 83-year-old Gorbachev said the "partners are now in line" and accused the West of not taking Russia's "legitimate interests" into consideration.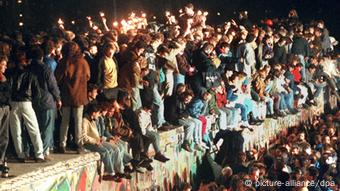 Mikhail Gorbachev is hailed as one of the fathers of German reunification
The winner of the 1990 Nobel Peace Prize also described NATO's expansion into the east as "a mistake and a breach" of the spirit of agreements which were agreed between the West and Russia at the end of the Cold War some 23 years ago. "No one can embark on a new Cold War," warned the Nobel Peace Prize winner.
Less than a month before the 25th anniversary of the fall of the Berlin Wall on November 9, Gorbachev also addressed Kiev's controversial plans to secure the Ukraine-Russia border with a 2,000 kilometer long fixture. "I'm against any form of wall," he said.
Reflecting on his decision to enable the "Peaceful Revolution" to unfold in former East Germany in the summer and autumn of 1989, Gorbachev said, "Today I'm convinced that it was the right decision."
ksb/sb (dpa)