The Economist Intelligence Unit (EIU) has ranked Frankfurt, Hamburg, Berlin, Munich and Düsseldorf in the top 30 of its latest ranking of global livability, which was released on Tuesday.
Frankfurt ranked the highest at 12th, with the EIU, part of UK news magazine The Economist, giving it a livability score of 96.0 out of 100. None of the German cities received a rating of lower than 93.0, which was the score Düsseldorf received, and all five were among the 15 best-ranked European cities.
The survey, which measures "challenges to lifestyle across 140 cities around the world," ranked Vienna the highest with a rating of 99.1. It marks the first time the Austrian capital has topped the list, displacing Melbourne, which topped the list for the last seven years.
Australia and Canada had the most cities in the top 10 — Melbourne, Sydney and Adelaide for Australia and Calgary, Vancouver and Toronto for Canada. Japan also had multiple cities, Osaka and Tokyo, among the 10 best.
Copenhagen, which ranked ninth, was the only other European city in the top 10.
Drop for Hamburg
Hamburg was omitted from the top 10 for the first time since 2015, falling to 18th despite the fact its livability score, 95.0, hadn't changed. Auckland (eighth to 12th), Perth (seventh to 14th) and Helsinki (ninth to 16th) were the other cities that dropped in the rankings despite a minimal score change.
"Changes in livability elsewhere can therefore have a significant impact on the rankings of individual cities," the survey said in its findings.
The survey rates cities worldwide based on 30 qualitative and quantitative criteria, which fall into five general categories: Stability, health care, culture and environment, education, and infrastructure.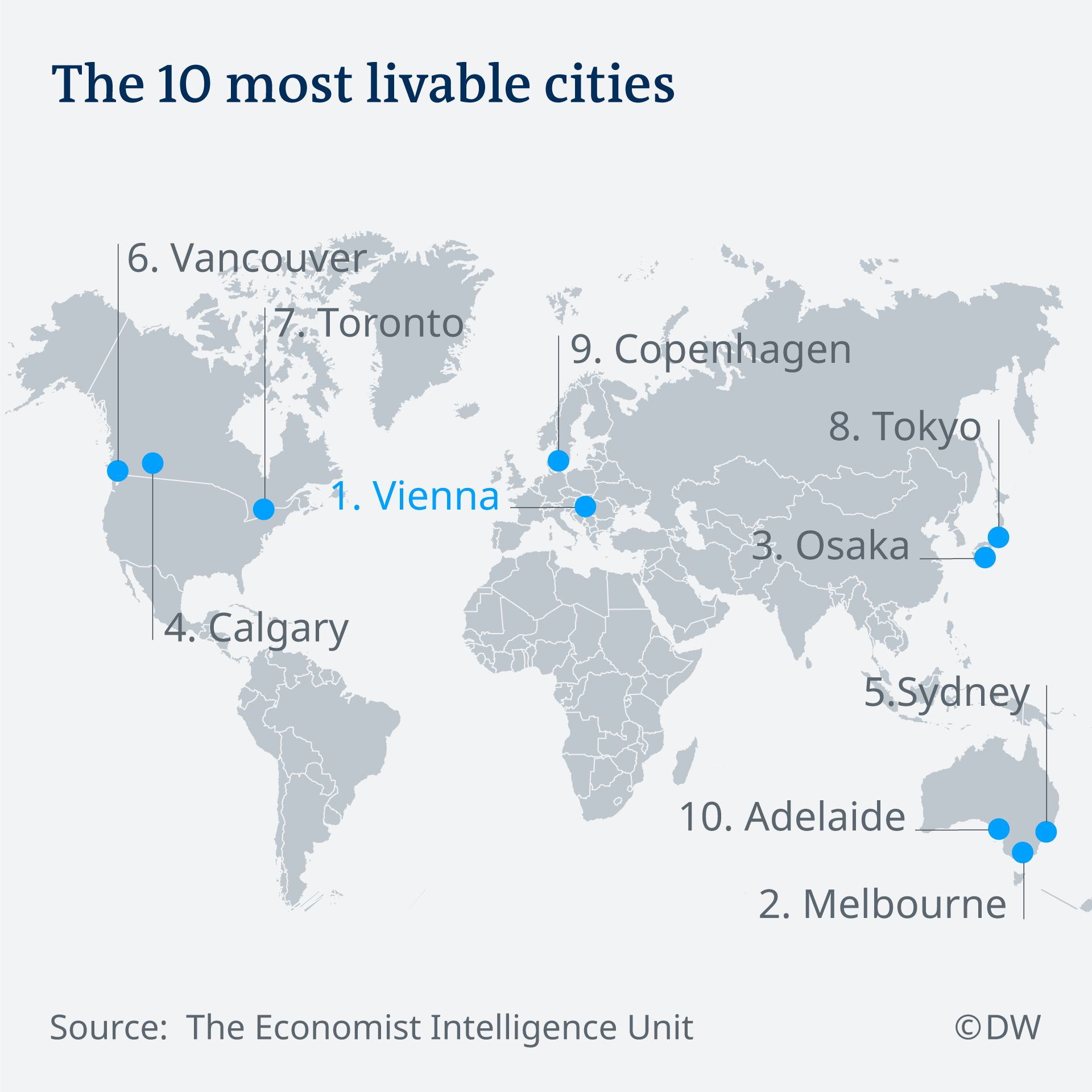 Lower terrorism threats
Manchester (35th), Paris (19th), and Copenhagen (ninth) experienced the biggest rise in the rankings among European cities, jumping 16, 13 and 12 places respectively.
The survey attributed the rise of Manchester and Paris to resilience after recent terrorist attacks, though the stability scores for both cities are among the lowest in Western Europe.
"Although nationalism continues to be on the rise, cities in Europe have seen levels of unrest generally stabilize as social conflict arising from the migration crisis, Brexit or the Catalonian independence referendum have subsided," Roxana Slavcheva, the editor of the survey, said in a statement.
"What is more, over the past year, there have been notable improvements in security in several western European cities resulting in no city in the region registering a fall in livability this year."