Former German Chancellor Gerhard Schröder met with a group of former "comfort women" in South Korea on Monday, September 11, and expressed regret that Japan has so far failed to apologize for forcing them to serve as prostitutes for Japanese troops in brothels before and during World War II.
Schröder's comments have been strongly criticized by conservatives in Japan, who claim that he has been taken in by "lies" spread by the South Korean government to damage Japan's international reputation.
Schröder, who served as chancellor of Germany from 1998 to 2005, visited the "House of Sharing" shelter for former comfort women on the outskirts of Seoul and met four of the survivors. South Korea claims that 200,000 young women were forcibly taken to serve as sex slaves before the war ended in 1945. Only 35 are still living today.
"It is regrettable that Japan has not taken courage to speak of the violence [it committed] or to talk to those who were sacrificed by the brutality of war," South Korea's Yonhap news quoted Schröder as saying during his visit to the shelter.
'Undeserved violence'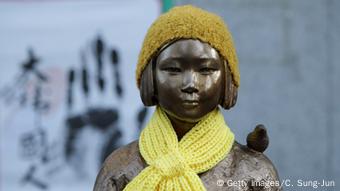 A statue of a girl symbolizing "comfort women" in front of Japan's embassy in Seoul
"The undeserved violence inflicted on these ladies is irreversible," Schröder said after speaking with four of the women, including Lee Ok-sun and Lee Yong-soo, both in their 90s.
"I am saddened to meet with such people," Schroeder added. "The world needs to know this painful history."
The former chancellor also used the occasion to call on Japan to admit its guilt and apologize for forcing the women into prostitution, adding that he supports the South Korean government's proposal to recommend the victims as candidates for the Nobel Peace Prize.
But Schröder's comments have provoked a furious response from conservatives in Japan, despite his visit to South Korea being completely overlooked by Japanese media.
"I have no idea why he is becoming involved in this matter, and it is obvious that he has no real understanding of history," Hiromichi Moteki, the acting chairman of the right-wing Society for the Dissemination of Historical Fact, told DW.
"He has been told nothing but lies by the Koreans, because there is no evidence at all to support their claims that these women were forced to become comfort women," he added.
Read more: Japan, South Korea inch toward better bilateral ties
Read more: South Korean monk self-immolates over 'comfort women' deal
Claims of 'no evidence'
"There is not a single case of an eyewitness coming forward to provide evidence of coercion in these cases," said Moteki. "We are not denying that there were comfort women, but these were women who chose their occupation at that time and it was not illegal. But there is no evidence to support the claim that the Japanese government or military forced them to become comfort women."
"Basically, Schroeder has been told lies and he is repeating them," Moteki said.
It is Moteki's position that South Korea - and particularly the new left-leaning government of President Moon Jae-in - wants to increase its international standing by portraying Japan as a "criminal country" and that it is developing relationships with senior political and social leaders from around the world to move that aim forward.
The Japanese government has made no official comment on the former German leader's remarks in Seoul, but Tokyo is locked in a dispute with Moon's administration over the issue of comfort women.
The two governments signed an agreement in 2015, under which Japan apologized and paid a lump sum of 1 billion Japanese yen (€8.7 million), which would be disbursed to the surviving women as compensation. Under the terms of the agreement, a final line was drawn under the matter and the two nations agreed to work on improving their long-term bilateral ties.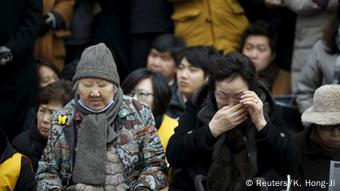 Former "comfort women" take part in a weekly protest in front of the Japanese embassy in Seoul
Agreement under review
Moon's government, however, has said it is reviewing the agreement, which was signed by his predecessor, and is expected to scrap the pact.
"South Korean leftists have been busy trying to make use of foreign dignitaries to promote their causes and to disseminate false stories about the comfort women," Yoichi Shimada, a professor of international relations at Fukui Prefectural University, told DW.
"This is just another example of their tactics and it is not completely new," he added.
"I am not particularly worried about European politicians becoming involved in this issue, because they have relatively little influence on a global scale."
Shimada added that he is more concerned with China using the narrative of comfort women to drive a wedge between the US and Japan.
"Beijing has invited Ivanka Trump to visit and I am sure that they will try to convince her of their view of the comfort women and Japan's actions," he said. "Of course, these are all lies, but they will lie and exaggerate the stories in the hope that Ivanka will then pass them on to her father."