Borussia Dortmund arrived in Baku for Match Day 3 of the UEFA Europa League without attacker Henrikh Mkhitaryan due to what the club described as "security concerns."
Mkhitaryan, who plays for the Armenian national team, was reportedly uncomfortable about the trip to Azerbaijan where he could have faced visa problems. Armenia and Azerbaijan remain technically at war over the disputed Nagorno-Karabakh region which is controlled by ethnic Armenians.
Despite signing a ceasefire agreement in 1994, the two countries have been involved in sporadic incidents of violence amid heightened diplomatic tensions.
"We have looked at the situation and there is so much tension that we have to look at the players' interest here," said Hans-Joachim Watze, Borussia Dortmund's CEO.
"You always have to look at safety concerns. If a player does not feel comfortable and has fear, we will obviously bear that in mind."
Mkhitaryan's loss will deprive Dortmund of their creative machine. The 26-year-old has been involved in 18 goals - 10 goals and eight assists - in 16 appearances this season in all competitions.
Dortmund coach Thomas Tuchel could use either Jonas Hofmann or Adnan Januzaj from the start, while Park Joo-Ho could continue at left-back as Marcel Schmelzer recovers from injury. Roman Weidenfeller is expected to start in goal again for Dortmund in the Europa League. After a draw in Greece, Dortmund have four points on the board from their first two games of the campaign.
Dortmund's opponents, Qabala, were formed in 2005 and finished third in Azerbaijan's top-flight last season. The club was previously managed by legendary Arsenal defender Tony Adams.
"The club is in an economic upturn in general," noted Watzke as the team departed for Baku. "Their first two games were really tight. If we give them a chance then we will have a hard time, but of course we are eager to win."
Schalke aim for clean sweep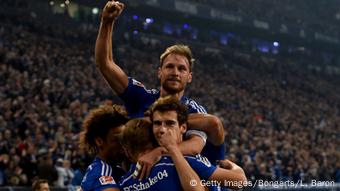 Höwedes started for the first time this season against Hertha after injury this summer
With two wins and seven goals on the board, Schalke are set on completing a clean sweep of their UEFA Europa League campaign - starting with the visit from Czech side Sparta Prague on Thursday.
Sparta, the most successful side in the Czech Republic, are without their manager, Zdenek Scasny due to a temporary UEFA ban.
After scoring a hat-trick on Match Day 2, Franco di Santo is expected to bein in the starting line-up at the Veltins Arena, in place of Klaas-Jan Huntelaar. The Dutch striker has missed training this week, although he is expected to be ready for Bundesliga action at the weekend.
The Royal Blues have a busy few days ahead of them, with Thursday's Europa League clash to be followed by a double-header against in-form Borussia Mönchengladbach - first in the Bundesliga on Sunday - then in the German Cup next Wednesday.
"It is certainly not easy," captain Benedikt Höwedes told the club's official website.
Elsewhere, Augsburg are looking to pick up their first Europa League point when they visit AZ Alkmaar. The Bavarians have lost both matches 3-1 - against Athletic Bilbao and Partizan Belgrade respectively.
"Alkmaar is a tough opponent," said head coach Markus Weinzierl. "They won at home against Bilbao and will want to push on to reach six points in the group."