The United Nations and the European Union are too "soft" on those countries accused of human rights abuses, said Human Rights Watch in its annual World Report.
Many governments, including EU member states, adopt approaches of "dialogue" and "cooperation" which do not generate any pressure for change, according to the non-governmental organization.
This method is "too often an excuse for doing nothing about human rights," said Kenneth Roth, the organization's executive director. "The EU's 'constructive dialogues' are the most egregious examples of this global trend," he said.
The EU was singled out for a rise in discrimination and intolerance against migrants, Muslims, Roma and other minority groups, as well as for inadequate access to asylum and abusive counterterrorism measures.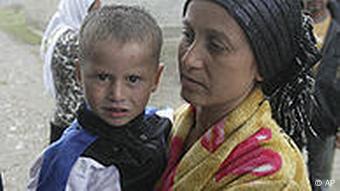 Discrimination against Roma in the EU needs to be addressed, said Human Rights Watch
"Respect for human rights at home needs to match the EU's rhetoric abroad," said HRW in a statement.
HRW's 649-page report was released on the same day as Brussels hosted controversial Uzbek President Islam Karimov, amid protests from campaigners. HRW called the EU's approach towards Uzbekistan and Turkmenistan "obsequious."
The NGO said the EU had lifted sanctions on Uzbekistan after security forces massacred hundreds in 2005 in the city of Andijan, even though the Uzbek government did not fulfill any of the criteria required for lifting the sanctions.
Failure with China and Africa
"Near-universal cowardice" marks efforts at confronting China's human rights record, while certain African autocrats such as Paul Kagame of Rwanda and Meles Zenawi of Ethipoia are given a "soft reaction."
The UN also came under fire for the Human Rights Council's "timid" response when aiming resolutions at a particular country.
"Dialogue and cooperation have their place, but the burden should be on the abusive government to show a genuine willingness to improve," said Roth.
World Report 2011 summarizes major human rights issues in more than 90 countries worldwide, and covers the period up to the end of November 2010.
Author: Catherine Bolsover
Editor: Nancy Isenson