The European Court for Human Rights on Friday ruled illegal the deportation of an asylum seeker from Belgium to Greece.
The Afghan national first entered the European Union in Greece but then traveled to Belgium to apply for asylum there. Under current EU regulations, asylum applications must be processed in the country of entry into the 27-nation bloc.
Yet the judges at Europe's top human rights court said that the appalling conditions in Greek refugee camps were inhumane and humiliating – and most importantly that Belgium was aware of those conditions but still sent the Afghan back.
The court ruling could mean that the European Union will have to rethink its entire asylum policy.
"This is a historic moment for the protection of Human Rights," Marei Pelzer of rights group ProAsyl told Deutsche Welle.
"The ruling will have fundamental consequences in so far as the EU can not simply pretend that the situation with regards to asylum seekers is the same in all EU member states. And it's crucial that refugees should not be forced to stay in Greece just because Greece happens to be the country where most of them arrive."
Almost 90 percent of all illegal border crossings into the EU take place via Greece. The country has repeatedly come under fire for appalling living conditions in its refugee camps.
Human rights groups have long been calling for a more coherent EU policy that would make all member countries responsible for asylum cases in the same way.
Appalling conditions in Greece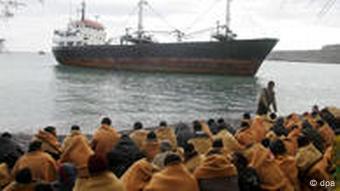 Refugees arrive in Greece across the sea or via the border with Turkey
The circumstances and procedures that refugees are exposed to in Greece are the worst in Europe, according to a recent report on asylum seekers by rights group Amnesty International.
The European Commission has also already proposed a reform to the current regulation in an effort to take some of the pressure off countries such as Greece, Italy and Malta, which see the main influx of refugees from outside the EU.
Germany has so far rejected the Commission's proposals for reform yet rights groups hope that the Strasbourg ruling will have Berlin rethink its position. But Reinhard Grindel, member of parliament for Chancellor Merkel's Christian Democrats insists the solution to the problem in Greece has to be fixed by Athens rather than by watering down EU regulations.
"All EU member states guarantee the international human rights standards," he told Deutsche Welle. "We do have one problem case, and that's Greece. However, what this means is not that we have to change EU rules but rather that Athens has to get its house in order."
"For Germany a change to the current EU regulations would be a catastrophe," he warned. "It would mean a flood of asylum seekers coming to Germany. And that's something that everyone who now calls for changes of EU rules has to realize."
And yet, to a certain extent, Germany has already changed its position. Berlin earlier this week announced that for one year it would stop sending back any refugees to Greece, because of what Interior Minister Thomas de Maiziere described as "appalling conditions" for refugees there.
Britain, Iceland, Norway and Sweden have also stopped sending refugees back to Greece.
Author: Andreas Illmer (dpa, AFP)
Editor: Nancy Isenson