The European Union will reinstate a travel ban on Belarus President Alexander Lukashenko failing the release of opponents rounded up in a crackdown, EU chief diplomat Catherine Ashton said Wednesday.
"The events which followed the elections in Belarus on 19 December have come as a shock to all of us," Ashton told the European Parliament in Strasbourg, France. "The time has come to act."
Ashton made the announcement ahead of a meeting of EU foreign ministers in Brussels at the end of January. Poland on Tuesday unilaterally slapped visa sanctions on Belarus officials involved in last month's post-election crackdown on government opponents.
Stefan Meister of the German Council on Foreign Relations (DGAP) told Deutsche Welle that while it is good that Poland is already putting pressure on the EU to act, the union needs to move together in this, preferably on two levels.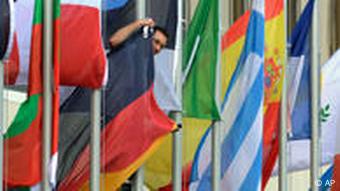 The EU is under pressure to act
"We need sanctions toward the regime, we have to show the regime that they are making big mistakes and they need to feel this," he said. "On the other hand, we need very low visa restrictions for the people, more financial and political support for civil society organizations and for the people around the candidates who are still in jail."
President Lukashenko won a fourth term in office in a December poll that international observers said was rigged. Tens of thousands of people protested on election night in Minsk. Authorities detained about 600 people, including most of the opposition candidates.
Risk of complete isolation
EU states condemned the crackdown and warned that Lukashenko risks complete isolation if it continues. The US is also exploring a range of possible economic, financial or travel sanctions against Belarus.
Hundreds of detainees have been released, but authorities are still holding some of the country's most prominent opposition activists. An EU request to visit detainees has been denied, and human rights advocates are increasingly concerned. The German government's top human rights official, Markus Löning, recently visited Minsk, and he, too, left empty-handed.
"We don't know anything about the state the prisoners are in," he said. "Their lawyers were last in touch with them on December 29."
New elections would have to be free and fair

Belarus dropped from list
The German foreign ministry this week summoned the Belarusian ambassador after a newspaper in Minsk had accused Germany and Poland of plotting to overthrow Lukashenko. Berlin will not send a representative to Lukashenko's inauguration, which is planned for Friday. Wolfgang Ischinger, head of the prestigious Munich Security Conference, has revoked Belarus from attending next month's annual meeting on defense issues.
There have been calls for new elections, but Stefan Meister of the DGAP said that is not as easy as it may sound. "Under which conditions - that is the key question," he said. "It wouldn't make sense for the same regime to organize new elections; polls would have to be independently organized to ensure free and democratic elections."
And there is another key factor in dealing with Belarus: Russia, which has in the past been very supportive of Lukashenko's regime. "Because of the isolation after the elections, Belarus depends much more on Russia," he said. "If we want to have a regime change, or if we want to influence Lukashenko, we need to talk to Russia."
Author: Dagmar Breitenbach (dpa, AP, AFP)
Editor: Rob Turner