The European Union's High Representative for Foreign Affairs, Catherine Ashton, met leading representatives of the Belarus opposition on Wednesday. Among them were family members of opposition candidates in the recent presidential elections who have been detained, as well as former presidential candidates and the first head of state of the country after its independence from the Soviet Union.
Ashton underlined the EU's support for those detained for political reasons after the election on December 19, which was won by Alexander Lukashenko. Following the poll, which was seen as unfair by the opposition, security forces arrested opposition candidates as well as hundreds of others who took part in protest demonstrations.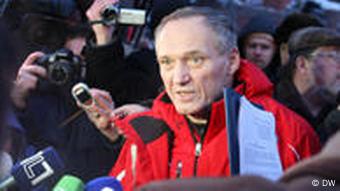 Candidate Vladimir Neklyaev was beaten up shortly after he spoke at this demonstration
Ashton repeated her condemnation of the government's action when she met the foreign minister of Belarus, Sergei Martynov and, according to a statement, told him that the EU was looking into "appropriate measures" to deal with the post-election violence. Decisions would be taken at a meeting of foreign ministers on January 31.
Martynov said, "We would hope that in taking their decision the EU would think of not making a decision of no return ... in the relationship between Belarus and the European Union."
The president of the European Parliament, Jerzy Buzek, who also met the opposition leaders, said Belarus must free all its political prisoners if it wanted relations with the European Union.
Sanctions regrettable
The German chancellor, Angela Merkel, and the Italian prime minister, Silvio Berlusconi, also discussed the situation in Belarus at a meeting in Berlin. Merkel said that she both regretted that the issue of sanctions was having to be raised again.
Earlier sanctions on Belarus were imposed in 2006 after a disputed election, but lifted in 2008 after it appeared that the country was moving towards greater democracy.
On Tuesday, the Belarus authorities withdrew the license of an independent pro-opposition radio station, accusing it of "extremism." Avtoradio had broadcast statements by opposition candidates during the election campaign calling for demonstrations after the poll should there have been electoral fraud.
Author: Michael Lawton (dpa, Reuters, AFP, KNA)
Editor: Rob Turner