The 21-year-old pop singer has been jailed for two years for appearing in the music video.
A Cairo court charged Shaimaa Ahmed, who goes by the name Shyma, of inciting debauchery and harming public morality. It also ordered her to pay a fine of 10,000 Egyptian pounds, about €476 ($560).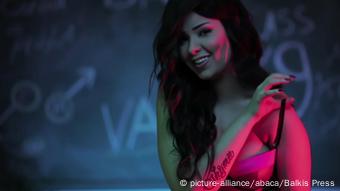 The chalkboard has gender symbols and "Class #69" written on it.
Shyma's song, titled "I have issues," has sparked controversy on social media and television in the conservative Muslim-majority country.
In the video, Shyma stands in front of a classroom of mesmerized men as she licks peanut butter off her fingers, tongues an apple, pours milk on bananas and eats them, and devours a taco shell.
The backdrop is a chalkboard with gender symbols and "Class #69" written on it. In some scenes she wears lingerie. In others, she is dressed in tight clothing bending over while casting a seductive look over her shoulder.
Shyma was arrested on November 18, four days after the clip was released. She denied the charges, saying that her director included the scenes without her consent. The director, Mohamed Gamal, was also fined and sentenced to two years in absentia.
The singer can appeal the verdict.
cw/se (AP, AFP Reuters)