The prosecution at the session held in the Azbakia Misdemeanour Court in Cairo on Sunday said the 17 had been arrested while engaging in homosexuality inside an apartment.
They have been accused of promoting homosexuality and inciting debauchery. All denied the charges.
The court adjourned until October 29, when it is expected to deliver a verdict.
While homosexuality is not expressly banned in Egypt, there is discrimination, and gay men are often arrested and charged with debauchery, immorality or blasphemy.
Security forces rounded up at least eleven people after a concert by Lebanese band Mashrou' Leila in Cairo last week where some young concertgoers waved rainbow flags. Police reportedly used images shared on social media to identify the people later arrested.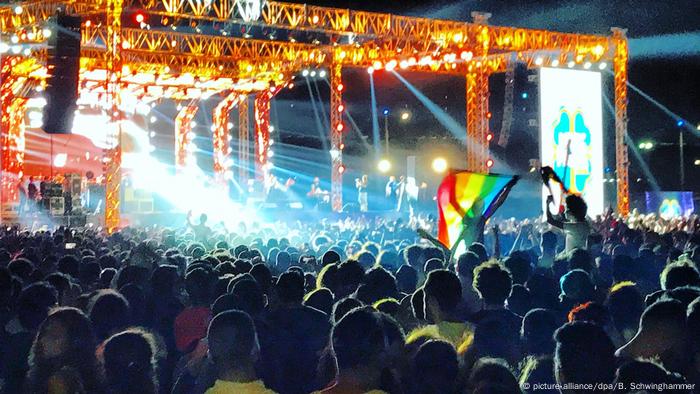 A rainbow flag was raised at a Cairo concert
Middle East and North Africa director at Human Rights Watch, Sarah Leah Whitson, called for the men to be released.
"Whether they were waving a rainbow flag, chatting on a dating app, or minding their own business in the streets, all these debauchery arrest victims should be immediately released," she said.
Forensic inspections
At the weekend, Amnesty International reported that the men on trial would be be subject to intimate examinations by the Forensic Medical Authority to determine whether they had had homosexual sex.
Amnesty said the examinations violated the prohibition of torture and other ill-treatment under international law, but a judicial source said they would be carried out by "a forensic doctor who swore to respect his profession and its ethics."
"The fact that Egypt's Public Prosecutor is prioritizing hunting down people based on their perceived sexual orientation is utterly deplorable," Najia Bounaim, Amnesty's North Africa campaigns director, said. "These men should be released immediately and unconditionally – not put on trial."
However, Egypt's Muslim religious establishment has expressed its support. A preacher at the Al Azhar seat of Sunni Muslim learning said it "will stand against calls for sexual perversion the same way it has stood against extremist groups."
jm/gsw (Reuters, dpa, AFP)