DW: Ukrainian president Petro Poroshenko stressed that Ukraine is moving towards gaining full NATO membership. How realistic is that?
Alexander Vershbow: The first thing Ukraine needs to do is to continue its defense reforms, its training and modernization programs so that it gets closer to meeting NATO standards. But in the longer term NATO has said many times that Ukraine can become a member one day if it meets the conditions and all the allies agree. So I think its more of a long-term question than a short-term question. But I believe allies agree that Ukraine's right to membership should not be compromised
Read more: Explosion in Kyiv as Ukraine marks Independence Day
Could the current partnership get even closer?
Debate is picking up on the question of expanding military support for Ukraine. US Defense Secretary James Mattis indicated that providing additional forms of assistance including lethal defensive weapons is under active consideration in Washington. I hope as a friend of Ukraine that the US will decide to lift former President Obama's ban on lethal defensive weapons in order to give Ukraine the means to defend itself. This would give more support to ambassador [Kurt] Volker in his efforts to achieve a negotiated solution. The Russians recognize that they are not going to be able to maintain the status-quo including their daily attacks on Ukrainian forces with impunity.
And what are the chances Ukraine will get these lethal weapons?
I think there is a real chance and it depends in part whether anything positive happens in the negotiations within the Minsk process. If Russia abandons it's obstructionist attitude towards the negotiations and begins to talk seriously about implementing "Minsk" [accords] then it may be not necessary to provide these weapons. But the US is signaling that continued stalemate in the negotiations could lead to the provision of lethal defensive weapons such as anti-tank weapons to the Ukrainian armed forces.
Read more: NATO in Baltics learns from Ukraine's mistakes
Defense Secretary Mattis said that if the US decides to supply Ukraine with lethal weapons it wouldn't be a provocative step towards Russia. Do you agree?
I think Moscow will criticize the decision quite vehemently in their propaganda because they enjoy the one-sided advantage that they now have, which is the ability to attack Ukrainian forces using their rockets and artillery systems with impunity. But I think ultimately the provision of lethal defensive weapons will improve the chances of a negotiated solution. These weapons are not meant to enable Ukraine to fight to a military victory. They are leveling the playing field to improve the chances for a negotiated solution in accordance with the Minsk agreements.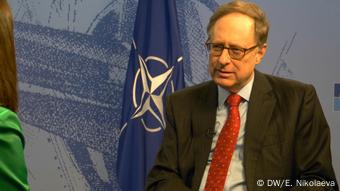 Alexander Vershbow was the first American to become Deputy Secretary General of NATO
Do President Donald Trump's relations with Russia somehow influence his administration's policies on Ukraine?
I would say that despite the president's interest in a warmer relationship with Russia he has taken a lot of positive steps to help Ukraine. He met with [Ukrainian] President [Petro] Poroshenko before he met with [Russian] President [Vladimir] Putin. He has maintained the sanctions and signed the recent legislation, indicating to Russia that it can not hope to get the sanctions lifted without meeting the conditions for which those sanctions were imposed – namely the implementation of the Minsk agreements. And I think the appointment of ambassador [Kurt] Volker as a special envoy for the negotiations indicated the US commitments to achieve the restoration of Ukrainian sovereignty over the Donbass and in the longer term of Crimea. So I think some of the worst fears about president Trump making a deal with Putin behind the backs of Ukrainian have not been fulfilled.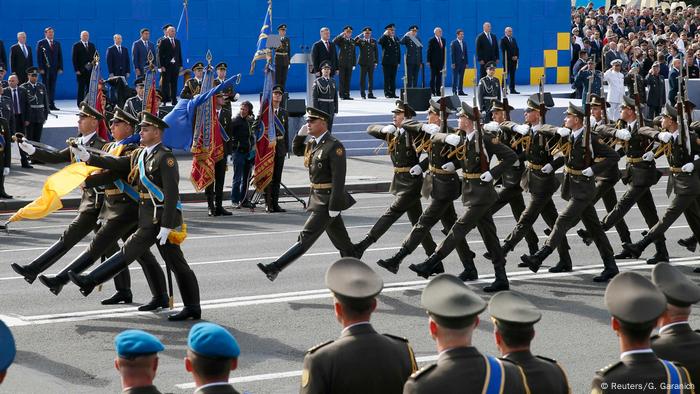 Ukraine's independence day celebrations were attended by several NATO defense ministers
What are the chances of achieving sustainable peace in the eastern Ukraine?
All participants recognize that talks have not produced any results for more than two years and something needs to be done to give more impetus to the process. I think Russia was hoping that with election of Donald Trump it might be able to get its maximum objectives without paying any price. But Russia now recognizes that sanctions will continue and its international political isolation will continue if it does not negotiate more seriously in the Minsk process. The first step, of course, must be ending the daily attacks by Russian forces and their proxies on Ukrainian forces.
Read more: NATO representative 'We support Ukraine every day'
Do you think Russia is playing a zero-sum game in Ukraine?
Perhaps.. If Russia believes it can only be secure when Ukraine is unstable and insecure then the chances of achieving a negotiated solution are slim. But if the West remains united in support of Ukraine, if the pressure on Russia is maintained and increased if necessary both on the ground and through sanctions, Russia may have to recalculate what its long-term interests are in relation to Ukraine. So I'm somewhat encouraged, particularly by what the US has being doing on the diplomatic side and by the message sent by Defense Secretary Mattis' presence in Kiev on Ukrainian independence day.
The interview was conducted by Maksym Sydorzhevskyi and Dmytro Kaniewski.