The announcement that Russia would expel a large number of American diplomats and staff in the country as well as limit access to several properties being used by the US came last Friday after Congress had passed a new and expanded sanctions bill and the White House had said President Donald Trump would sign the legislation.
Due to a major shake-up among senior White House staff on the same day, capping what has been widely described as one of the most turbulent weeks since the Trump administration took office, the Kremlin's move went largely unnoticed in Washington until Russian President Vladimir Putin took the subject up again over the weekend.
In a tweeted response to the Kremlin's decision, Vice President Mike Pence, currently on European trip, said "diplomatic action taken by Moscow will not deter commitment of US to our security, our allies, and freedom-loving nations."
But while Moscow's move came on the heels of a new Congressional bill that would not only expand existing sanctions against Russia - but at least equally important - would curtail President Trump's ability to undo them unilaterally, the nature of the measures imposed by the Kremlin reciprocates punitive action taken by the Obama administration.
"I think what is interesting about the Russian response is that while it follows the Congressional vote to increase sanctions on Russia the actual response is to sanctions passed by the Obama administration in December, which were directly linked to Russian meddling in the US election," said the director of the Russia and Eurasia Program at the Center for Strategic and International Studies, Olga Oliker.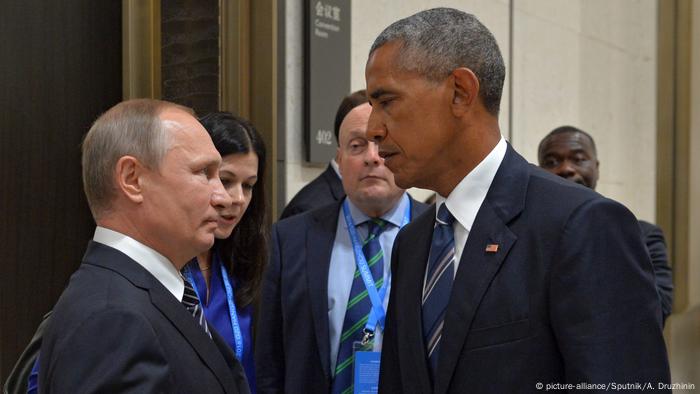 Russia's latest move would appear to be a retaliation against sanctions implemented by the Obama administration
Last year, the Obama administration expelled 35 Russian diplomats and seized two facilities used by the Russian government which it said were used for spying.
By reacting in kind, if belatedly, to measures taken by the last administration, and not the arguably much more onerous new sanctions bill imposed now by Congress, Russia is sending a clear signal, said Oliker.
"And what they are signaling is that their problem is still with the Obama administration," she noted. "By responding very specifically to that set of sanctions they are saying this is where the primary problem is."
The Kremlin's continued narrative, said Oliker, is that they still don't accept American allegations that they interfered in the US election, and that from their perspective the Obama administration's actions in December were unjustified und petty. This is why it is now perfectly reasonable for the Kremlin to finally strike back with an equally petty response.
But while Moscow's move is a traditional diplomatic maneuver in response to US sanctions, it is also a significant overreaction because the US has far fewer diplomats in Russia than President Putin initially wanted expelled, said William Burke-White, a former top aide for US Secretary of State Hillary Clinton with responsibilities for Russia policy who is now the director of Perry World House, a new global policy research center at the University of Pennsylvania.
"That suggests that this was an immediate reaction by Putin, rather than a well thought through diplomatic decision," he said.
While there was confusion in Washington about what was seen as unclear communication by Moscow as to what exactly it wanted, the general reading here is that the reduction of American diplomatic and consular office employees to 455 people mentioned in a Russian foreign ministry press release last week includes not just US diplomats, but all personnel, including Russian staff.
"To me, it suggests that Putin has recognized that Trump is not in a position to advance any policies helpful to Russia at the moment and that he needs a different strategy," said Burke-White.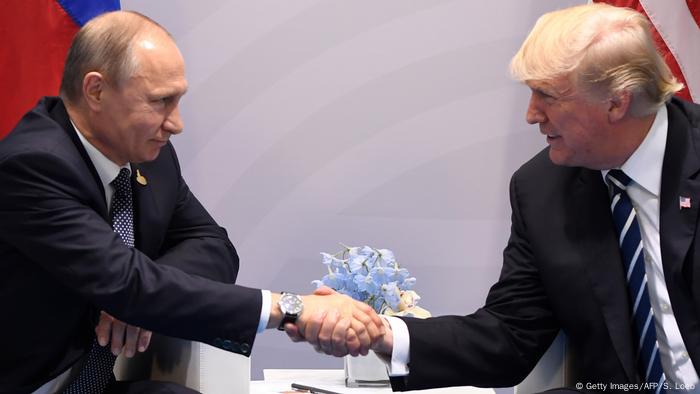 Trump and Putin met at the G20 in Hamburg
But for CSIS' Oliker, the Kremlin has still not completely given up hope Trump, as they see it, "will escape the shackles placed on him by the evil media and Congress and make friends with Russia."
That explains, she added, that while the personnel cuts demanded by Russia are much bigger than those ordered by the US and thus up the ante in a way, "they are trying to leave some room" in so far as the Kremlin has not responded to the new Congressional sanctions which are much more pernicious for Russia, as the make it very difficult for international companies to do business with Russian energy firms.
Should the Kremlin indeed hope that President Trump can still make good on his campaign promise to drastically improve relations with Putin's Russia, it may be up for negative surprise.
"I think there is very little Trump can do," said Burke-White. "His hands are tied on Russia at the moment, given US politics."
"I have a harder time these days predicting US policy than Russian policy," said Oliker.
And that is not just because of Congress' acting as a sort of guarantor of a continued tough stance vis-a-vis Moscow, she added.
"I would argue that Trump has a bigger problem in that he doesn't have a foreign policy team or a foreign policy to deal with Russia or much else."