Demonstrators appeared in several German cities on Saturday to protest against a nighttime curfew that was put in place to try to stem the spread of COVID-19.
About 300 people marched through the financial city of Frankfurt, carrying placards with protest messages.
In Hanover, about 100 people protested the measures. Both the Frankfurt and Hanover protests were previously registered with police.
Germany enacted a so-called "emergency brake" beginning at 10 p.m. (2000 GMT/UCT) on Friday which includes tighter restrictions when the infection rate is above a certain level. If more than 100 people per 100,000 become infected in a district for three consecutive days, the "brake" is applied.
The measures include a nighttime curfew between 10 p.m. and 5 a.m., as well as shop closures and a limit on gatherings to one household and one other person.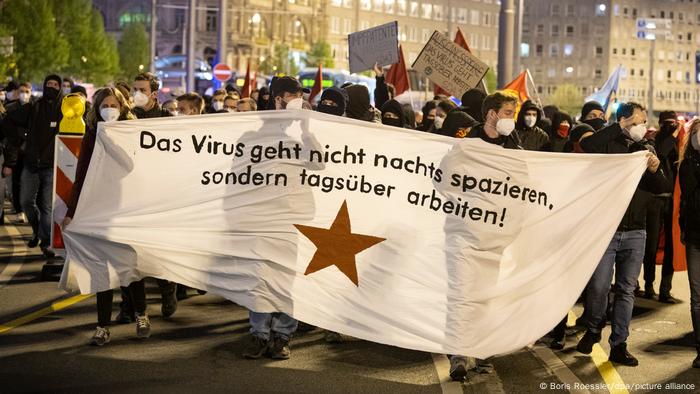 Protesters in Frankfurt say: 'The virus doesn't walk at night, it works during the day'
Here is the latest coronavirus new from the rest of Europe and the world:
Europe
Germany's Robert Koch Institute (RKI) recorded 18,773 new COVID-19 cases on Saturday, as well as 120 deaths. That means the country now has 3,287,418 infections and a death toll of 81,564.
Italy has joined several other countries in imposing a travel ban on India, fearing the spread of a new coronavirus variant.
"Our scientists are working to study the new Indian [coronavirus] variant. We cannot let our guard down," Italian Health Minister Roberto Speranza said on Sunday.
Italian residents will be allowed to return from India with a negative test result at their departure and upon their arrival. Travelers are also required to quarantine after arrival to Italy, Speranza said.
Italy also unveiled its post-pandemic recovery plan before officially presenting it to the parliament. Most of the €222 billion ($270 billion) initiative would be financed from a special EU fund. Nearly €50 billion would go towards upgrading Italy's internet network. The plan also includes financial incentives for businesses to hire young people and women.
The European Union will be able to produce enough vaccines to achieve its immunization target by the middle of July, the EU executive's vaccine task force chief said in an interview with the Greek weekly newspaper To Vima.
The bloc had set a target of vaccinating 70% of the EU's adult population by the end of this summer.
"We are confident that we will be able to produce a sufficient number of vaccines to achieve the goal of collective immunity, which means that 70% of the adult population would have been vaccinated by mid-July," European Internal Market Commissioner Thierry Breton was quoted as saying by the paper.
Earlier this week, the EU Commission said it was expecting to seal a deal for up to 1.8 billion doses of the BioNTech-Pfizer COVID-19 vaccine between 2021-2023.
The UK is also close to finalizing a deal to purchase tens of millions more doses of the BioNTech-Pfizer COVID-19 vaccine for a third booster dose, according to a Sunday Times report. This dose would be given to the elderly in the autumn.
Government sources told the paper they hope to double the original order of 40 million shots. If successful, the extra shots may also be used for younger people in their 20s who are being offered an alternative to the AstraZeneca vaccine after the discovery of possible links to rare blood clots.
Greece will be lifting the quarantine requirements on visitors from several non-EU countries as long as they can present a negative coronavirus test or proof of vaccination. The loosening of restrictions will apply to people arriving from Russia, Australia, New Zealand, South Korea, Thailand, Rwanda, Singapore, Israel, Serbia and the United Arab Emirates starting on Monday. Previously, the visitors from those countries had to spend a week in quarantine.
Middle East
At least 82 people have died due to a fire in a COVID ICU unit in Baghdad. Medical sources told AFP that the fire at the hospital started with an explosion caused by "a fault in the storage of oxygen cylinders."
Civil defense said the hospital "had no fire protection system and false ceilings allowed the flames to spread to highly flammable products." Iraqi hospitals have been run down by decades of conflict and poor management. The prime minister has called for an investigation.
Asia
India's capital New Delhi is extending its lockdown in a bid to curb a devastating spike in coronavirus cases. The country has reported 349,691 infections in the past 24 hours, the fourth straight day of record peaks.
The United States said it was planning to deploy additional support to India to help it tackle the pandemic.
"We are in active conversations at high levels and plan to quickly deploy additional support to the Government of India and Indian health care workers as they battle this latest severe outbreak," US Secretary of State Antony Blinken said.
Likewise, the EU said its members were "pooling resources" to help India.
Bangladesh closed off its land border with India over surging infection rates in the bigger country. The ban does not apply to the transportation of goods and is set to state in effect for two weeks.
Thailand's capital Bangkok has ordered the closure of entertainment and sports venues from April 26 to May 9. But health care workers say the measures are not enough to relieve overwhelmed hospitals, local media reported.
The Southeast Asian country has seen a rapid spike in recent weeks. On Sunday, it recorded 2,438 new cases and 11 deaths, according to Reuters.
Japan has introduced emergency measures to curb the spread of coronavirus, including shutting down department stores, bars and theaters.
The 17-day restrictions apply to Tokyo, Kyoto, Hyogo and Osaka ahead of the "Golden Week'' holidays, when Japanese usually travel extensively.
The Japanese government is also planning to open large vaccination centers in Tokyo and Osaka to speed up what has been so far a slow rollout, The Nikkei newspaper reported on Sunday.
According to the report, Japan will open one site in central Tokyo as early as May, with the aim of vaccinating some 10,000 people a day.
Medically trained staff from Japan's Self-Defense Forces will reportedly assist with vaccinations.
Oceania
Australia has set a record for the biggest crowd at a sports event since the coronavirus pandemic began, with more than 78,000 people attending a football match on Sunday.
Fans crowded the Melbourne Cricket Ground (MCG) to watch a Football League match between Collingwood and Essendon.
The state government in Victoria, where Melbourne is located, had allowed the MCG to be filled to 85% of its full capacity as Australia eases coronavirus restrictions.
Last month, some 67,000 people attended a Twenty20 cricket international between India and England at the western Indian city of Ahmedabad.
Americas
Starting Monday, people in Peru will be required to wear two face masks when they go shopping, AFP reported.
The requirement applies to places that attract large crowds, including markets, shopping centers, and galleries.
The South American country has recorded nearly 1.7 million coronavirus cases and 59,440 deaths since the beginning of the pandemic, according to Johns Hopkins University.
fb,kbd/nm (dpa, AFP, AP, Reuters)