The conservative politician Jens Spahn has taken offense at the constant use of English in Berlin - and in particular by native speakers of German - which, he argues, has relegated the German language to secondary status in the nation's capital. In a guest essay that appeared Thursday in the weekly newspaper Die Zeit, the politician tore into "elitist hipsters."
Spahn, a member of Angela Merkel's Christian Democratic Union (CDU) who represents the Borken constituency in the state of North Rhine-Westphalia, wrote that he primarily takes issue with Germans who speak to one another in English - as many customers and waiters in Berlin's restaurants and bars do.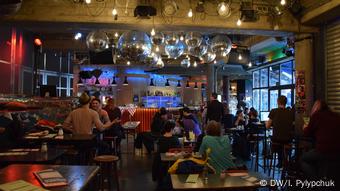 Spahn doesn't like hearing people - especially Germans - speak English in bars
In Spahn's opinion, using English unnecessarily does not make a person appear cosmopolitan, but rather gives away one's "provincial self-dwarfishness."
Earlier in August, Spahn had told the regional daily Neue Osnabrücker Zeitung that he gets annoyed when he hears English in Berlin establishments. He also said Germans were right to expect that migrants learn their language.
Read more: Jens Spahn wants 'Islam law' and mosque registry
Spahn apparently sought to clarify his position in Thursday's Zeit essay after his criticism of non-Germans' language abilities drew rebukes. On Twitter, he asked readers to read the whole article in its long form before commenting in order to get the complete contextual overview.
Using English, Spahn writes, does a disservice to migrants who devote time and energy to learning German and contributed to "a new intensified form of elitist-global tourism" that excludes people who do not speak English and who are not part of the "easyJet generation."
"In Berlin a totally new type of parallel society has developed: young people from around the world who keep to themselves," Spahn writes.
Spahn also argues that the phenomenon he sees in Berlin is occurring in many EU metropolises that draw young and mobile Europeans for work or exploration.
Read more: Identitarian movement: Germany's 'new right' hipsters
Just in Germany?
Attempting to place his indictment within a historical context, Spahn compares contemporary Germans' use of English today to the courtly elite's embrace of French in the 19th century, when the language was used as a tool to distance the upper crust from the uneducated lower social ranks.
Spahn argues that hearing English constantly makes Germans feel alienated from their homeland. Migration and cultural integration have become prominent campaign themes as Germany gears up for national elections in September.
In May of this year, Interior Minister Thomas de Maiziere called for a "leitkultur" - or dominant German culture - in order to improve integration and societal cohesion.
In 2002, aged just 22, Spahn became the youngest person ever elected to the Bundestag and is considered a rising, if at times controversial, star in the CDU.