In a renewed effort to convince Russia to loosen its 72-year grip on a group of islands off northern Japan, Prime Minister Shinzo Abe is to travel to Moscow for two days of talks from April 27 with Vladimir Putin, the Russian president. And while analysts believe he has little chance of winning Putin over on the question of sovereignty, he may have more success in swaying the Russian leader over joint economic development of the islands.
Abe hosted Putin in Japan last December, with Tokyo expressing hope in the run-up to that meeting that progress could be made over the future of islands that are marked on Japanese maps as the Northern Territories. The archipelago was seized by troops of the former Soviet Union in August 1945 and Moscow's steadfast refusal to return them to Japanese control has been a thorn in the side of bilateral relations ever since.
The failure to resolve the dispute over the islands, which Moscow refers to as the South Kurils, means that the two governments have never signed a peace treaty that would formally end their World War II hostilities.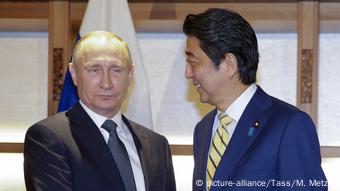 During their last meeting, the Russian leader showed no inclination to discuss the return of the islands to Japanese control
'No likelihood at all'
Instead, the Russian leader showed no inclination to discuss the return of the islands to Japanese control. That determination was demonstrated the previous month, when the Russian Pacific Fleet deployed batteries of anti-shipping missiles on the islands, underlining the importance the islets play in Moscow's defense strategy in the north-western Pacific.
Jun Okumura, a visiting scholar at the Meiji Institute for Global Affairs, believes there is "no likelihood at all" of progress on the issue of sovereignty.
"I do not see any compelling reasons for Putin to make a move that would be sure to play poorly to his nationalistic constituency, especially with the next presidential election scheduled for March next year," he told DW.
"He has enough problems on the international front without making a move that would obviously look like a concession," he added.
Stephen Nagy, a senior associate professor of international relations at Tokyo's International Christian University, agrees there is "not a snowball's chance in hell of Abe getting those islands back," pointing out that the Russian leader accepted an award a couple of years ago for his achievements in protecting the territory of the Russian motherland.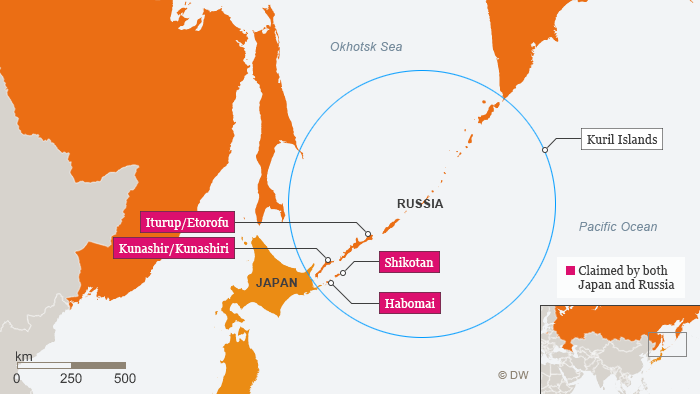 Playing down the possibility
And there are signs ahead of this meeting that Abe is playing down the possibility of progress on sovereignty and instead focusing on economic development.
"Abe will consider that he has not emerged from the talks empty-handed if he can announce progress on ways to export resources from Russia's Far East, a development that would economically benefit both countries," Nagy said.
"There is no reason why Putin would not want additional Japanese engagement in more economic development in the Far East," he underlined. There are also security concerns for both governments that could be eased by a closer economic alliance, the expert stressed.
"For Japan, moving towards Russia as a closer economic partner would help to balance the threat posed by China or pull Moscow from Beijing's geopolitical orbit in the region," he said. "Russia also has concerns that China might be interested in expanding north, into Russia, in search of resources."
Last November, the energy and economy ministers of Japan and Russia agreed to move forward on a number of specific projects, including the joint development of oil and gas fields in the Russian Far East, the establishment of a wind power capability and cooperation in the decommissioning of Japan's crippled Fukushima nuclear plant.
Rail link to Europe via Russia
Another project calls for the excavation of a railway tunnel from Japan's most northerly main island of Hokkaido to Sakhalin. The rail link, beneath the Soya Strait, would then tie in with the trans-Siberian railway route, potentially giving Japan railway access to European markets. There is also a proposal to lay a submarine cable more than 50 kilometers across the Soya Strait to deliver energy from Russian thermal power plants. The cost of the project has been estimated at more than $5.7 billion.
Tokyo is also calling on domestic companies in an array of other sectors - including medical technology and tourism - to look into the possibility of taking part in Russian projects, although there has reportedly been a degree of resistance from firms worried about the unpredictable investment environment in Russia.
But Okumura believes that while Prime Minister Abe may be playing down the sovereignty issue on this occasion, it undoubtedly remains a longer-term ambition.
"Abe is an extremely stubborn man and very set on his goals, which include the return of the Northern Territories," he said. "At the moment, there is a low probability of high returns on this question, but I believe he is laying the groundwork for a drawn-out campaign."