Billboards across Berlin will soon be free of degrading images of women if the state government has its way.
The government, led by the Social Democrats together with the Greens and the Left party, is determined to impose a ban that it promised in its coalition contract. The proposal has already been implemented in one district since 2014 and is now being looked at by two other local councils.
The measure would ban sexist ads on all state-owned advertising spaces and create a special central committee to determine whether advertising on billboards run by private agencies is discriminatory.
'Exploitation or subjugation'
Late last month, the Left faction in Berlin's Charlottenburg district issued a proposal with a list of various types of ads that should be deemed "sexist, discriminatory or misogynistic."
These include "when physical or psychological exploitation or subjugation, especially of women by men, is explicitly depicted" or when advertising shows "women as hysterical, complicated, needy, nurturing, engaging in housework with great joy, addicted to consumerism, dependent, seductive, beautiful, etc., while men are rational, aggressive, power-obsessed, technologically gifted, strong, autonomous or active in the business world."
Other criteria for degrading images are "sexualized and pornographic depiction of people, especially women, without any relevance to the product, and reduced to their sexual function," as well as "bodies, especially women's bodies (or parts) presented as objects or products that suggested availability or purchasability."
Such a ban has been in place in the Kreuzberg-Friedrichshain district of the city since 2014. On Tuesday, the local council's women and equality commissioner, Petra Koch-Knöbel, told Berlin's Tagesspiegel newspaper that no complaints had been filed against ads since then, which showed that advertisers had become "sensitized."
"Women are still often denigrated in advertising," Ines Schmidt, the Berlin Left's spokeswoman for women's policy, told DW. "I have a problem with it when a woman licks the beer foam off her lip with her tongue, is only wearing shorts and a low-cut top, and this is supposed to show that the beer tastes different than a man sitting with other people."
"Or there's that advert with (margarine brand) Lätta," Schmidt said. "The woman jumps naked into the water and dives down to the Lätta, this margarine. Why does the woman have to be naked so that you know Lätta tastes nice? It's really weird."
"And some advertising agencies just don't manage anything different," Schmidt said. "That's the problem. Or else there are adverts when children and girls are being schooled to do a certain job. That's one of the reasons we hardly ever get any women into technical jobs: There's zero interest - even though girls always get better grades in school."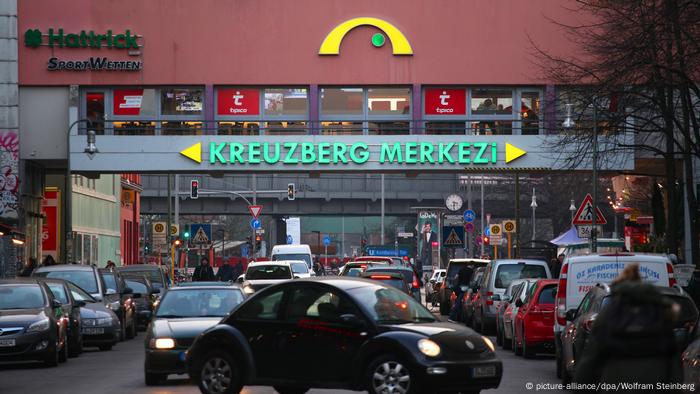 Berlin's Kreuzberg district has already banned sexist ads
Why a law?
Advertisers have called the ban unnecessary. "This issue is completely overestimated by politicians," Ralf Nöcker, spokesman for the German Advertising Federation, told DW. "And - I don't know why - it keeps getting dug out, and even the Left party admits that they haven't had any complaints about it (in Berlin). That's because professional agencies don't work with sexist motifs, because it doesn't work."
"Sexist adverts are really something you get with small companies in the provinces that don't use agencies - but big marketing planners hardly even do it, except occasionally if they want to do something provocative," Nöcker said. "But this constant palaver from red-green politicians bears no relation to empirical relevance." (Nöcker was making reference to the colors of Germany's three main center-to-left parties: green for the Greens and red for both the Social Democrats and the Left.)
Though he feels that a ban wouldn't really affect the work of major marketers, Nöcker questioned why the "content" of adverts needs to be regulated by politicians, and suggested that the idea breached the constitutional right to free speech.
The Left's Schmidt had an answer to this. "It's exactly like with the gender quota," she said, referencing an official effort to increase the presence of women in corporate C-suites. "Things didn't change until they were regulated: Women weren't put in management positions when big firms were left to themselves. If everyone is forced to see how they can get women into leading jobs, only then do things change in people's heads."