Six people, including German human rights consultant Peter Steudtner and Amnesty International's director for Turkey, Idil Eser, are to remain in custody awaiting trial for allegedly aiding a terror group. Pre-trial detention in Turkey can last for up to five years.
"Six were remanded in custody and four released on judicial control" by a Turkish court on Tuesday, Amnesty International's Turkey researcher Andrew Gardner said. Steudtner was reported to be receiving German consular support while in custody.
Read: Turkish opposition gains new momentum
German Chancellor Angela Merkel condemned Steudtner's detention, saying it was "absolutely unjustified."
"We declare our solidarity with him and all the others arrested ... the German government will do all it can, on all levels, to secure his release," she said.
The foreign ministry issued a separate statement calling for the rapid release of the six activists. "Linking a fighter and spokesman for human rights and democracy like Peter Steudtner to supporters of terrorists is absurd," the statement said.
"Amnesty International and other non-governmental organizations make an extremely important contribution to plurality, democracy and the protection of human rights in Turkey," the ministry in Berlin added.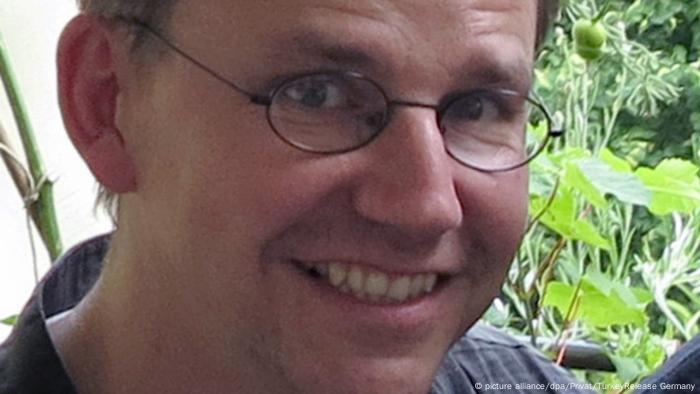 Human rights consultant Peter Steudtner was arrested Monday in Turkey
US State Department spokeswoman Heather Nauert echoed those comments, saying that "prosecutions like these, with little evidence or transparency, undermine Turkey's rule of law and the country's obligation to respect individual rights."
Unnamed terror group
Amnesty's Gardener said they had been accused of supporting an "armed terrorist organization" without being members, though the Turkish court did not provide details or name the terror group.
Four other activists were released.
Read: Turkey extends state of emergency by three months
German national Steudtner is a human rights trainer who has worked across Africa for organizations such as Bread for the World. He had only loose ties to Turkey, the website of the German weekly magazine Spiegel reported.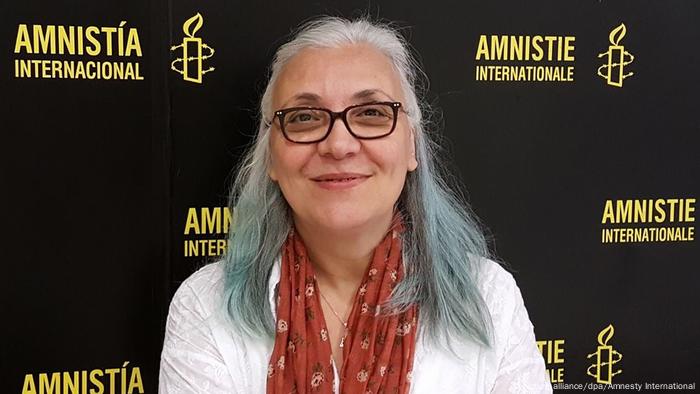 Idil Eser, the director of Amnesty International Turkey was among those arrested
Digital security workshop
As one of the organizers of a digital security and information management workshop that had been in progress for two days, Steudtner was taken away by police almost two weeks ago, on July 5. Security forces broke into the hotel where the event was taking place on an island south of Istanbul. Steudtner's co-organizer, the Swede Ali Gharavi and seven Turkish activists were also detained.
Idil Eser, the director of Amnesty International Turkey, is another of the six activists who will remain in pre-trial detention. She was also detained on July 5 when Steudtner was arrested.
A month earlier, Amnesty Turkey's board chairman Taner Kilic, was also arrested on terror charges.
'Absurd' charges
In a press release following the court's decision, Amnesty blasted the ruling as a "crushing blow for rights in Turkey." It also described the terror charges as "absurd."
Amnesty also rebuked international politicians: "Leaders around the world must stop biting their tongues and acting as if they can continue business as usual."
At the G20 summit in Hamburg earlier this month, Turkish President Recep Tayyip Erdogan said that the digital security conference at which the activists had been arrested had "the character of a continuation" of last year's July 15 failed coup, which Turkey blames on the "Hizmet" movement led by exiled Islamic preacher Fethullah Gulen.
Steudtner's family in Berlin reacted with indignation and alarm. "Peter has always fought for the peaceful and nonviolent resolution of conflicts," his partner Magdalena Freudenschuss said. "The suggestion that he could have planned a coup is totally absurd."
The 45-year-old Steudtner has become the latest German national to be held by Turkish authorities. Journalists Deniz Yucel and Mesale Tolu are also behind bars indefinitely on similar allegations of links to terror groups.
'Turkey will be disgraced'
In the lead up to the court's ruling, Amnesty's Gardner said: "Turkey will be disgraced in the eyes of the world if these human rights defenders are put in prison."
As part of the ongoing state of emergency - in place in Turkey since last year's coup attempt and recently extended for a fourth time - dozens of civil society organizations and media outlets have been shuttered, and activists and journalists jailed.
More than 50,000 people have been jailed pending trial and 150,000 dismissed or suspended from their jobs, including soldiers, police officers, teachers, judges and other public servants.
The United States has said it is "deeply concerned" by the wave of detentions. The EU has voted to freeze Turkey's accession talks as a result of the ongoing purge.
jm/bk (dpa, AFP, Reuters)