As passengers hurried to their trains at a busy station in central Berlin this week, a group of refugees, clutching plastic bags, huddled in front of the underground train map.
As they conferred quietly, few of the commuters bracing the icy cold took much notice. These days, asylum seekers are not an unusual sight in the German capital's roads, supermarkets and train stations.
As of late November 2015, almost 30,000 refugees have applied for asylum in Berlin - with thousands more waiting to do so as the capital's authorities struggle to keep up with the steady influx and an ever-growing backlog of cases.
In a recent interview with a local newspaper, Berlin's mayor Michael Müller (SPD), who in his Christmas address called the situation of refugees in Berlin "a huge challenge", said that the city of 3.6 million was housing some 70,000 refugees - many in temporary refugee accommodation, including sports facilities, schools and Berlin's former Tempelhof airport.
Some 85 percent of asylum seekers in Berlin are housed in mass shelters, according to Georg Classen of Berlin's independent Refugee Council, and only 15 percent in private flats.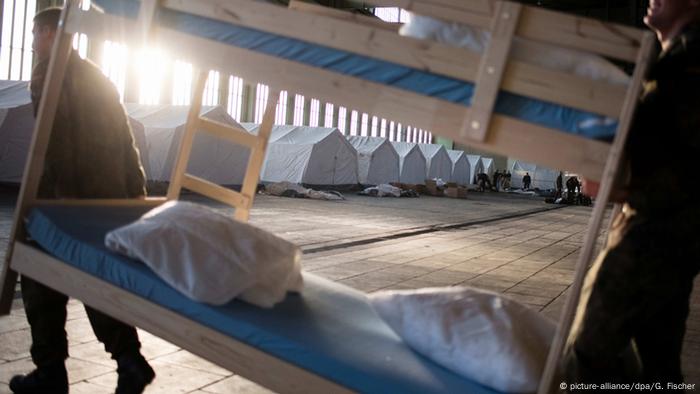 Soldiers were drafted in to set up the shelter in Tempelhof airport
While conditions vary between shelters, activists have repeatedly warned that they are unacceptable at Tempelhof. Several thousand refugees are living in cramped conditions in three of the former airport's hangars, which many remember for its role in airlifting food and medicine to West Berlin during a Soviet blockade in the late 1940s.
'It's a catastrophe'
Conditions in Tempelhof are dire, according to local volunteer Irmgard Wurdack, who teaches German to refugees in Tempelhof. "It's a catastrophe, simply degrading," she said. Refugees have to be bussed to local swimming pools each day to wash because the center lacks adequate sanitary facilities.
She vehemently opposes the city's plans to expand the shelter at Tempelhof to create accommodation for up to 15,000 refugees. "If you want to integrate people, you have to put them in flats, not in huge camps," she said.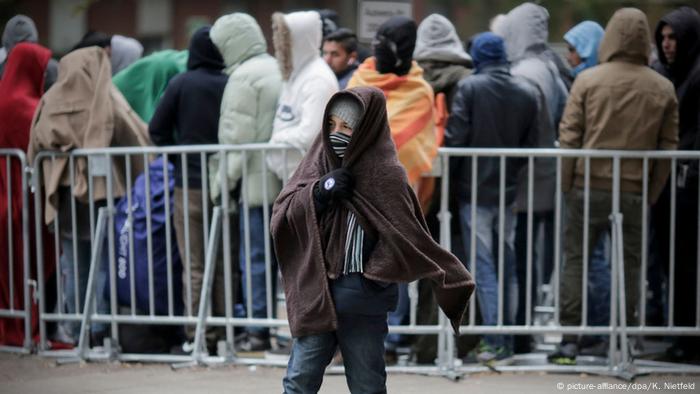 Refugees have to wait for days to register - and receive accommodation
Mass accommodation, she added, led to resentment among local residents - and made refugees more vulnerable to xenophobic attacks, which have been on the rise in Germany in recent months.
Others agree. Classen from Berlin's Refugee Council is pushing for an immediate end to policies that require refugees to live in shelters while their applications are being processed.
Some 5,000 to 10,000 refugees could be housed with relatives, he added: "They could live in private housing right now if we let them."
Calls to crack down on illegal holiday flats
Activists, who want the city to invest in more affordable housing, realize that calls to house refugees in private accommodation may lead to resentment in Berlin, where housing is increasingly rare and expensive. So they make a point of emphasizing that poorer Berliners would also benefit from more subsidized housing.
They are also calling for authorities to crack down on illegal holiday homes, that is, flats that are registered as private homes but let out to tourists.
Theresa Keilhacker, an architect from the association "Architekten für Architekten" (architects for architects), estimates that there might be as many as 10,000 illegal holiday flats, which the city could "confiscate" - or rather convince the owners to house refugees.
Another estimate, by Berlin's Mitte district council, put the number of refugees at 17,000 illegal holiday flats.
Authorities in Berlin maintain that they are doing what they can, but are simply overwhelmed by the continuing influx of asylum seekers and are expanding mass accommodation as a stop-gap measure.
But activists like Classen say this is just not acceptable: While he conceded that not all mass accommodation was bad, he warned that keeping people in dire conditions like those at Tempelhof was ultimately making people sick: "People in Tempelhof are telling us that conditions are so bad they can't sleep," he said.