Austrian Chancellor Sebastian Kurz said on Friday that a retired colonel in the Austrian army is suspected of having spied for Russia for several decades.
Kurz said the colonel is thought to have begun working with Russian intelligence in the 1990s and continued until 2018. He retired from the Austrian army five years ago.
"Of course, if such cases are confirmed, whether it be in the Netherlands or in Austria, it can't improve the relationship between the EU and Russia," Kurz said, referring to the expulsion of four Russian agents by the Netherlands in April for allegedly planning a cyber-attack on the world's chemical weapons watchdog in The Hague.
"Russian spying in Europe is unacceptable and to be condemned," Kurz added
Austrian Foreign Minister Karin Kneissl, who danced with Russian President Vladimir Putin at her wedding in August, canceled an upcoming trip to Russia and has summoned the Russian ambassador over the matter.
Russian Foreign Minister Sergey Lavrov said he was unpleasantly surprised to get no traditional request from Vienna to explain the espionage allegations.
"Lately, our Western counterparts have made it a rule not to use traditional methods but rather megaphone diplomacy. They accuse us in public and then demand public explanations over an issue we know nothing about," Lavrov said in comments carried by the TASS state news agency.
Moscow has summoned Austria's envoy to Russia over the allegations.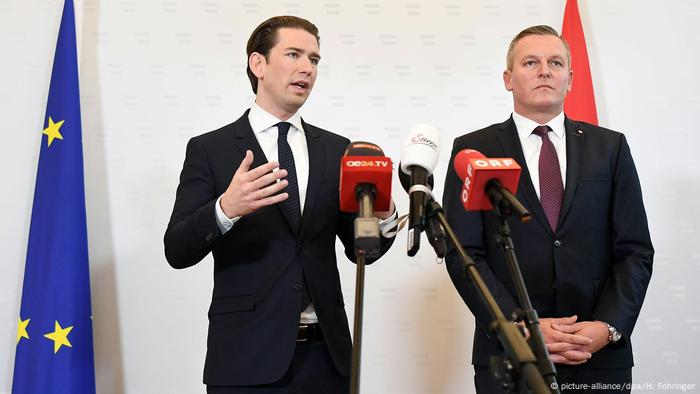 Chancellor Kurz said Austria was "demanding" transparency from Russia
Russia interested in 'weapons systems'
Austrian Defense Minister Mario Kunasek said the case came to light "a few weeks ago" as a result of information from another European intelligence agency.
He added that his electronic devices — including a laptop — are currently being examined by Austrian authorities.
When questioned, the colonel said that the Russians had been interested in "weapons systems" as well as "the migration situation here in Austria."
Austria has been among the few European countries that kept up close diplomatic ties with Moscow — despite Russia's involvement in the Ukraine conflict and following the poisoning of ex-Russian spy Sergei Skripal and his daughter in Britain.
As the host of several international organizations and thousands of foreign diplomats, Vienna is known as a European espionage hub. The city used to be a gateway to communist countries during the Cold War because of its proximity to Eastern Europe.
kw,av/sms (AFP, Reuters, dpa)
Each evening at 1830 UTC, DW's editors send out a selection of the day's hard news and quality feature journalism. You can sign up to receive it directly here.