Until now, the Austrian government has taken the moral high road during this refugee crisis. When Hungary built a fence, Austria offered extra trains to speed them to shelter. While Serbia and Slovenia forced migrants to sleep without shelter, Austria built tents.
But now, the stream of migrants has overwhelmed the country. Austria is under immense pressure not only from its own population but from neighboring Bavaria to stop - or at least dramatically stem - the flow of asylum seekers.
With local elections over, government officials in the ruling coalition are now suggesting that perhaps a fence isn't such a bad idea. Except: it wouldn't be the kind Hungary built.
Last week, Interior Minister Johanna Mikl-Leitner raised the possibility of a "European Fortress." On Tuesday she suggested Austria should erect "special construction measures" on the border with Slovenia. Now she has spelt out her plan a bit more concretely, telling Austrian radio, "Naturally there will also be a fence." But, she added, unlike Hungary's razor-wire barrier.
In a statement, Mikl-Leitner said the fence would be "solid and stretch several kilometers left and right of the border crossing." Officials say it will likely be about 15-kilometers long and cover both large and smaller green borders.
Although Mikl-Leitner did not state when construction would begin, it is understood that technical work would start immediately and should take about 10 days. The actual building of the barrier would take only a few days.
Chancellor Werner Faymann said it had not yet been decided whether a fence or containers would be used or, more likely, a combination of both. Containers would act as a waiting area, where new arrivals would receive medical help while they waited to be registered.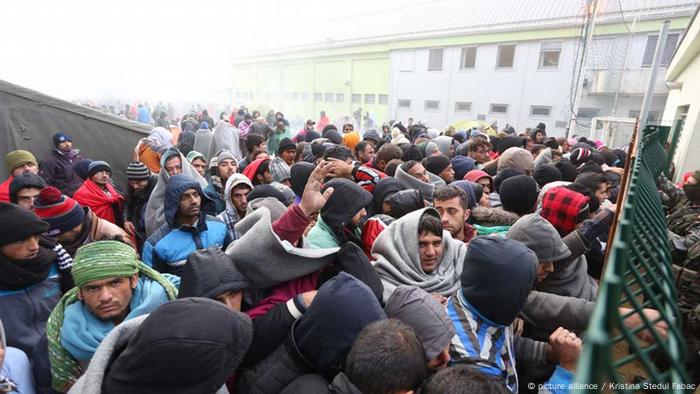 Refugees head for the Austrian border from Slovenia
More control
The purpose of Austria's barrier, Faymann said at a press conference, "was not to seal the borders but to control the people."
Mikl-Leitner said that 200 specially trained police officers would be added to a border patrol and that Austria needed an additional 2,000 officers in the coming months, because the force is stretched to its limits.
Vice President Reinhold Mittellehner added at the press conference that the barrier is a response from the public, which he said is shocked by pictures of masses of people pouring through the border.
"It will be a coordinated effort, which will look different from the current situation where we have a totally open border, where anyone can walk on an autobahn, where they can do anything. We want to provide a simple, orderly picture that is expected by our citizens," Mittellehner said.
The announcement has not come as a surprise. Last week, Austria's Foreign Minister Sebastian Kurz, whose portfolio also includes integration, snapped at a reporter when she suggested that fences don't work.
"If this theory were true, that you can't secure borders anywhere in the world, then I would ask myself why it does work in other places in the world. Then I would also ask myself why the border between Turkey and Bulgaria works, where years ago a fence had been erected," he said. "The comment that they don't work is completely and utterly wrong."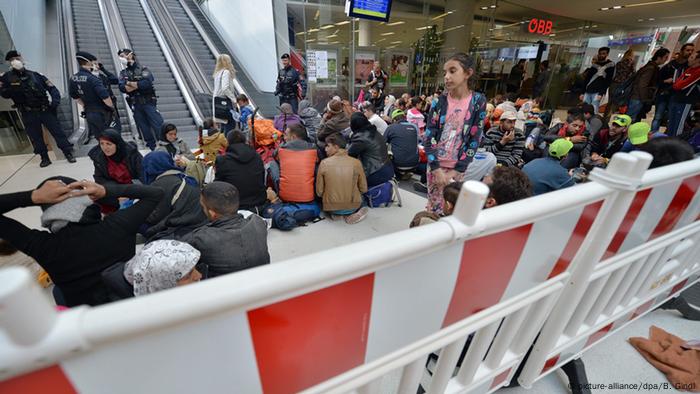 Refugees are packed into the Salzburg train station
Lack of solidarity
Heinz Patzelt, the secretary-general of Amnesty International's Austrian chapter, told Austrian radio station Ö1 that fences are "a symbol of a lack of solidarity." He also claimed that barriers would not deter refugees from trying to enter Austria.
Gerhard Schmid, general-secretary for the Social Democrats, told DW in a telephone interview that the government's plan is different from that of the far right Freedom Party, which for months has been calling for a fence that would close the borders to refugees. Closing borders to people fleeing war "is not only irresponsibly expensive, but also contradicts, above all, the basic principles of the European Union and the spirit of human rights conventions," Schmid said.
Government officials are at pains to point out that Austria's fence would be different from Hungary's and would not go against the public goodwill toward refugees.
Austria's Defense Minister Gerard Klug said that barriers had become necessary "in order to properly control the refugees" but added that "we must not lose sight of humanity."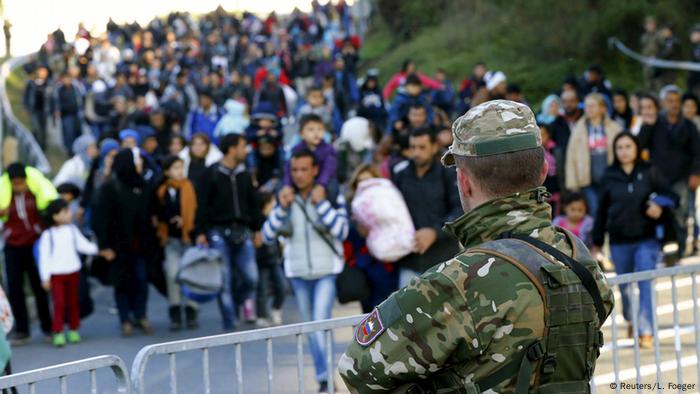 A member of the Slovenian army observes migrants walking towards the Austrian border
Tremendous pressure
Austria has been under tremendous pressure since Hungary sealed its border. Government officials had assumed that the tougher journey through Croatia and Slovenia along with the increasingly inclement weather would stem the tide of migrants.
Instead, the prospect of imminent closure of passages to safe countries appears to have persuaded more people to undertake the dangerous trek. At its summer peak perhaps 5,000 people crossed Austria on a given day. Now, the number could rise to 8,000, Mikl-Leitner said, adding that in the future there could be up to 12,000 per day.
According to Frontex, more than 316,000 people have passed through Austria so far, most of them heading to Germany and Sweden. Officials estimate that probably 80,000 people will request asylum by the end of the year, in a country with a population of 8 million.
Although Styrian state officials knew the numbers could rise, they were little prepared. Hundreds of refugees have been forced to sleep in the cold autumn air. Many groups have become impatient and are starting to behave aggressively. Last week, police were forced to break up skirmishes between Afghanis and Syrians. The situation has calmed down as more police were added to the border crossing.
The mayor of Styrian border town of Spielfeld said locals were afraid of the "huge masses of people" walking through town, although he admitted that so far there had been "no serious problems" with the migrants.
Meanwhile, tensions are running high on both sides of the German-Austrian border. On Tuesday, Bavaria's State Premier Horst Seehofer blasted Austria for waving through thousands of refugees to Germany without informing local authorities. Salzburg's mayor hit back by saying that 1,000 refugees tired of waiting to pass through the border had hiked the two kilometers to the green borders of their own accord.
Salzburg train station's underground garage, which had been converted into an emergency sleeping area over the summer for 800 people, is filled nightly to capacity, and the town has no opportunity to add heating for the winter months, the mayor said.
With nerves frayed both within and outside the country, the Austrian government is grasping for a solution.