Austrian Interior Minister Johanna Mikl-Leitner said Wednesday that plans are underway to build a fence along the border with Slovenia to slow down the flow of migrants into the country.
"This is about ensuring an orderly, controlled entry into our country, not about shutting down the border," Mikl-Leitner told Austria's public broadcaster, Ö1.
The conservative minister from the right-wing ÖVP party added that the situation risked escalating as people were forced to wait in freezing temperatures for hours before being allowed to cross from one nation into another.
"We know that in recent days and weeks individual groups of migrants have become more impatient, aggressive and emotional," she said. "If groups of people push from behind, with children and women stuck in-between, you need stable, massive measures."
Earlier this week the minister had hinted that physical barriers would be necessary to help control the influx of migrants coming from the Balkans.
"The situation here is especially dynamic. We've had between 3,000 and 8,000 people crossing the border [daily]," she said. "But we also need to prepare ourselves [in case numbers rise] to 12,000."
Slovenia, which has a population of just two million, reiterated its warning that it is also considering building a fence if the newly announced EU plans aimed at tackling the crisis fail to produce quick results.
Humanitarian catastophe strains resources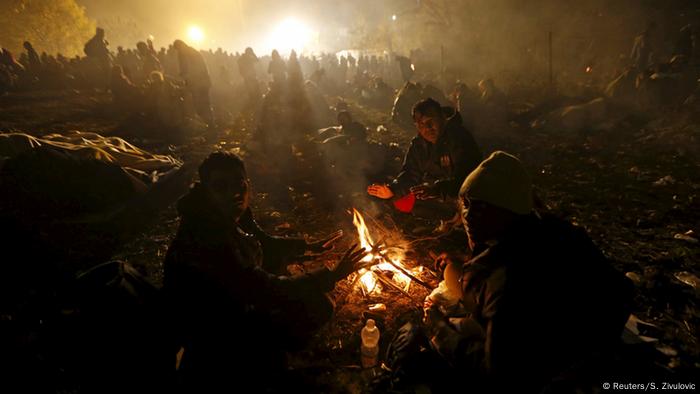 Migrants wait to cross the Slovenia-Austria border in Sentilj, Slovenia on October 27. The influx has strapped the country's limited resources.
More than 83,600 people have arrived in Slovenia since mid-October after Hungary shut its Croatian border with a razor-wire fence, Slovenian interior ministry officials said.
"If the situation worsens and the Brussels action plan is not fulfilled, then Slovenia has several scenarios prepared, (including) the installation of a fence guarded by forces," Slovenian Foreign Minister Karl Erjavec said.
These warnings to erect barriers within the passport-free Schengen Zone comes as European Council President Donald Tusk warns that the refugee crisis - in which more than 700,000 migrants have arrived already this year -- shows no signs of slackening.
"The situation will deteriorate even further," Tusk said, warning of a "new wave of refugees (arriving) from Aleppo and other Syrian regions under Russian bombardment."
He said that the new challenges threaten the fabric of the European Union which has made economic and political integration - and passport-free travel - a hallmark of the European project.
"I have no doubt that this challenge has the potential to change the European Union we have built," he told the European Parliament in Strasbourg. "And what is even more dangerous, it has the potential to create tectonic changes in the European political landscape. And these are not changes for the better."
Meanwhile, European Commission President Jean-Claude Juncker criticized EU member states for providing less than half of the guards pledged to the Frontex border agency in migrant hotspots Greece and Italy.
"Member states have been moving slowly at a time when they should be running," Juncker said.
Of the estimated 775 border guards needed, EU countries have only provided 326 over the past month and many bloc members had also failed so far to keep their promises of financial support, he said.
Many migrants are refugees fleeing conflicts in Syria, Iraq and Afghanistan. The UN refugee agency says the world is currently grappling with its worst refugee crisis since World War Two.
Have something to say? Add your comments below.
jar/kms (Reuters, AFP)