This was supposedly going to be the year that Israel finally won a seat on the UN Security Council for the first time in its 70-year history.
Allegations surfaced last week claiming that members of the UN's Western European and Others Group (WEOG) agreed some 20 years ago to allow Israel to run unopposed for a non-permanent seat in the world's most prestigious diplomatic chamber.
Now Germany stands accused of violating that supposed deal.
Read more: Will the UN Security Council ever be reformed?
The UN Security Council elections, slated for this coming June, will see two of the five available seats for the 2019-20 term go to two WEOG members, which includes almost all western European nations, as well as Australia, Canada, New Zealand and, since 2000, Israel. The race will come to a runoff this summer because three countries are vying for a place at the Security Council table — Germany, Israel and Belgium.
German defiance?
What appeared to be a routine runoff became extra heated last week. Richard Grenell, Donald Trump's pick to serve as ambassador to Germany, stated on Twitter that the US brokered a deal in the 1990s with the rest of the WEOG nations that Israel should be allowed to run uncontested for one of the group's designated seats. Grenell named Richard Holbrooke, a prominent US diplomat who served as US ambassador to Germany from 1993-94, as the man behind the deal. The agreement was purportedly part of arrangement that saw Israel become a member of the WEOG group after it had been blocked from joining the UN's Asian Group.
Grenell's claims were soon followed by an appeal from the Zionist Organization of America, a US-based pro-Israel lobby, urging that the US demand Germany revoke its candidacy for violating the agreement. New York Post opinion author Benny Avni then accused Germany of running a "shameless power play against Israel."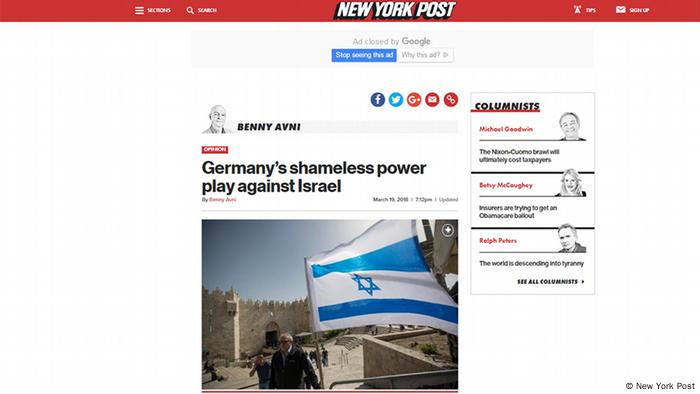 The allegations risk further underlining waning relations between Germany and Israel, which began cooling last year. First, Chancellor Angela Merkel postponed an annual government meeting with Israel in February 2017. Then in April, Israel's Prime Minister Benjamin Netanyahu called off talks with Germany's then-foreign minister, Sigmar Gabriel, after Gabriel said he would take time during his state visit to Tel Aviv to meet with the Israeli veterans group Breaking the Silence, which wants Israel to end occupation of the West Bank, Gaza and East Jerusalem.
Read more: German-Israeli relations: What you need to know
An 'absurd' und unlikely deal
While DW could not get official confirmation of the WEOG deal with Israel, German tabloid Bild reported that the country's officials have denied any such agreement ever taking place.
Speaking to Deutsche Welle, Germany's former ambassador to the UN, Hanns Heinrich Schumacher, described claims of a Holbrooke-brokered deal as "absurd," underlining how unlikely it would have been that the US ambassador could have gotten countries to make a pledge for a Security Council election taking place some 20 years later. "This is an election that can only be decided by a majority of states in the UN General Assembly," Schumacher added.
With respect to the upcoming June vote, the Trump administration is eager to see Israel on the Security Council.
"Germany leapt into this race quite late, and the Trump administration has been trying to find ways to make Berlin compromise," Richard Gowan, a UN expert at the European Council of Foreign Relations, told DW.
"There are very widespread rumors in New York that the US has floated the idea that Germany and Israel could split the seat (taking one year each, as Italy and the Netherlands have just done after effectively drawing in their race)."
Israel's chances
The allegations directed at Germany could also be seen as a last-ditch attempt to draw up support for Israel's Security Council bid.
Its chances have not been helped by the debate over Jerusalem's contested status as the Israeli capital. In December, the Security Council put forth a resolution reaffirming the city's status as capital as unresolved. All but one of the 15-member body supported the measure — the US vetoed it.
Read more: Israel and Saudi Arabia: New best friends in the Middle East?
Various Middle Eastern media outlets have also rumored over whether Israel is considering withdrawing from the seat race altogether.
While the country has significantly improved relations with other Arab states, such as Egypt and Saudi Arabia, thanks largely to their mutual opposition to Iran nuclear deal, it remains unclear whether Israel's improved ties in the region are enough to give it the required majority in the Assembly that would grant it a seat on the Security Council.