There's hardly a more explosive issue in Germany than the question of anti-Semitism among Muslim immigrant communities and in particularly the more than 1 million migrants and refugees who have arrived in the country since 2015. On Friday the director of the Simon Wiesenthal Center in Los Angeles, Meyer H. May, told a German newspaper that such anti-Semitism was spreading like a "tumor" in Germany.
May is by no means the first Jewish leader to make this claim, but is the situation really that bad? To better understand the issue, I went to a day of discussions, hosted by an initiative to inform journalists about migration issues, with experts, social workers, refugees and a member of a Jewish sports club in Berlin.
Read more: Berlin fights anti-Semitism with synagogue, Jewish secondary school
Empirical figures on the phenomenon are hard to come by. Definitions of what qualifies as anti-Semitism vary wildly, and it's often difficult to tell whether anti-Semitic acts that are criminal in Germany — for example, painting a swastika on a synagogue wall — are committed by Muslims, right-wing extremists, or individuals or groups motivated by some other form of anti-Jewish aggression.
What struck me most was the skittishness of people charged with combating Muslim anti-Semitism, particularly in Berlin's schools, with regard to their description of it as a Muslim problem. The experts were at pains to counter the idea that Germany had "imported" a "new" anti-Semitism. Hostility to Jews was a wider social phenomenon, they argued, and by no means were all Muslims anti-Semitic.
What's new about today's anti-Semitism in Germany
Sina Arnold, the co-author of one of the few academic studies on the phenomenon, characterized the anti-Semitism she found among refugees she interviewed as "fragmentary." Anti-Jewish stereotypes were common, she says, but it was extremely rare for refugees to view the entire world through the lens of anti-Semitism.
"What we've seen is that with the migrants of the past few years, people have entered the country who have anti-Semitic attitudes — as do some people who are already here," Arnold told DW. "Not all of the migrants, but many of them. Many of them come from countries like Syria, in which an anti-Zionism that bordered on anti-Semitism was part of state ideology."
Read more: How Jewish artists in Berlin experience anti-Semitism
Arnold was quick to add that attempts to combat such attitudes should not "tar-brush" Muslims with racist stereotypes and that the sort of anti-Semitism found among migrants and refugees is not new to Germany. Equating Islam with anti-Semitism is a tactic used by the far-right populist Alternative for Germany (AfD) party.
But surely the situation Germany currently faces is new, I thought, if only because this is the first time Germany has taken in over a million largely Muslim new arrivals in such a brief span of time. That fact alone means that measures to prevent anti-Semitism need to be tailored to this specific new audience.
"Prevention efforts always have to be targeted at groups," said historian and rabbi Andreas Nachama. "For instance it makes a big difference if you're talking to 20- or 60-year-olds. It makes no sense to put everyone in the same boat. We've had a different input in the past few years."
Prevention or political correctness?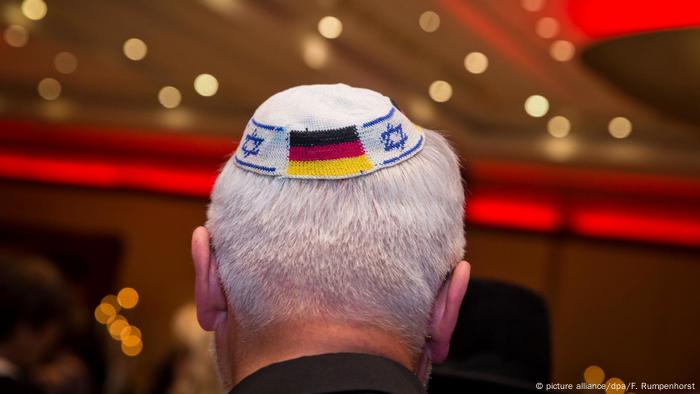 Jewish community leaders have warned of rising anti-Semitism in Germany
Don't point fingers. Try to teach people to embrace multicultural values instead of teaching them not to embrace anti-Semitism. Those are two of the guiding principles of the Kreuzberg Initiative against Anti-Semitism, or KIGA, named after the heavily Muslim Berlin district where it is located. The group trains teachers, conducts workshops in schools and contributes to the political-education "welcome classes" refugees receive after arriving in Germany.
KIGA co-founder Aycan Demirel defines one of its main purposes as trying to prevent the radicalization of Muslim youths. At the same time, he warns against overreacting, telling the story of a school that was so alarmed at a very young Muslim boy using the word "Jew" as an insult that a series of authorities that led all the way up to public prosecutors were called in to consult on the case.
Read more: Chancellor Angela Merkel condemns burning of Israeli symbols in Berlin
When it comes to understanding prevention and education methods, it's very difficult for journalists to form their own opinions. Schools confronted with anti-Semitism incidents are understandably publicity-shy, and it would require a raft of parental consent forms for KIGA to take a reporter along with them to witness their work with schoolkids, who are still minors. Much of the fight against anti-Jewish hatred takes place away from the eyes of the fourth estate.
Hostility and hope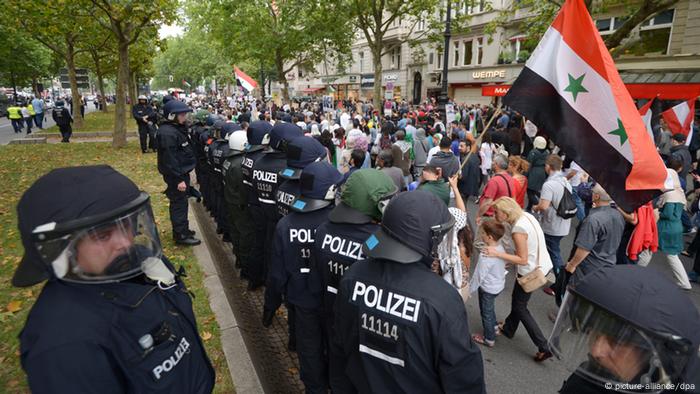 The conflict between Israelis and Palestinians complicates relations between Muslims and Jews in Berlin
It is impossible to quantify the level of anti-Jewish sentiment among Berlin Muslims, but it's clear that there is hostility. At the same time, hatred is by no means the only response in what is a very heterogeneous community. Those two conclusions were born out by the other participants at the open day.
Evgeni Abramovych, from the Jewish sporting club TuS Makkabi Berlin, described football matches with heavily Muslim teams as being far more aggressive than with other opponents. Racist insults and spitting, he said, were not infrequent occurrences. On the other hand, Abramovych also told of Muslim clubs that had approached TuS Makkabi to play friendlies in a gesture of solidarity.
Read more: Anti-Semitism in Germany: Jewish life 'under threat' says Charlotte Knobloch
Sandy — a 25-year-old refugee from Syria who came to Germany in 2014 and who teaches in welcome classes for more recent arrivals — acknowledged that some of her compatriots did hold anti-Semitic views. But she also said that she had never encountered such attitudes in her interactions with new Muslim arrivals as part of the KIGA Discover Diversity program.
Sandy and her fellow Syrian refugee Samer both speak German and use their participation in KIGA projects to learn more about their new country and pursue their interest in politics, which began back in their homeland.