I came to politics with the intention of doing something good for my country and its citizens. I agreed to become head of government after working in the private sector for many years, because I want Serbia, the country I love, to become a successful state with a strong society and responsible individuals. We need to be courageous and build a future together for ourselves and for future generations.
Thanks to comprehensive and successful economic reforms initiated by the previous government we have established the necessary conditions to embark on a comprehensive reform of the public administration. We are aiming for a modern and efficient state that will serve its citizens. Like the president of the republic, the government of Serbia and I want to strengthen our society, the state and the economy, in order to rise to the challenges of the 21st century and this constantly changing world.
I have a vision of a modern society based on a better education system and a system of values, one where knowledge and competence are paramount. We need to redefine everything that has been done for the past several years, and the first and the most significant step is digitization.
Read more: Serbian government trolls in the battle for the internet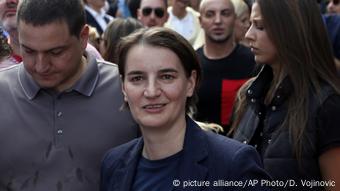 Serbian Prime Minister Ana Brnabic
Support from Germany
My core ideas here are development, innovation, efficient administration, respect for human rights and the rights of minorities as well as the values of a modern society as seen in the EU and in Germany above all. Given the quality of the relations we have built up in recent years, I am convinced that Serbia can count on the support of friends in the EU and Germany in implementing reforms, in improving relations in the region, and on the path to EU membership.
For many people in Serbia, Germany is an example of an ideal state, not only from an economic but also from a societal point of view. Serbia and Germany have a long tradition of economic and cultural relations, and our political relations keep developing further. This was demonstrated by the meeting of my predecessor Aleksandar Vucic with the German chancellor Angela Merkel, and my meeting with her during the summit of West Balkan states in Trieste. Although brief, this meeting confirmed that we share similar ideas for the future of our two countries and societies. Merkel showed political strength and vision when she spoke about the changes every state has to implement if it wants to create future prospects for its citizens.
Close relations
It is very gratifying that for years now Germany has been one of Serbia's biggest investors and trading partners. The considerable increase in the mutual volume of trade over the past 15 years and of our exports to Germany is especially encouraging.
Read more: Foreign investment in Serbia: Turning the first sod in the national interest
Hundreds of thousands of Serbian citizens live in Germany, which is very important when it comes to the good relations between our two countries. It is also encouraging that we are able to speak openly about unresolved issues from the past. This has led to the inauguration this year of a memorial in Serbia to the Germans who were killed or expelled at the end of World War Two. Soon we will be signing an agreement at government level for cooperation in the cultural sector and with regard to the foundation of a German school in Belgrade. In this context I am particularly pleased that Germanophone literature is the focus of this year's Belgrade Book Fair.
EU is the future of the Western Balkans
There is widespread consensus in Serbia on the question of EU membership. Joining the EU remains our most important foreign-policy goal. Strengthening regional cooperation and the path to EU membership would both have been far more difficult if Chancellor Merkel had not started the "Berlin Process" three years ago.
I am utterly convinced that EU membership for western Balkan states in all of Europe's best interest. We share the same values, the same culture and civilization. Germany is one of the most important partners for Serbia and the Western Balkans, so it is very good that Berlin is playing an active role in strengthening regional cooperation. We need other EU member states to follow this example.
Ana Brnabic is an independent Serbian politician who became the prime minister of Serbia in June 2017. She studied business administration in the United States and Britain. From August 2016 she was Serbia's minister for public administration in the government of Aleksandar Vucic. When he was elected president of Serbia in June, he proposed her as his successor as head of government. Her election aroused considerable international interest, partly also because Brnabic does not hide her homosexual orientation.