A few weeks ago, in October, French President Francois Hollande published a new book that shocked many in France as much as it amused them: Judges, his predecessor Nicolas Sarkozy, his own girlfriend - all of them inept. All?
There was only one person who wasn't. The obviously frustrated Socialist found warm words for German Chancellor Angela Merkel. He said that his political partner in Berlin was "not authoritarian, not arrogant, not distanced," but rather, "serious, intelligent, and concerned with striking a balance." No one came away from this nasty account better than the chancellor.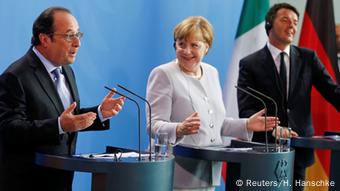 Merkel, Hollande and Italian Prime Minister Matteo Renzi attend a news conference during discussions on the outcome of the Brexit in Berlin, Germany, June 27, 2016.
Merkel was hoping Sarkozy would win
None of that was to be expected when Francois Hollande took office in May 2012. Conservative Angela Merkel had already been in office for six years and was governing with the economically liberal Free Democratic Party (FDP). And it was an open secret in Berlin that Merkel was hoping Hollande's conservative predecessor Nicolas Sarkozy would be re-elected.
Hollande sought to counter what was then being pushed by Germany, and generally known throughout Europe as "austerity policy," with something very different. He wanted to put less pressure on poorer, mainly southern EU countries, to save and restructure their economies, and more government investment programs. Yet little would remain of that plan in the following years: Merkel and Hollande acted in concert, for instance in dealing with the Greek government, and pushed through a rigid reform course.
Two events: Ukraine and terror attacks
Two things, more than any other, brought the two leaders together: Germany and France's role in the conflict between Russia and Ukraine, and their reaction to terror attacks in France. When US President Barack Obama signaled that he was inclined to leave a possible solution to the conflict in Eastern Ukraine to the Europeans, Merkel and Hollande took the initiative and founded the so-called "Normandy format." During a celebration of the 70th anniversary of the Allied landing at Normandy in the summer of 2014, talks took place between Russia, Ukraine, France and Germany. Paris and Berlin maintained the format thereafter. In February 2015, they managed to engineer a ceasefire (Minsk II). Peace has not yet been achieved, but the communications format is still in place, and is being kept alive by foreign ministers from the four countries involved.
An image seen around the world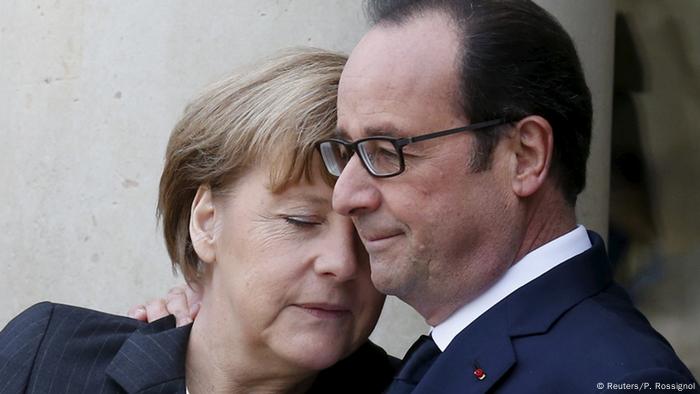 Hollande welcomes Merkel as she arrives at the Elysee Palace after the Charlie Hebdo shootings in Paris on January 11, 2015.
And in February 2015, a picture flashed across the globe: The chancellor, in Paris, her head on the president's shoulder, the two, joined in sorrow for the victims of the city's January terror attacks. Hollande expressed gratitude in his book: "It was a very feminine and personal gesture, it was risky, and could have been easily misunderstood."
Little differences
Their cooperation on the refugee crisis was less close. The French shook their heads as Merkel uttered her now famous slogan "we can do this" and admitted nearly a million refugees into Germany last year. Unity returned when it came to reacting to the crisis: Both said that Europe must act as one - even if the two largest drivers of EU policy have failed to succeed in that endeavor (thus far). Yet, Hollande supported the EU refugee agreement with Turkey. And, like Merkel, was against Great Britain leaving the EU.
On familiar termsfor years
In any case, work between the two grew so close that both quickly jettisoned the formal addresses of their respective languages. At a dinner at Berlin's Gendarmenmarkt in January, 2015, Merkel offered Hollande the option of speaking to her with the informal "du" rather than the more formal "Sie." It was really no wonder: This square, in the center of the German capital, is famous for two churches which stand directly across from one another: The French Cathedral and the Neue Kirche commonly referred to as the German Church. Merkel and Hollande have continued to greet each other in familiar terms to this day.