Medvedev's Cambodian visit came at the end of a week-long mission to the region, during which he attended the Asia Pacific Economic Cooperation (APEC) summit in Manila and the East Asia summit in Kuala Lumpur. For much of the past decade, Russia has pursued closer diplomatic and trade relations across East and Southeast Asia — an effort that has ramped up of late.
"While engaging in Asian affairs does not come naturally to Russia's elite, President Vladimir Putin has made relations with the states of Northeast, Southeast, and South Asia a priority in his third term as Russia's president," the Washington-based independent think tank Center for Strategic and International Studies said in a brief on its website.
Renewed ties
It has been almost three decades since a senior Russian official paid a state visit to Cambodia in 1987, when then foreign minister Eduard Shevardnadze visited Phnom Penh with an eye toward assisting in a political settlement of the ongoing civil war.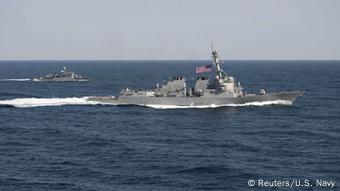 As the US seeks a greater presence in Asia, Russia has scrambled to play a counterbalance
As backer of Vietnam's occupation in the 1980s, the Soviet Union wielded an outsized financial as well as cultural authority in Cambodia. Thousands of Cambodian students studied in the USSR, and Russian was a popular second language in the country. With the end of the Cold War and Cambodia's opening in the 1990s, such influence was rapidly supplanted.
"After closing its naval base in Vietnam's Cam Ranh Bay (CRB) in 1991, Russia had maintained limited ties with the region, especially through arms sales with Vietnam. But now, after an absence of many years, Russia is starting to make a presence in Southeast Asia," Zachary Abuza, a Southeast Asia security expert and professor at the Washington-based National War College, told DW.
As the United States seeks a greater presence in Asia, Russia has scrambled to play a counterbalance.
"Over the past decade, we have observed a multiplication of relations between Russia and Southeast Asia on both the multilateral and bilateral levels, from economic and people-to-people cooperation to the more sensitive areas of defense and security contacts. The interest is reciprocal. The members of the Association of Southeast Asian Nations (ASEAN) have been seeking to create an inclusive regional architecture that avoids as much as possible the tensions and divisiveness that accompany the rise of China and the relative decline of the United States' hegemony," wrote William Kucera and Eva Pejsova in an essay, Russia's Quiet Partnerships in Southeast Asia, published by the Research Institute on Contemporary Southeast Asia.
Asia pivot
Russia's own "Asia pivot" has involved myriad facets. Billions of dollars in arms, energy and oil deals have been inked across Asia Pacific, tourism and trade have skyrocketed, and various soft diplomacy efforts undertaken.
In Cambodia, officials pulled out all the stops for Medvedev's visit. Some 10,000 police officers were posted for his security, while media access was limited to state broadcasters at Russia's request. As Medvedev made his way around Siem Reap and Phnom Penh, roads were sealed off.
State media broadcast images of Medvedev and his entourage cheerily touring Angkor Wat, later somberly laying a wreath at a statue of the late King Father Norodom Sihanouk. By the close of Tuesday, November 24, the nations had signed 10 deals according to state media, including undisclosed investment projects, agreements between the nations' two ruling parties and state news agencies, pacts to share intelligence on terrorism and money-laundering, nuclear cooperation agreements and more.
Anton Tsvetov, of the Russian International Affairs Council, a government-funded think tank, said the visit showed "an aspiration to diversify Russia's Asian connections."
"There has been a lot of skepticism both in Russia and internationally that Moscow's proclaimed Asia pivot will go beyond China, and indeed the latter has been in the focus of attention. At the same time Russian engagement with ASEAN states has been limited in terms of trade and investment - both parties amount to less than two percent in each other's external trade structure. Politically, the number one issue in Southeast Asia is obviously the South China Sea and Moscow is yet to provide a meaningful contribution here. So Medvedev's participation in the APEC summit and the EAS, as well as the Cambodia visit, is all there to diversify Russia's activities in the region," Tsvetov wrote in an email.
"Moscow's goal is to send a signal to Washington that Russia is a global power with global interests, even in regions that the US has long considered friendly and with shared development and security interests," underlined Abuza.