In the aftermath of North Korea's launch of a ballistic missile across Japan early on Tuesday morning, the Japanese government went to great lengths to reassure the public that it is taking all the necessary steps to protect them. In truth, however, there was effectively very little that the Japanese military could have done to neutralize this latest provocation by Pyongyang.
Read more: Japanese react furiously to North Korean missile launch
The weapon is believed to have been a nuclear-capable Hwasong-12 intermediate range ballistic missile that was fired from a site close to Pyongyang at 5:57am local time. After ascending over the Sea of Japan, the missile passed over northern Japan at an estimated altitude of 550 kilometers before apparently breaking into three parts and falling into the Pacific Ocean around 1,180 kilometers east of Hokkaido.
The missile was detected within seconds of launch - almost certainly by one of four US-operated space-based infra-red early warning satellites in geosynchronous orbit above the equator - and Japan's automatic J-Alert system issued warnings to the public through mobile phones, radios and television across northern Japan.
No intercept effort
The Self-Defense Forces tracked the movement of the missile, although they made no attempt to intercept it.
Defense Minister Itsunori Onodera said the decision was made not to try to bring the missile down because it was not aimed at a target in Japan and there was therefore no danger of the projectile coming down on Japanese territory. He added that it was actually over Japan for less than two minutes.
The projectile was apparently tracked by the three Aegis destroyers, each equipped with Standard Missile-3 interceptor missiles that are constantly deployed in the Sea of Japan. A second layer of close-in defense is provided by the Air Self-Defense Force's ground-based Patriot Advanced Capability-3 missiles, with the ASDF's PAC-3 unit in Hokkaido based at Chitose Air base.
"By the time this got over Japan, this thing was very high and moving extremely fast," Lance Gatling, a defense analyst and president of Tokyo-based Nexial Research Inc., told DW.
"It was apparently at an altitude of 550 kilometers when it passed over Hokkaido, which is at the very limit of the intercept range for the SM-3, and any Aegis destroyer would have needed to be in just the right position to intercept," Gatling said. "All in all, it was a pretty low percentage shot if they had gone ahead and ordered it."
Read more: US-South Korea military drills - an unnecessary provocation?
Read more: North Korea 'ramps up manufacture of illegal drugs' amid sanctions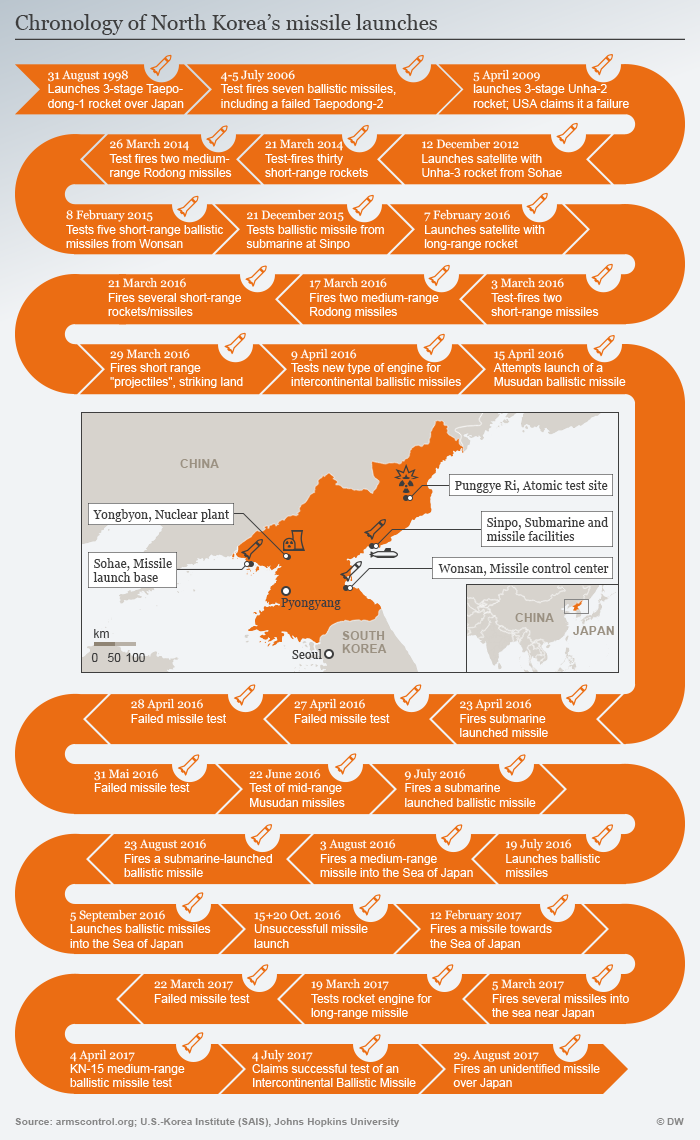 Significant risks
There would also have been some significant risks to an attempted intercept, Gatling points out.
"What would Japan have got out of this if they had intercepted the missile? There would have been a whole load of extra space junk either cluttering up the atmosphere and potentially endangering our rockets or resupply missions to the International Space Station, for example," he said.
North Korea would inevitably be put out by any such move, he added, because it is not clear that Japan has the legal right to interfere with another nation's vehicles when they are in space, as opposed to in a nation's airspace.
"It is most certainly discourteous to fire a missile over another country, but it's arguably not illegal," he said.
Arguably the biggest downside of an attempt to intercept the missile would have been if Japan's defenses had failed.
"If they had tried to bring it down and failed, then the consequences would have been serious," said Gatling. "This is a defensive system that Japan has spent a lot of money on and it had come up short in its first test. That would not have looked good domestically, while it would also encourage the North Koreans to think their missiles could not be touched."
Stephen Nagy, a senior associate professor of international relations at Tokyo's International Christian University, agrees that the speed and altitude of the North Korean missile made any attempt to bring it down "extremely challenging."
"Clearly it would have been difficult solely in terms of the time required to gather the information, determine the missile's course and target and then have a decision by the National Security Council on a response," he said. "By the time that had happened, the missile had already come down."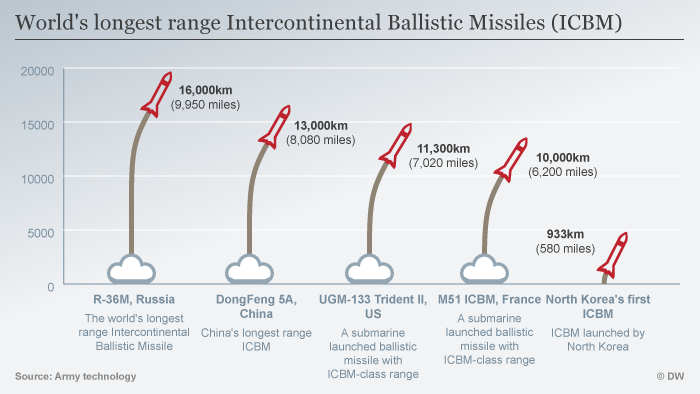 Future responses
The question now might be how Shinzo Abe, the Japanese prime minister, prepares to meet the next missile that is fired from North Korea - the likelihood of which increased sharply on Wednesday after state media reported that Kim Jong Un has defiantly ordered more missile tests landing in the Pacific Ocean.
"The Japanese government is talking about equipping the military to carry out pre-emptive attacks on sites in foreign countries if a direct threat to Japan is identified, although it must be remembered that any such attack on North Korea is likely to be met with an artillery barrage on Seoul," Nagy said.
Estimates have suggested that an artillery strike on the South Korean capital could kill one million people in one minute.
"I expect Japan to work with the US, South Korea and possibly with China to apply more pressure on Pyongyang to squeeze their finances and cut off supplies of the technology and components that they need to make these missiles," he said.
Read more: North Korea: From war to nuclear weapons