The armies of Russia and Belarus have begun joint military maneuvers, with thousands of troops taking part in war games in both countries and Russia's heavily militarized exclave of Kaliningrad. The Zapad-2017 drill, comes after similar exercises were held in the region in 2013 and 2009. "Zapad" is the Russian word for "West."
According to Moscow, some 13,000 service personnel are participating this year. However, NATO puts little faith in the estimates published by the Russian defense ministry and worries that the actual scope of the drill might be many times larger. Representatives of some NATO members, such as Estonia, believe that Russia intends to involve some 100,000 soldiers and officers in the exercise.
Read more: Zapad 2017 - what does Russia want?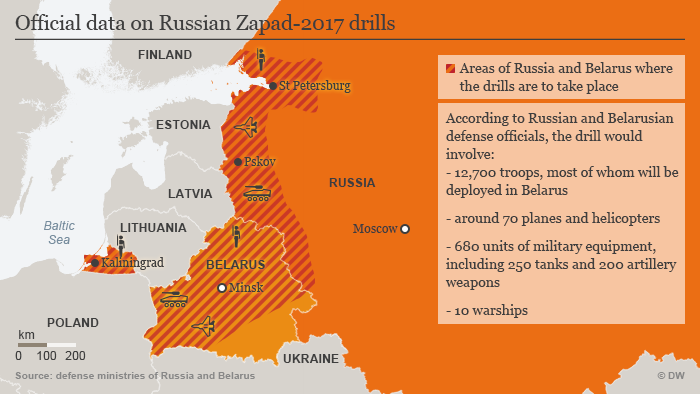 The number of troops is more than just a demonstration of power. According to the 2011 Vienna Document set up by the Organization for Security and Cooperation in Europe (OSCE), any country holding military exercises involving more than 13,000 service members must invite observers to monitor at least some of the drills. Russia, a member of OSCE, agreed to these terms. However, NATO has repeatedly accused Russia of cheating by underreporting the number of participants.
Scenario: Attacked from Baltic
Representatives of NATO remain unconvinced, pointing to the Zapad-2013 drill held four years ago. In it, Russian and Belarusian forces simulated defense from armed "terrorists" moving in from the Baltic.
Moscow's official statistics put the number of troops at around 12,000. Foreign analysts, however, estimated that between 70,000 and 90,000 soldiers took part in 2013. Even more troubling for NATO's eastern flank, the Russian military displayed the use of new tactics and technologies, such as scouting drones, that were later used in Crimea, in eastern Ukraine and Syria. The 2013 exercise ended with a mock nuclear strike against Sweden, according to NATO.
Read more: Things to know about international military exercises
Four years before that, Russia ended the Zapad-2009 drill with a simulated nuclear strike on Poland. The same drill saw NATO scramble German "Eurofighter" jets to intercept a Russian radar plane above Estonia. Finland, which is not a NATO member, also responded by deploying its own F-18s.
Drilling for war
NATO analysts point out that Russia held a large exercise just ahead of its takeover of Crimea, presumably to provide distraction and cover for the move. Some 150,000 troops allegedly took part in the anti-terror drill near Ukraine's borders in late February 2014, and remained in the area as Russia annexed the peninsula in March the same year.
In a similar scenario in July 2008, Russia conducted military drills in regions near to Georgia, including Chechnya and North Ossetia. The war between Georgian forces on one side and Russia and their Abkhazian and South Ossetian separatists on the other broke out only weeks later.