"F*** Nazis," was found written in graffiti on Sunday on some of the doors and delivery vans of a food bank in Essen, the German city west of Dortmund. The "Tafel," as it is known in German, became the subject of intense debate last week when it emerged that it was refusing to hand out new membership cards to foreigners.
Manager Jörg Sartor dismissed the vandalism as "kid's stuff," during an interview with broadcaster WDR. "We are going to continue operating as usual. That said, I am worried about our volunteers — that they will be too scared to show up for the food distributions."
The 61-year-old Sartor was shocked to find himself at the center of Germany's debate about the treatment of foreigners and refugees last week. Local media revealed that beginning in December, his food bank had instituted a new rule whereby no one could enroll in their free food program without a German passport.
The Essen non-profit is one of 930 "Tafel" food banks across Germany. They collect food that is nearing its expiration date from restaurants and supermarkets.
People who are unemployed or on welfare can sign up to receive free groceries for their families at a specified time once a week. The "Tafel" is an NGO as and as such is not the last stop between needy families and hunger, which is the responsibility of the state and national governments.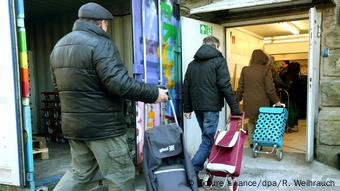 The Essen food bank provides about 6,000 people with food every week
At a press conference on Thursday, Sartor claimed that as the number of foreigners increased to 75 percent of Essen's food bank members, elderly Germans were becoming too frightened to participate in the program.
"I was approached several times because there was too much pushing and shoving," he told DW.
Sartor said he "didn't understand all the excitement," and stressed that neither he nor his volunteers were xenophobic. The ban on new sign-ups was expected to last a few months, and will end before the summer, he said.
Left party: Criticism is 'hypocritical'
But the Essen food bank has come under hefty criticism. Manfred Jabs, the head of the food banks for the states of Bremen and Lower Saxony told Germany's Zeit newspaper that Sartor's decision "is a contradiction of the founding principles of the Tafel."
"They are discriminating against an entire group," Jabs said.
Politicians have also slammed the move. Joachim Stamp, the interior minister of North Rhine-Westphalia state, where Essen is located, told Spiegel magazine that "the deciding factor should be the level of need, not the place of origin."
Germany's Left Party, however, called the criticism of the Essen food bank "hypocritical." Party leader Sahra Wagenknecht told broadcaster Deutschlandfunk "that there are problems at the Tafel has been known for a while," because there are more and more needy people in Germany, and the organizations that serve them are not getting the resources they need.
Additional reporting by Carla Bleiker
Each evening at 1830 UTC, DW's editors send out a selection of the day's hard news and quality feature journalism. You can sign up to receive it directly here.