US Ambassador to the UN Nikki Haley on Thursday said the US will "unquestionably veto" a UN Security Council draft resolution calling for "international protections" of Palestinian civilians in Gaza after scores were killed near the border with Israel.
"It is a grossly one-sided approach that is morally bankrupt and would only serve to undermine ongoing efforts toward peace between the Israelis and Palestinians," Haley said in a statement.
The draft resolution was put forward by Kuwait, which represents Arab countries at the Security Council. It was expected to go to a vote on Thursday evening, but diplomats said it had been postponed following Haley's threat to veto it.
'Protection mechanism'
The final draft version urged the Security Council consider "measures to guarantee the safety and protection" of Palestinian civilians after more than 120 of them were killed by Israeli fire since March.
It also requested a report from UN chief Antonio Guterres about the possibility of establishing an "international protection mechanism" to safeguard Palestinian life.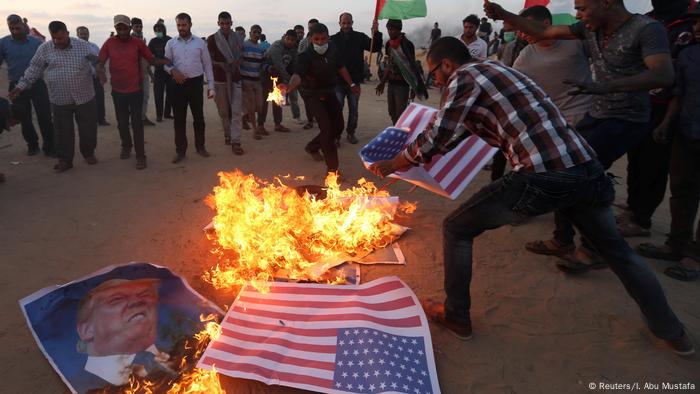 A new wave of violence erupted in the wake of the US embassy opening in May
'No mention' of Hamas?
But Haley said it fell short by failing to mention Hamas, an Islamist group governing Gaza, and its latest round of rocket launches aimed at Israel.
"The resolution calls on Israel to immediately cease its actions in self-defense, but makes no mention of Hamas' aggressive actions against Israeli security forces and civilians," Haley added.
Read more: Little optimism in Middle East conflict, says Israeli historian
However, the draft text did criticize "the firing of rockets from the Gaza Strip at Israeli civilian areas," according to The Associated Press.
Israeli forces have defended military action against protesters, saying operations were aimed at defending the border. Israel has also accused Hamas for attempting to attack Israeli forces under the guise of demonstrations.
The Jerusalem question
The protests in Gaza turned especially violent after the US relocated its embassy to Jerusalem and recognized the city as Israel's capital, upending a decades-long policy to leave the status of the city up to the peace process. Sixty-two Palestinians were killed in the immediate aftermath.
The status of Jerusalem has been a key stumbling blocking during previous peace negotiations between Israelis and Palestinians, in particular regarding the question of how to divide sovereignty and oversee holy sites.
Under the two-state solution framework recognized by several UN resolutions, East Jerusalem would be part of a Palestinian state. For Palestinians, it would be their capital.
ls/rc (AFP, AP)
Each evening at 1830 UTC, DW's editors send out a selection of the day's hard news and quality feature journalism. You can sign up to receive it directly here.