President Donald Trump's National Security Advisor John Bolton gave a press interview in Geneva on Thursday between the morning and afternoon sessions of his meetings with his Russian counterpart Nikolai Patrushev.
It was clear the first top-level meeting since the Trump-Putin summit in Helsinki in July was not going well.
In the interview with US news agency AP, Bolton said he had raised the issue of alleged Russian meddling in the 2016 US elections: "I made it clear that we wouldn't tolerate meddling in 2018, and we were prepared to take necessary steps to prevent it from happening."
Bolton said the Russian delegates had reacted to his words with stone faces: "They didn't respond at all," he said. He said later that the issue of election meddling had prevented the two sides from issuing a joint final statement.
However Bolton said "There won't be any new sanctions if there's no further interference," and then added "how we resolve the interference in the past remains to be seen." He said the focus was on making sure there was no "repetition of 2016."
So far, 12 Russian officials have been indicted as part of an investigation by US special counsel Robert Mueller.
Russian side to the story
Russian Security Council Secretary Nikolai Patrushev said after the 5-hour meetings in Geneva on Thursday that no date had been set for a follow-up and again denied allegations of Russian meddling in the US election.
Patrushev said the two sides had discussed Syria, Ukraine, cyber-security and nuclear issues.
Bolton said they had also discussed Iran, North Korea and Afghanistan. For Iran, Bolton said the US priority was to get "all Iranian forces out of Syria" but admitted a solution was not on the agenda for the day's discussions.
US to cut human rights funding
Bolton, a former US ambassador to the UN, also said on Thursday that the US would cut its funding for the organization's human rights office.
"We are going to de-fund the Human Rights Council," Bolton said and added that US funds for other UN agencies could be reduced in proportion to the current US contribution of 22 percent of the UN's budget.
"We'll calculate 22 percent of the Human Rights Council and the High Commissioner's budget, and our remittances to the UN for this budget year will be less 22 percent of those costs — and we'll say specifically that's what we're doing," he said. "We expect that impact to occur on the Human Rights Council."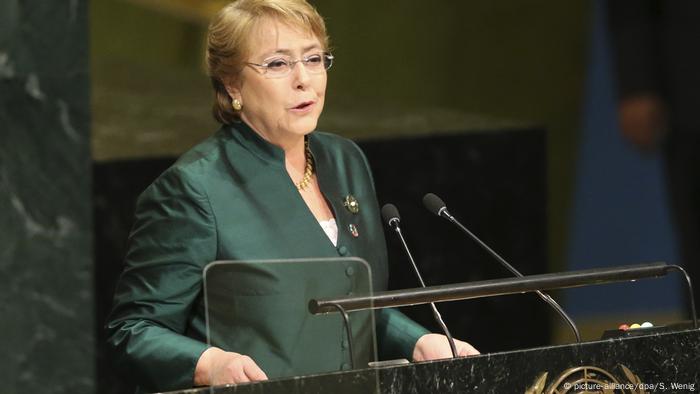 Former Chilean President Michelle Bachelet is to become the UN human rights chief
Former Chilean President Michelle Bachelet has been approved as the new High Commissioner for Human Rights and takes up her post in September.
jm/msh (Reuters, AP)
Each evening at 1830 UTC, DW's editors send out a selection of the day's hard news and quality feature journalism. You can sign up to receive it directly here.