The timing of the US State Department's declaration was as significant as the decision itself. Just hours before Indian Prime Minister Narendra Modi's White House visit on Monday, the State Department issued a notification naming Syed Salahuddin, leader of the Kashmiri separatist organization Hizbul Mujahideen, a "specially designated global terrorist."
"As a consequence of this designation, US persons are generally prohibited from engaging in transactions with Salahuddin and all of Salahuddin's property and interests in property subject to United States jurisdiction are blocked," the State Department said in a statement.
Salahuddin's designation as a "terrorist" set the mood for PM Modi's first official meeting with US President Donald Trump in Washington. The two leaders praised their countries' warm relations and urged Pakistani authorities to ensure that their territory should not be used by terrorists to launch attacks on other countries.
A White House statement said that Trump and Modi "resolved that India and the US will fight together" against terrorism, which they called a "grave challenge to humanity," vowing to increase cooperation on intelligence sharing and joint counter-terrorism efforts.
Read: Trump and Modi - American and Indian populists meet in Washington
Diplomatic quandary
For Pakistan, the US move is a huge diplomatic blow as Islamabad believes Hizbul Mujahideen and Salahuddin are fighting for Kashmir's "freedom" from an Indian "occupation." Pakistan declared Burhan Wani, a Hizbul Mujahideen leader killed by Indian security forces in Kashmir last July, a "martyr."
Pakistan claims that its support to Kashmiri separatist groups is only political, but New Delhi claims Islamabad is training militants and providing arms to them.
"The designation of individuals supporting the Kashmiri right to self-determination as terrorists is completely unjustified," Pakistan's Foreign Office spokesperson Nafees Zakaria said in a statement Tuesday without naming Salahuddin or the US.
Salahuddin, who Kashmir observers say operates from Pakistan-administered Kashmir, is also head of an alliance of anti-India militant groups, the United Jihad Council, which wants Kashmir's annexation with Pakistan.
"Along with armed struggle, we will also start a civil disobedience movement in 'occupied' Kashmir," said Salahuddin after Wani's killing, referring to India-administered Kashmir.
"People on both sides will have to march and trample that bloody line that divides them," Salahuddin said.
Since 1989, Muslim insurgents have been fighting Indian forces in the Indian part of Kashmir - a region of 12 million people, about 70 percent of whom are Muslim. India and Pakistan have fought two of their three wars since independence in 1947 over Kashmir, which they both claim in full but rule in part.
Kashmir dynamics unlikely to change
Indian security analyst Shivsant Saren says the designation of Salahuddin as a "global terrorist" is a victory for New Delhi, but it is unclear if the move also indicates a change in US policy regarding Kashmir. Washington has traditionally backed a bilateral solution to the Kashmir conflict involving New Delhi and Islamabad.
"I think the US is sending a signal to Pakistan before taking a more direct step. It is however unclear whether the Salahuddin decision is only limited to terrorism or if it also has something to do with the Kashmir dispute," Saren told DW.
Indian experts say that while the State Department's move is a setback for Pakistan, it will only be effective if Washington takes it to other international forums.
Talat Bhat, a Sweden-based Kashmiri documentary filmmaker and trade union activist, does not expect Islamabad to change its Kashmir policy following the Trump administration's decision to declare Salahuddin a "terrorist."
"It is not a blow to Pakistan. I fear that nothing will change on the ground, although PM Modi and Indian media will portray it as 'success,'" Bhat told DW.
"Hizbul Mujahidden is already a declared terrorist organization, backed by the Pakistani military's Inter-Services Intelligence (ISI) agency. It will continue to work against liberal and secular voices in Kashmir and undermine Kashmir's genuine independence movement from both Pakistan and India," Bhat added.
Agnieszka Kuszewska, an associate professor of political science at the University of Social Sciences and Humanities in Warsaw, says that Salahuddin's designation as "global terrorist" won't be enough if it is not backed by other actions.
"Lashkar-e-Taiba and many other extremist outfits were designated as terrorist organizations and that has not prevented them from pursuing their activities," Kuszewska told DW.
"Internationally-designated terrorists do not lose their influence among their supporters, especially if their activities are not successfully restricted. Concrete actions must follow as part of a long-term policy aimed at de-radicalization and de-escalation of tensions in Kashmir," she said.
"The move could strengthen the militants' determination and support their rhetoric of victimhood, thus contributing to an escalation of tension in Kashmir. In turn, Modi's government, emboldened by diplomatic support from the US, will continue to deal with Kashmir through force," she added.
Read: The Islamization of Kashmir's separatist movement
Pakistan's 'proxy jihad'
Arif Jamal, an independent US-based journalist and author of several books, including "Call For Transnational Jihad: Lashkar-e-Taiba," and "Shadow War – The Untold Story of Jihad in Kashmir," said Hizbul Mujahideen is no longer as potent as it used to be when armed insurgency took over Kashmir.
"In the 1990s, Hizbul Mujahideen had some 10,000 trained militants. At present, it has only a few hundred fighters and is no longer a powerful fighting machine. Pakistan is now using other groups to wage a proxy jihad in Kashmir," Jamal told DW.
Read: Is Kashmir really an international issue?
While Jamal is of the view that the State Department's move will not change the jihadist dynamics in Kashmir, it certainly brings the Kashmiri separatist movement under the radar of international monitors.
"Such a move is unlikely to force Pakistan to scale down jihad in Kashmir, but it will ensure the international community looks at the Kashmiri jihad as part of the global terrorism phenomenon," Jamal said.
"The Trump administration is definitely moving closer to India, with a much faster pace than the Obama administration. But any other administration would also be doing the same. The key thing is that the US has not been able to force Pakistan to abandon its policy of using jihad as an instrument of its defense policy," Jamal argued.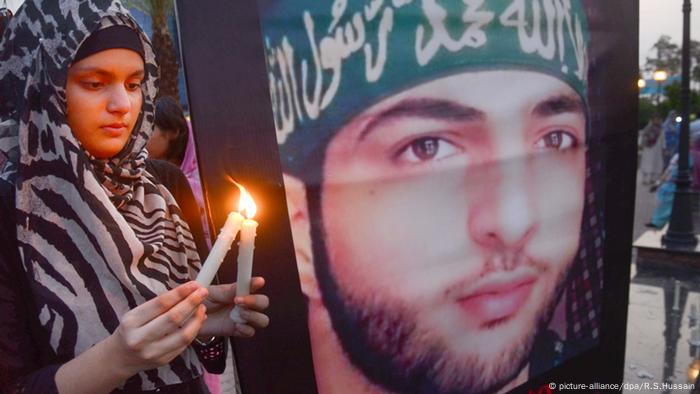 Some experts fear that the decades-old anti-India movement is increasingly moving toward Islamization
Kashmir's decision
Some analysts argue that if Pakistan would have allowed an indigenous movement to take root in Kashmir, the issue would have more international resonance today. Indian Prime Minister Modi, they say, can now easily conceal human rights violations in Kashmir and intensify crackdowns on protesters in the name of fighting terrorism.
Read: Opinion: Modi's India is a bad example for Kashmiris
Indian activists have already raised concerns about this practice.
Some Indian civil society members believe New Delhi cannot exonerate itself from responsibility by accusing Islamabad of creating unrest in the valley. A number of rights organizations demand that the Modi government reduce the number of troops in Kashmir.
"The Indian state survives in Kashmir only by using the might of its army, and the force of its guns. The people are no longer scared of the bullet," Sumati Panikkar, a left-wing activist in New Delhi, told DW.
But Sweden-based Kashmiri documentary maker Talat Bhat believes it is also a responsibility of the Kashmiri leaders to take a clear stance against Islamist militants.
"The Kashmir youth are desperate. They attack security forces to hurt India. But in the end it helps India to keep justifying its occupation and brutal killings," Bhatt said.
"At the same time, Pakistan needs to stop glorifying Islamist militants as it also helps the Indian case," he added.
Those in favor of an independent Kashmir want Pakistan and India to step aside and let the Kashmiri people decide their future.
"We demand a solution of the Kashmir conflict based on freely expressed wishes of the people. It is high time India and Pakistan announce the timetable for withdrawal of their forces from the portions they control and hold an internationally-supervised referendum," Toqeer Gilani, president of Jammu and Kashmir Liberation Front in Pakistan-administered Kashmir, told DW.
But most Kashmir observers don't see it happening in the near future. They say that while the Indian strategy to deal strictly with militants and separatists in Kashmir has partly worked out, sooner or later New Delhi will have to find a political solution to the crisis. Secession, they say, does not stand a chance.