Pakistani leaders in Islamabad said on Monday that they would support those fighting for freedom in India-administered Kashmir.
"Pakistan and Kashmir are inseparable," Pakistani Prime Minister Nawaz Sharif (pictured above, right) said at an all-party meeting in Islamabad. "We will continue supporting the freedom struggle in the valley," he added.
Speaking to Pakistani television channels, Sharif's aide Talal Chaudhry said that the all-party meeting intended to send "a message to the world that we're one against any threat to the country, irrespective of our political differences." The parties also lauded a UN offer to send a fact-finding team to investigate the situation in the Kashmir valley, which has been unstable for weeks.
The announcement came as Indian and Pakistani troops continued exchanging fire across the border following an attack on an Indian army base late Sunday. Both New Delhi and Islamabad said they had responded to unprovoked firing from the other side.
Following several weeks of sporadic clashes, India announced last week that it had conducted targeted strikes to destroy militant hideouts across the border. Pakistan denied there had been any encroachment on its territory, however.
State government bans Kashmir newspaper
Meanwhile, officials from the state of Jammu and Kashmir in India ordered the "Kashmir Reader" to stop printing and publishing, the English-language daily said in a statement published on its website.
The order was issued by the district magistrate of Srinagar, Jammu and Kashmir's capital.
"On the basis of credible inputs, it has been observed that the daily newspaper, namely Kashmir Reader, published within the jurisdiction of district Srinagar, contains such material and content which tends to incite acts of violence and disturb peace and tranquillity," the order said, specifying that the daily's reports could cause problems in the state and specifically in the state capital, Srinagar.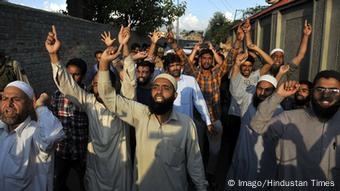 Protests erupted after militant leader Burhan Wani was killed by Indian forces in Kashmir this August
"Therefore, it has become expedient in the interest of prevention of this anticipated breach of public tranquillity to forthwith take necessary precautionary measures," it added. Failure to comply would result in authorities confiscating the newspaper's printing press and its other properties, the statement said.
Speaking to Indian news website Scroll.in, Kashmir Reader editor Hilal Mir said: "The government first needs to tell us how we are inciting violence... They have said it is banned till further orders. So they can revoke order themselves, if better sense prevails. We will obviously contest the ban, but we are exploring how."
Online news portal "Kashmir Dispatch" called it the "darkest chapter" in the history of press freedom.
India-administered Kashmir has witnessed new protests and violence after Indian forces killed Burhan Wani, an alleged terrorist linked to the militant organization Hizbul Mujahideen.
New Delhi accused Pakistan of fomenting terrorism in Kashmir, a region divided between Indian and Pakistani rule. The kingdom of Kashmir originally seceded to India after the subcontinent gained independence from British rule in 1947. New Delhi and Pakistan have fought three wars over the region since then.
mg/msh (AFP, AP, dpa)