One border guard was killed during a militant attack on a police army camp in the Kashmiri town of Baramulla, home to a unit of India's Border Security Force (BSF).
"One BSF personnel was killed and one injured when militants tried to enter an army camp," said local Police Superintendent Imtiyaz Hussein.
There have been local reports that two of the attackers were also killed, but that could not immediately be confirmed.
Earlier Sunday, Colonel Rajesh Kalia had said that "terrorists opened fire on an army camp in Baramulla town."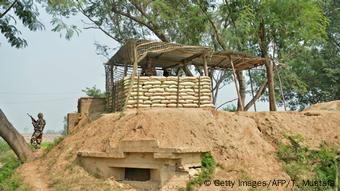 India and Pakistan have gone to war twice over the Himalayan territory
Tensions escalate
This is just the latest skirmish in two weeks between Indian forces and militants, which New Delhi claims are armed and trained by Pakistan.
India says the insurgents are seeking independence from India or a merger with Pakistan, a charge Islamabad has denied.
The two countries have gone to war twice over the Himalayan territory since each country gained independence from British rule nearly 70 years ago. Two weeks ago, militants attacked an Indian military camp in Uri, killing 18 soldiers.
India responded to that attack last week, announcing it had carried out "surgical strikes" against militant camps and destroyed "terrorist launching pads" on the Pakistani side of the heavily guarded Line of Control, claiming it had also inflicted significant casualties.
Pakistan denied such an attack had occurred.
Regional conference canceled
A key South Asian summit due to take place in the region next month has been cancelled by Nepal, which currently chairs the South Asian Association for Regional Cooperation (SAARC).
Nepal canceled the summit on Sunday due to the escalating military tensions between India and Pakistan, but the summit's fate was already in doubt as India had already declared it would not attend the meeting, due to be held in Islamabad. According to the SAARC charter, a summit cannot go forward if even one of its eight members withdraws.
Nepal's Foreign Affairs Ministry issued a statement, saying that it "regrets that the regional environment is not conducive" to hosting the summit.
bik/cmk (Reuters, AP, AFP)