At a joint press conference with Chancellor Angela Merkel in Hanover on Sunday, Obama said that his country and the European Union (EU) needed to keep pressing for a trans-Atlantic free trade deal.
Obama added that previous US trade deals had strengthened the economy and although people were unsettled by globalization, there would be problems if the US failed to remain competitive in the face of growing economies in Asia.
The US' free trade pact with the EU, referred to as the Trans-Atlantic Trade and Industrial Pact (TTIP) would remove unnecessary bureaucratic and regulatory hurdles and make business between the two partners easier, Obama told reporters.
The leader also emphasized security challenges, like fighting the so-called "Islamic State" (IS) and said the US and Germany had committed to stronger counterterrorism and intelligence cooperation. He also congratulated the German chancellor for her handling of the refugee crisis, saying, "she is on the right side of history."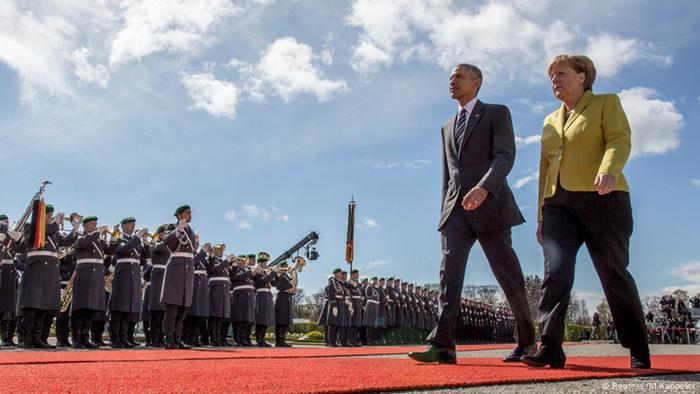 Merkel receives Obama at the Herrenhausen palace in Hanover
On 'safe zones' in Syria
"We remain deeply concerned about the upsurge in fighting in Syria over the last several days, and we continue to agree that the only real durable solution is a political solution that moves Syria towards an inclusive government that represents all Syrians," Obama said.
Merkel, who was in Turkey's Gaziantep on Saturday to visit Syrian refugees, defended her statement on creating "safe zones" in Syria, saying that these areas needed to be created so people could feel safe, receive food and humanitarian supplies without worrying about war. These safe zones, however, needed to be part of the Geneva peace talks on Syria, she added.
Obama, however, said establishing safe zones in Syria would be difficult without the US "essentially being willing to take over a chunk of that country."
Merkel and Obama's press conference was possibly their last joint appearance in Germany as Barack Obama is finishing his second term as president at the end of the year. Merkel said the two leaders were not in a position to stop because they were busy trying to solve conflicts taking place in the world.
The German leader also said her relationship with the US president was a testimony to a close partnership and friendship based on trust.
mg/jlw (Reuters, AP, dpa)