US President Donald Trump on Friday said his administration was "making a lot of progress" with China on trade, as Washington lifted tariffs on over 400 Chinese products.
Trump, speaking to reporters at a White House meeting with Australian Prime Minister Scott Morrison, said the United States was taking in billions of dollars from tariffs imposed on Chinese products, adding that the total would soon reach $100 billion (€90.8 billion). "I will say this: We're making a lot of progress with China," Trump said.
Read more: Can Trump prevent a US recession in election year?
The US Trade Representative's office issued three Federal Register notices on Friday to exclude a wide range of products from tariffs in response to requests from US companies, which argued that the levies would cause economic hardship.
The 437 exempted products range from printed circuit boards for computer graphics processors to dog collars, laminated wood flooring and miniature Christmas lights.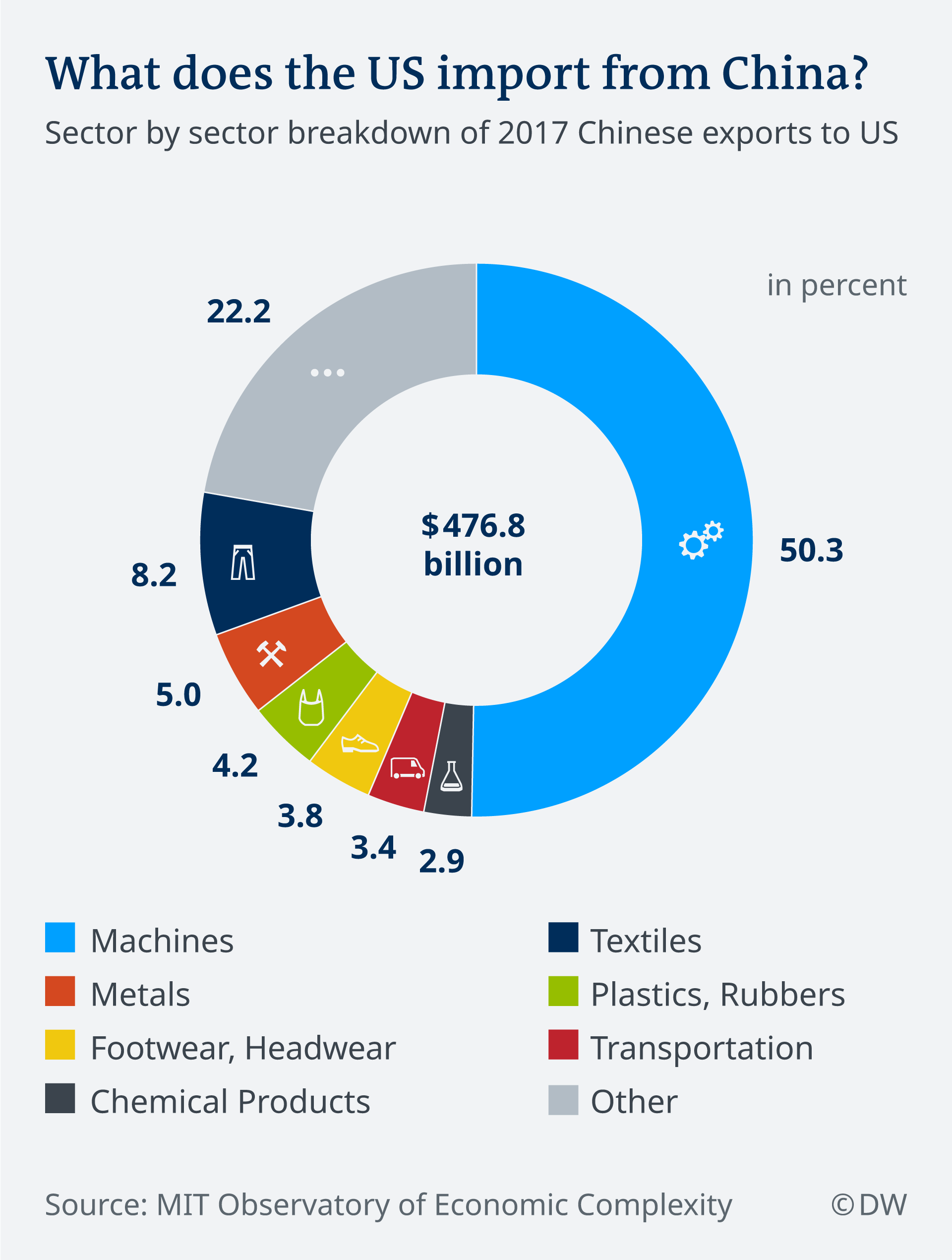 The US move comes after China announced last week that it would exclude imports of US soybeans, pork and other farm goods from additional tariffs, opening the door for significant purchases of agricultural products.
Chinese and US negotiators held two days of talks this week, focusing heavily on agriculture. They were also laying the groundwork for high-level talks in early October, which would determine whether the world's two main economic powers were working toward a solution or headed for new and higher tariffs on each other's goods.
Chinese Vice Premier Liu He is expected to hold face-to-face talks with US Trade Representative Robert Lighthizer and US Treasury Secretary Steven Mnuchin next month.
Trump wants 'complete' deal
The deepening rift in US-China trade and investment relations has triggered jitters among businesses and investors over economic growth prospects worldwide. The escalating row has also jeopardized the rule-based multilateral trading system. The Trump administration has imposed tariffs on $360 billion in Chinese imports and is preparing to tax the remaining $160 billion in goods that have so far been spared.
Trump said on Friday that he wasn't looking for piecemeal answers to the trade dispute with China. "I'm not looking for a partial deal. I'm looking for a complete deal," he said.
The US president denied that he was under pressure to resolve the massive trade dispute with China, saying he did not need a deal to happen before the 2020 presidential election.
Read more: US-China trade war — The unlikely European winners
The Trump administration and the Chinese government remain far apart on issues that are the basis of their trade dispute, including intellectual property theft, barriers to entry for foreign companies in China and Beijing's aggressive drive to supplant US technological dominance.
Trade experts, executives and government officials in both countries have said that even if the September and October talks produce an interim deal, the US-China trade row has hardened into a political and ideological battle that runs far deeper than tariffs and could take years to resolve.
Economic data released this week by Beijing showed sluggish growth across sectors, as the world's second-largest economy slows down under pressure from the trade spat.
sri/sms (Reuters, AFP, dpa)
Every evening at 1830 UTC, DW's editors send out a selection of the day's hard news and quality feature journalism. You can sign up to receive it directly here.