US Vice President Pence has embarked on a short visit to the Middle East, a trip that has already been postponed twice since December. After talks in Egypt and Jordan, he arrived in Israel on Sunday evening. While he was warmly welcomed by Israeli leaders, he won't meet any Palestinian officials during his trip.
Pence kicked off his visit by saying it was an honor to be in "Israel's capital, Jerusalem."
The remark was warmly welcomed by Israeli Prime Minister Benjamin Netanyahu, who told the US Vice President that he was the first visiting dignitary to utter those words, before thanking him for US President Donald Trump's "historic" move to recognize Jerusalem as Israel's capital.
Read more: Palestinian leader Mahmud Abbas seeks EU support in response to US Jerusalem move
After the US decision to recognize Jerusalem as the capital of Israel, many Palestinians will be closely following the vice president's words and actions, but won't hold their breath with regards to the visit. "They have killed any hope among Palestinians," Jawad Siyam, a Palestinian activist, told DW after the Trump decision to recognize Jerusalem as the capital of Israel. "The visit certainly has the potential to add to simmering tensions in the city."
His visit comes at a time when US-Palestinian diplomatic relations have hit a new low. In December, in protest of President Donald Trump's recognition of Jerusalem as Israel's capital, Palestinian President Mahmoud Abbas called off a planned meeting with Pence in Bethlehem. The decision this week by the US to withhold funds for the UN refugee agency UNRWA, which supports Palestinian refugees, has further strained relations. In a speech last week, Abbas made it clear once again that the US will no longer be accepted by the Palestinians as broker in any peace initiative.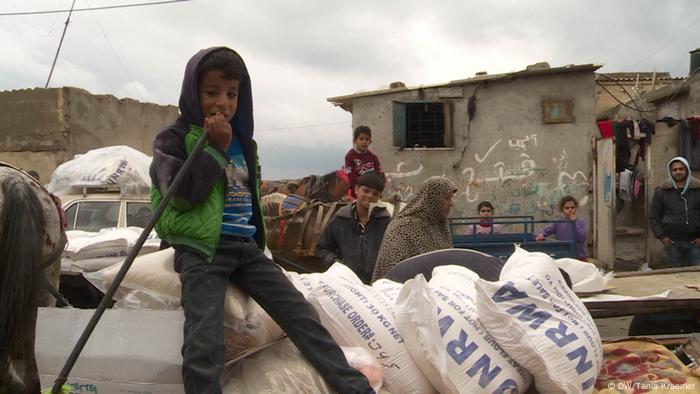 The US decision to cut funds to the UN refugee agency for Palestinian refugees looms over the visit by Mike Pence
Strained US-Palestinian relations
During his visit, Pence will address the Knesset in what is seen as an important gesture. George W. Bush was the last US president to address the Israeli parliament. "Clinton spoke to the Knesset, Bush spoke to the Knesset to mark the 60th anniversary of the founding of Israel — a speech at the Knesset is an exceptional event," Eytan Gilboa, an Israeli expert on American-Israeli relations from Bar Ilan University, told DW.
But the planned address also drew criticism among Israeli-Arab lawmakers who will boycott the speech over the US policies. "This is a dangerous man with a messianic vision that involves the destruction of an entire nation," Ayman Odeh, head of the Joint Arab List coalition, wrote on Twitter.
Pence, often described as a devout evangelical Christian, will also address his own support base back home in the US. "The evangelicals are one of the greatest supporters of Israel, maybe more than the Jewish community at the moment. In that sense, this is the hard core base of the Trump administration," says Gilboa.
Evangelical approach to the Middle East
Originally, his visit was framed as a show of support for Christian minorities in the region. However, he most likely won't meet with any Christians in the Holy Land. A previously discussed visit to the Church of the Nativity, one of Christianity's holiest sites, and located in the occupied West Bank, does not appear on the vice-president's schedule. The churches have been highly critical of Trump's decision on Jerusalem and have called for the status quo to be maintained.
"Many people here think that the pressure of the evangelical groups in the United States to which Pence belongs or is close to was behind the Jerusalem decision," Bishop Munib Younan, former head of the protestant Lutheran Church in Jordan and the Holy Land, told DW. "Their apocalyptic scenarios and understanding of Jerusalem are very harmful for the cause of peace and justice in Jerusalem."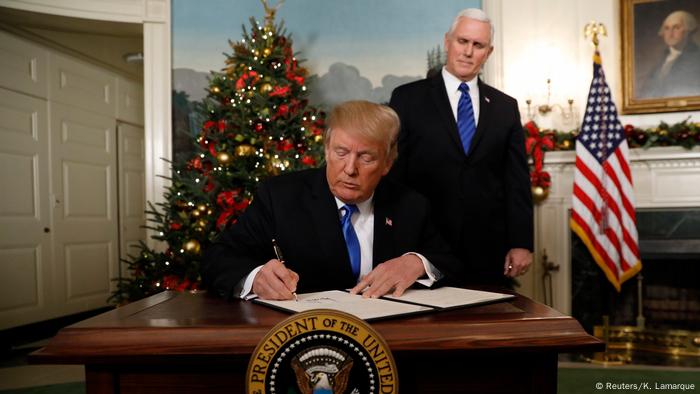 Trump's decision to recognize Jerusalem as Israel's capital hasn't made Pence's visit any easier
Evangelical Christians are part of the Christian-Zionist camp which supports the State of Israel. Some of them believe in an end-of-time scenario that will eventually occur in Jerusalem. "They are a voting block, so it represents a domestic issue," Oscar Cantu, a US Catholic bishop, told DW on a recent trip to Jerusalem. "The United States has been for many years a key interlocutor to bring the two parties together for dialogue. Now the Palestinians are very distrustful and feel we have taken sides."
The Western Wall
However, it is Pence's expected visit to the Western Wall, the holiest site in Judaism, that might create the most tension. Trump visited the holy site during his trip in May. At the time, his visit was declared as 'private' in order to avoid any controversy concerning Jerusalem's delicate status quo. But since his decision to recognize the city as Israel's capital, whatever Pence says and does will be perceived by Palestinians in a very different light.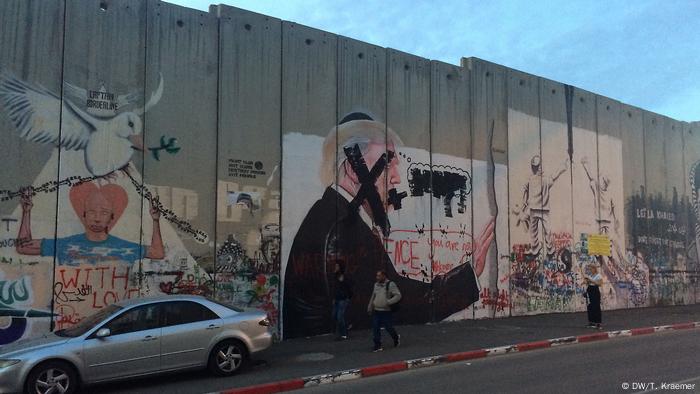 The Palestinians have cancelled any official meetings with the US vice president
The editors of the 0202 website, a grass-roots project based in Jerusalem, will also be following events closely. Named after the telephone area code of 02 for Jerusalem, the website aims to highlight the different realities in both parts of Jerusalem. A small group of Palestinian and Israeli volunteers translate news from their respective communities in Hebrew, Arabic and English. "The idea is basically to allow people to look at a Facebook feed from someone who is not like them," Shira, a young editor, told DW.
Although 0202 discusses a variety of everyday issues such as a lack of garbage collection in East Jerusalem or Jerusalem's public transport problems, political issues obviously play a role and have become more contentious ever since Trump's decision on Jerusalem as Israel's capital, ignoring the reality that East Jerusalem remains occupied and is practically inhabited by Palestinians.
"It's very disappointing, Jerusalem means so much in Arab culture, for Palestinians, Muslims and Christians alike," says Nadia, a Palestinian volunteer translator. "To have made such a one-sided statement, just erases everything that is Arabic about it [Jerusalem]." Shira also has mixed feelings. "Personally speaking, I wish he [Trump] could have gone a step further and recognized everyone's footprint and history here."