Palestinian President Mahmoud Abbas condemned the White House's Middle East policies, including President Donald Trump's decision last month to recognize Jerusalem as the Israeli capital, in a fiery speech on Sunday.
Abbas said US peace efforts for the Middle East and the Jerusalem decision amounted to the "slap of the century."
Abbas' speech came during the start of a two-day meeting of the Palestine Liberation Organization (PLO) in Ramallah, where officials are set to lay out their response to Trump's Jerusalem move.
Read more: Opinion: Trump wantonly fans the flames of Middle East conflict
"Our eternal capital is Jerusalem, and we will not accept what is being offered to us to make Abu Dis the capital of Palestine instead of the city of Jerusalem," Abbas said, confirming reports that the White House had offered the Jerusalem suburb Abu Dis to the Palestinians as an alternative capital of a potential future state.
Abbas also responded to White House criticism that the PLO had refused to negotiate on Jerusalem.
"Shame on you," Abbas said in a message directed at Trump. Palestinians had remained committed to negotiations but would reject any proposal they deemed to be unfair, the Palestinian president added.
The status of Jerusalem remains one of the most contentious issues in the decades-long Israeli-Palestinian conflict.
The city — with religious sites that are holy to Muslims, Jews and Christians — has been divided between Israelis and Palestinians since 1948. In 1967, Israel took control of East Jerusalem, the section Palestinians claim as the capital of their future state.
The UN does not recognize this annexation or the city as the undivided capital of Israel.
Trump's decision to determine Jerusalem as Israel's capital upended decades of US foreign policy in the region and provoked violent protests across the world.
Oslo Accords called into question
Abbas also threw the US-brokered Oslo Accords into uncertainty on Sunday, saying: "There is no Oslo — Israel ended Oslo."
The 1990s accords led to the PLO's official recognition of the state of Israel and, in turn, led to the establishment of the Palestinian Authority government. In his two-hour speech, Abbas did not specifically mention the recognition of Israel.
Read more: Arab states to seek recognition of East Jerusalem as Palestinian capital
Trump's Jerusalem decision also prompted Abbas and the PLO to reject any role for the United States in future peace efforts.
During the 2016 US presidential campaign, Trump repeatedly said his administration would make the "ultimate deal" by brokering a peace agreement between Israelis and Palestinians.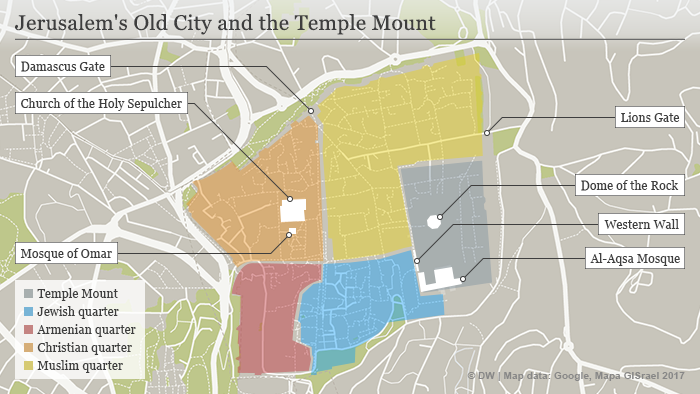 dm/sms (AP, AFP, dpa)