Tens of thousands of mourners paid their respects to Ukrainian separatist leader Alexander Zakharchenko in the rebel-stronghold of Donetsk on Friday.
Zakharchenko, the 42-year-old chief of the self-proclaimed Donetsk People's Republic, was killed in a bomb attack at a Donetsk cafe on Friday, becoming the four-year conflict's most high-profile killing in the Moscow-backed side.
Read more: Alexander Zakharchenko: The latest Ukrainian rebel leader to face an abrupt death
His bodyguard also died during the attack and 12 people were injured.
A representative of the local authorities estimated that about 100,000 people came to pay their respects, while a correspondent from French news agency AFP said the number was closer to 30,000.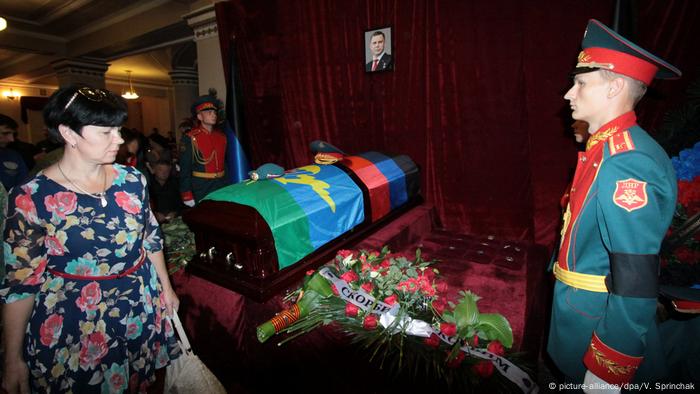 Tens of thousands of people lined up to pay their respects to Ukrainian separatist leader Alexander Zakharchenko
Huge billboards could be seen the city centre emblazoned with pictures of Zakharchenko and his quotes, such as: "All of us have one Motherland — Russia."
In a statement published by the Donetsk republic's official news agency, Russian President Putin's aide Vladislav Surkov described Zakharchenko as a "brother."
"You are a great guy, a true hero and it's a huge honor to be your friend," said Surkov, calling Zakharchenko Sasha, a diminutive form of his first name.
'We will not accept it '
Moscow and separatist leaders said Kiev was behind the assassination, while Ukraine said the bombing was linked to internal feuding and Russia's desire to control the territory.
"We will never forget this tragedy, we will never forgive," said one mourner, Sergei Kapustin, 35.
Local Ukrainian parliamentary leader and influential separatist Denis Pushilin again blamed Ukraine for Friday's bomb attack.
"We will not accept it and will continue the fight with all available means," said Pushilin.
Putin's spokesman Dmitry Peskov and Russian Foreign Minister Sergei Lavrov have said the high-profile murder was a provocation and would derail the long-stalled, Western-brokered peace process.
law/rc (AFP, dpa)