Recep Tayyip Erdogan's visit to Greece is being greeted with understandable fanfare. Erdogan traveled to the country in 2010, when he was prime minister, but his trip on Thursday is the first by a Turkish head of state since 1952. When it comes to the mood on the ground, however, expectations are much more reserved, according to Konstantinos Filis, research director of the Athens-based Institute of International Relations. "Economic and security issues will be the focus of the visit. Controversial topics will be ignored," the he told DW.
One such contentious issue is the status of Cyprus. UN-led talks on the reunification of the island broke down in July. Greek and Turkish Cypriots blame each other for their collapse. A revival of negotiations is nowhere in sight, especially in light of next year's presidential election in the Republic of Cyprus.
But Filis believes that the diplomatic impasse is all the more reason for Turkey and Greece to try to improve bilateral relations. Turkish tourists are visiting Greece in record numbers, for instance. "Talks will address a new train line from Istanbul to Thessaloniki, as well as a ferry connection between Izmir and Thessaloniki," said Filis.
Istanbul-based journalist and political scientist Nikolaos Stelyas also sees great potential for bilateral cooperation, making the Erdogan visit very important for both sides. Greece is concerned about its financial crisis and ongoing austerity measures as well as seeking new areas of foreign policy activity, so "it is in the interest of both parties that Greece and Turkey find common cause," Stelyas told DW.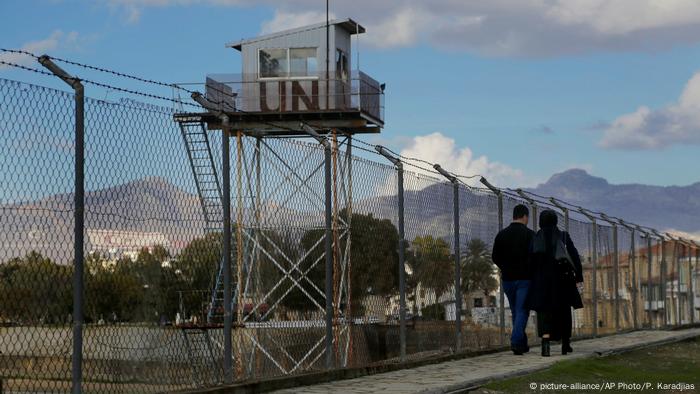 Divided Cyprus remains a diplomatic sore point between Turkey and Greece
Rocky start
Indeed, the trip got off to a somewhat rocky start during Erdogan's first stop, talks with Greek President Prokopis
Pavlopoulos. Earlier, Erdogan had hinted that he may address the issue of reworking the 1923 Treaty of Lausanne, which established the borders of modern Turkey.
"The Treaty of Lausanne defines the territory and the sovereignty of Greece and of the European Union and this treaty is for us non-negotiable. It has no flaws, it does not need to be reviewed, or to be updated," Pavlopoulos said.
Erdogan then said that protecting "ethnic kin" in the border region of western Thrace was a "top priority."
Tension over refugee policy
Erdogan is also expected to speak with his Greek hosts about the flow of refugees to Europe. Officially, Athens has signaled its satisfaction with the EU-Turkey Refugee Deal reached in March 2016. One point of the agreement stipulates that Turkey take back refugees that have illegally traveled from Turkish territory to reach Greece's eastern Aegean islands. In Athens' view, the agreement is working, as the number of new arrivals has gone down substantially since 2016. The fact that Turkey has only been able or willing to take back 1,400 people since then, however, has caused consternation.
Moreover, Greece has registered a slight uptick in the number of refugee arrivals over the last several of months. But Filis cautioned that does not mean one should go so far as to claim that the deal is no longer working. "The 1,500 to 2,000 new arrivals per month that were registered last summer represent a significant increase," he said. "But one must not forget that in the summer of 2015 hundreds of thousands of refugees were arriving in Greece from Turkey. That was on a completely different scale."
In any case, Athens is calling for maintaining the EU-Turkey Deal. Anything else, wrote Ta Nea, Athens' biggest daily newspaper, ahead of Erdogan's visit, would bring "a repeat of the dramatic summer of 2015." Filis also does not believe that Turkey will make good on its threat of withdrawing from the deal. Although he does expect that Erdogan will insist upon concessions from Greece for upholding it. "Just as he has closed the border for human traffickers, he is now apparently calling for Greece to close its borders to Turkish citizens that have continued to flee to Greece and apply for asylum there in the wake of the failed 2016 Turkish coup," Filis said.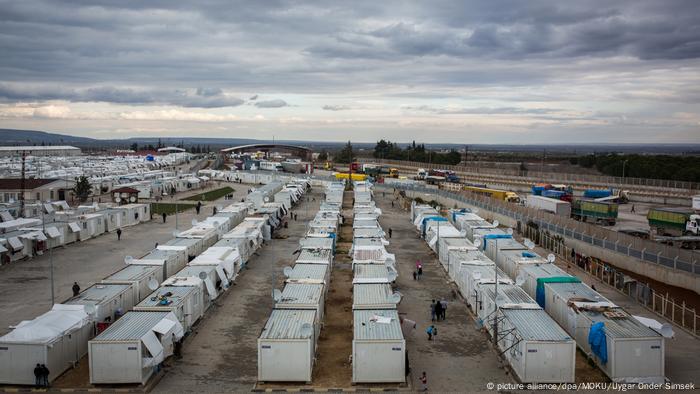 The refugee agreement reached between the EU and Turkey is holding, for now
Difficult relations with the EU
Greece is only the second EU country, after Poland, that Erdogan has visited since the failed attempt to oust him last summer. Should the Turkish president use Athens as the stage from which to deliver a blistering critique of the bloc, it could put Greece in a difficult situation, said Filis. But the political scientist is confident that Erdogan is not really interested in slamming shut the door to Europe. Journalist Stelyas also pointed out that, since the 1990s, Greece has consistently backed Turkey's EU accession aspirations, despite problems in bilateral relations between the two countries. Nevertheless, Greece holds no sway over the course of negotiations, he said.
The idea that Erdogan will ask his Greek hosts to mediate on his behalf in Brussels seems unlikely, said Filis. "Despite all of his verbal attacks and disputes, Erdogan is still very capable of dealing with heads of state and government on his own," he said. "He does not need any mediators or bridge builders."