German Chancellor Angela Merkel's one day visit to Turkey on Thursday will focus on efforts to find a political solution in Syria and the EU-Turkey refugee agreement.
Merkel is facing a tough election battle this year and thesubject of refugees is set to be a key issue.
However, there seems to be little crossover between Ankara's expectations and Berlin's priorities. In the aftermath the attempted coup on July 15, Turkey criticized its European allies for a lack of solidarity and believes that Merkel's visit has come far too late.
Ankara's expectations
However, Mustafa Yeneroglu, member of parliament for the ruling Justice and Development Party (AKP), was keen to stress the symbolism of Merkel's trip.
"This visit, taking place 6 months after the bloody coup attempt of July 15, is no doubt very important," he told DW.
The Turkish side is seeking concrete answers on issues such as the war on terror and security.
An experienced figure in German relations, Yeneroglu also said that Turkey didn't receive the support it expected from Germany, emphasizing it was "unfortunate that every issue we expressed last year is still on the table. This needs to be addressed." He also pointed out that the promise of visa relaxation for Turkish citizens has not been kept and that the EU and Germany are far from carrying out an effective fight against the PKK, which is recognized as a terrorist organization by the United States, European Union and Turkey.
"As a country that defended its democracy in a triumphant manner on the night of July 15, waged a war against international terror, and has strived to bring peace to Syria, we expect more action and solidarity, and not more promises."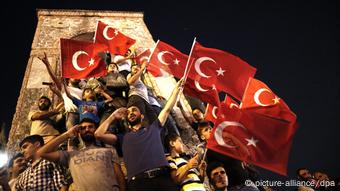 President Erdogan described the attempted coup in July as an 'act of treason'
Gülen movement
The Turkish government is also demanding Germany take more effective measures against the Gülen movement, who it claims was behind the coup.
Former state prosecutors Zekeriya Oz and Celal Kara, said to be affiliated with the Gülen movement, are believed to have fled to Germany. Ankara requested their extradition, along with that of 30 further people said to be affiliated with the Gülen movement, so far without reply. The Turkish side also wants Germany to refuse pending asylum requests by civil servants, consisting mostly of military personnel.
Wary of increasing tensions, Berlin has not agreed to any demands as of yet. It has asked for comprehensive files containing concrete evidence for the extradition demands and said that the asylum applications are being examined.
Opposition critical of the timing
The fact that Merkel is visiting before Turkey's constitutional reform referendumhas received criticism from the Republican People's Party (CHP). The main opposition party feels the trip could be interpreted as a show of support for government policies.
The deputy leader of the CHP, Selin Sayek Boke, told DW that while they understand Merkel's efforts for a solution to the refugee crisis, they have reservations about the timing of the visit.
Boke pointed out that Merkel's previous visit was just before the last election and that she did not meet with CHP. "During Merkel's visit, meetings with the elected powers are important but support of democracy must also be shown with the timing of the visit."
Boke said that the constitutional reform proposal includes elements that will dismantle democracy and transfer executive and legislative powers to the presidency.
"While the country is on the road to a referendum and struggling to save its democracy, the referendum will be discussed at every visit and every contact. This is why we believe that everyone who believes in freedom and democracy must support these values during this period."
Kurdish issue deadlock
Turkey has been in a state of emergency since the July coup attempt. This was extended in January following the New Year's attack.
Many lawmakers, mayors and politicians have been imprisoned under the emergency rule. They include Figen Yuksekdag and Selahattin Demirtas, joint leaders of the pro-Kurdish Peoples' Democratic Party (HDP). The party is the third-largest in the Turkish parliament.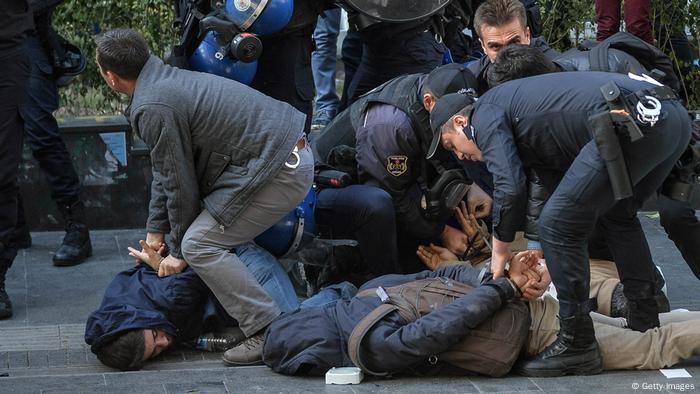 Several leading members of the pro-Kurdish HDP party have been arrested as part of a counter-terrorism investigation
HDP European representative Eyup Doru said that Merkel is the only leader left in Europe that will meet with Turkish President Recep Tayyip Erdogan and that the only way out is for Turkey to change its course towards democracy again.
"Turkey has abolished the basic principles and criteria of democracy, and the right to vote and the right to stand for election," he told DW. "Our co-chairs and nearly all our mayors are imprisoned. There is no way you can call this a democracy. We expect our lawmakers and mayors to be freed immediately."