Chancellor Angela Merkel said Friday that the North Atlantic Treaty Organization (NATO) is not just of value for Europe but also for the United States. "I think we should all be aware of the mutual value of NATO," Merkel said at a joint press conference with Canadian Prime Minister Justin Trudeau in Berlin. "I think the strength of the United States of America has also rather grown because of NATO." She added that questions regarding NATO should be debated "in the spirit of our shared interest."
The military alliance was one of the key topics Merkel and Trudeau addressed during the Canadian prime minister's visit to the German capital.
Trudeau questioned 2-percent goal
The new US administration had recently called on other members of the NATO to increase their contributions to international defense. During his campaign, President Donald Trump had called NATO "obsolete" and alleged that the US carried too much weight in the alliance.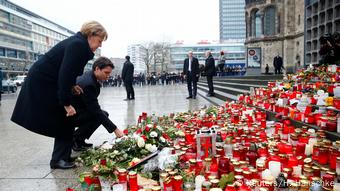 During Trudeau's visit, the prime minister and Chancellor Merkel also visited the site of the attack on a Berlin Christmas market
In Berlin, Trudeau told reporters that a nation's commitment to NATO should not just be measured by its defense budget but also should include other components, such as whether troops are sent somewhere. Canada is currently leading a NATO mission in Latvia, while Germany heads troops stationed in Lithuania.
While Germany has made a commitment to increase its defense spending, a Canadian government official who briefed journalists prior to Trudeau's departure for Europe said Canada was "quite comfortable" with its current contribution to NATO. Germany spends 1.2 percent of its gross domestic product (GDP) on defense while Canada spends 0.99 percent. NATO has set a target for members to spend 2 percent of their GDP on defense. At the NATO defense ministers meeting in Brussels this week, US Defense Secretary James Mattis called on NATO to put a plan in place this year laying out a timetable for governments to reach the NATO target.
Difficult relationship with Trump administration
While both Merkel and Trudeau are said to have had a good relationship with former US President Barack Obama, they have struggled to build a productive relationship with the new US administration over policy differences regarding issues raging from defense to immigration and trade deals.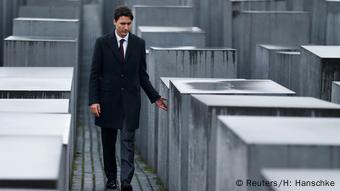 Trudeau visited the Holocaust Memorial in Berlin
During their Berlin press conference, Merkel and Trudeau presented a demonstratively united front.
The leaders praised the Comprehensive Economic and Trade Agreement (CETA). Trudeau called the trade deal between Canada and the European Union a blueprint for future deals, while Merkel said that CETA would be "of value to both sides."
CETA had been approved by European Parliament last week amid massive demonstrations outside the parliament.
A small number of anti-CETA protesters gathered outside the chancellery while a meeting was taking place on Friday:
Shared values regarding refugees
Merkel also praised Trudeau for his refugee policy.
"Germany took in a lot of refugees," she said, "and that's why we are very grateful when someone sees this as a worldwide task."
Ahead of the press conference, Merkel received Trudeau at the Chancellery with military honors, a spokesperson for the chancellor tweeted.
The two leaders also visited the Breitscheidplatz and laid down flowers at the site of a brutal attack on a Christmas market late last year.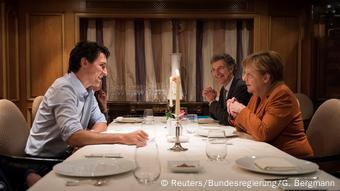 At a private dinner at the Regent hotel in Berlin the two leaders held private discussions
At a private dinner at the Hotel Regent in Berlin on Thursday, Merkel presented Trudeau with a photograph of him as a 10-year-old in 1982 posing with his father, Pierre Trudeau, the then prime minister of Canada and Chancellor Helmut Kohl.
When Merkel and Trudeau first met at the G20 summit in Turkey in November 2015, they appeared to differ on how to stimulate economic growth. Merkel held to her long-standing commitment to government austerity while Trudeau favored investments in infrastructure, financed through modest deficits.
Later on Friday, Trudeau is due to have dinner with Foreign Minister Sigmar Gabriel at the town hall in Hamburg. Merkel is due to attend a major security gathering in Munich, six hours south of the German capital, where NATO will once again be the focus of international talks.
jm, mb/sms (dpa, AFP, AP)