Eleven men went on trial Wednesday in the Hungarian town of Kecskemet in connection with the horrific deaths of 71 migrants found crammed inside a freezer truck in 2015. Four of the suspects face murder charges.
The defendants stand accused of human trafficking and torture. Four of them - three Bulgarians and an Afghan national - have been charged with "homicide with particularly cruelty" and face life in prison. The 30-year-old Afghan is thought to be the ringleader of the group.
All men have been in custody for almost two years, bar one man who remains one the run and will be tried in absentia.
Read more: 'This is not how I wanted to arrive in Europe'
Despite authorities going finding the truck on the side of a motorway in Austria, the trial is taking place in Hungary because authorities found that is where the migrants died.
Hungarian prosecutors claim the group was part of a larger ring that smuggled some 1,200 people into Germany and Austria during the height of Europe's migrant crisis in 2015.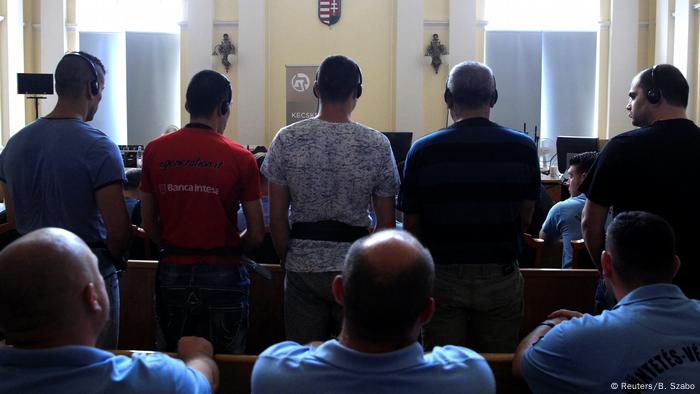 Five of the 11 men charged with trafficking and torturing refugees stand before the court as their trial begins in Hungary
Refugees were "often carried in closed, dark and airless vans unsuitable for passenger transport, in crowded, inhumane, excruciating conditions," according to the prosecution.
The process is expected to last until at least the end of the year and could extend into 2018.
A horrific discovery
The discovery highlighted the plight of hundreds of thousands of refugees faced during Europe's migrant crisis and prompted widespread revulsion and anger directed at merciless traffickers.
Prosecutors collected around 59,000 pages of evidence detailing the horrific discovery on the side of a motorway in Burgenland, where police found 71 bodies crammed inside a 14-square-meter cargo container.
Among the dead were 59 men, eight women and four children. All the victims hailed from Syria, Iraq and Afghanistan.
Investigators found that victims had "suffocated in horrendous conditions" shortly after they were picked up near the Serbian-Hungarian border.
The incident also prompted the countries to open up their border along the western Balkan migrant route into Western Europe. That Balkan route has since been shut.
Read more: Austria wants exemption from EU refugee relocation system
Intercepted phone conversations between the smugglers revealed that the truck's driver could hear the migrants screaming in the back, but was ordered by the alleged Afghan ringleader to ignore the suffocating people keep driving. "If they die... drop them off in a forest in Germany," he reportedly said.
Investigators also found that the group loaded another 67 migrants into a freezer truck to drive to Austria just a day after authorities found the 71 bodies in the first truck. The migrants in the second vehicle were able to kick open the back doors and escape with their lives.
dm/sms (AFP, Reuters, dpa)