The list of countries embroiled in a diplomatic row with Turkey just got longer after Ankara moved to hinder imports of Russian grain. Ironically, relations between Turkey and Russia had steadily been improving since Ankara apologized for downing a Russian jet in 2015.
That incident triggered sanctions from Moscow, causing a drastic decline in tourism income and hampering trade.
Now, the Kremlin has accused Turkey of violating World Trade Organisation (WTO) rules. Yet, Ankara denied claims it had banned imports of certain products from Russia.
Read: What you need to know about the German-Turkish row
Tit for tat
Turkish firms wanting to import Russian agricultural products now have to pay 130 percent customs tariff. In theory they are still allowed to import. In practice, however, the high tax makes doing so unfeasible.
It seems highly unlikely that Moscow will lift its current embargo on Turkish vegetables simply to relieve duties on Russian grain imports, according to Aydin Sezer, a former diplomat and head of the Center of Turkey and Russia Studies in Ankara.
"Russia still adheres to all of the political sanctions put in place after the jet crisis" he told Deutsche Welle, adding that limitations for business or tourist visas continue and more than 40,000 Turks living in Russia continue to face problems when renewing residency or work permits.
"The tomato is a symbol of that. Russia's relations with Turkey have developed perfectly but Turkey's relationship with Russia is still at the level of just after the jet crisis," Sezer said. "Putin hasn't forgotten that and never will."
Turkey is the second-largest importer of Russian goods and one of the largest markets for Russian maize and sunflower oil. With a total import volume of $1.48 billion (0.93 billion euros), Russia is the second-largest exporter of goods to Turkey, according to data from the Turkish Statistics Institute. However, Russia only ranks 20th in the list of countries to which Turkey exports.

Ties tested in Syria
The two countries have been on opposite sides in the Syrian war. Russia is an ally of Syrian President Bashar al-Assad. Turkey took the side of the rebels.
Nevertheless, Turkey shifted its priorities and has recently worked closer with Russia in a bid to end the six-year conflict and cement a ceasefire.
"The extent to which Moscow is able to accommodate Ankara in northern Syria will prove pivotal in the future of bilateral relations," said Anthony Skinner, director of the Middle East and North Africa practice at Verisk Maplecroft. "Turkey was only able to deploy in Syria from August 2016 onwards with Russia's consent."
Turkey this week announced the end of the 'Euphrates Shield,' its own six-month-old military offensive in northern Syria, in which Turkey aimed to push Islamic State fighters away from its border and stop the advance of Kurdish fighters.
- Putin 'uses Turkey' to achieve his own ends
- Russia-Turkey ties scramble allegiances in Syria
- Putin, Erdogan working in 'full cooperation' in Syria
The Turkish military announced on Friday it would continue efforts to prevent any "unwanted formations" in Syria after the completion of the operation in northern Syria.
"Russia will decide whether to improve bilateral relations based on Turkey's performance in norther Syria. They made Turkey clean up Al-Bab and now they want Turkey to withdraw," analyst Aydin Sezer told DW. "If we withdraw Russia will be very happy and will continue to keep Turkey as a country under its control."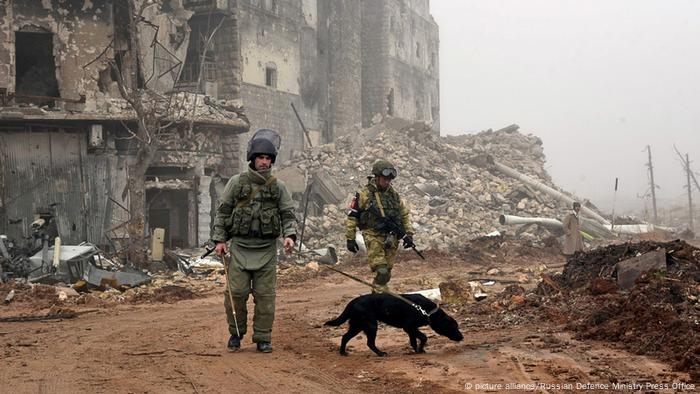 Russian soldiers clear mines in Aleppo as part of Moscow's involvement in the Syrian war
Russian producers
A further sticking point in getting the embargo on Turkish tomatoes lifted is the objection by Russian farmers. They have invested substantial amounts in the construction of greenhouses as part of Russia's move to substitute imports for domestically made goods.
"Like every country Russia has lobbyists. Those who have invested in the greenhouse business will clearly lobby for retaining the current restrictions," Georgiy Petrov, advisor to the president of the Russian Chamber of Commerce and Industry, told DW.
Read: Kremlin critic: Protests a turning point for Western stance on Russia
However, policies aimed at supporting domestic producers of vegetables tend to hit consumers, says Sergei Lishchuk, managing partner at consulting company Retail4you in Moscow.
Only 20 percent of vegetables on the Russian market are being sold at affordable prices, he told DW.
"If we go to any grocery store and see the prices for vegetables we will be terrified. The reason is that Russia voluntarily closed the door on one of the biggest exporters in Europe."