Despite Brussels warning Ankara to avoid "exacerbating" the situation over Turkey's demands to hold political rallies in the EU, Turkish President Recep Tayyip Erdogan hit out at the Netherlands on Tuesday, by holding them responsbile for Europe's worst mass killing since World War II,
Referring to a Dutch battalion of United Nations peacekeepers who failed to halt the slaughter by Bosnian Serb forces of thousands of Muslim men and boys in eastern Bosnia in 1995, Erdogan said: "We know the Netherlands and the Dutch from the Srebrenica massacre. We know how rotten their character is from their massacre of 8,000 Bosnians there."
Merkel 'supporting terrorists'
Speaking at an event in Ankara, Erdogan also attacked German Chancellor Merkel for her public backing of Dutch Prime Minister Mark Rutte in the ongoing diplomatic crisis with the Netherlands.
The spat began when Holland refused to let Turkish ministers hold political rallies there ahead of a referendum in Turkey to be held on April 16. German authorities have also taken measures to limit such rallies but, to a lesser extent.
Erdogan accused Merkel on Tuesday of attacking Turkey the same way Dutch police used dogs and water cannon to Turkish disperse protesters outside the Turkish consulate in Rotterdam.
The Turkish President said Merkel was "no different from the Netherlands," and urged emigre Turks to not vote for "the government and the racists" in upcoming European elections.
"Europe is too important a continent to be abandoned to the mercy of the bandit states," Erdogan said.
Nazi slurs
Previously, Erdogan accused the German chancellor of "supporting terrorists," after saying that both Germany and Netherlands acted like Nazis.
"Mrs Merkel, why are you hiding terrorists in your country? Why are you not doing anything?" Erdogan said in an interview, accusing her of refusing to respond to 4,500 dossiers sent by Ankara on terror suspects.
Merkel's spokesman Steffen Seibert meanwhile said that the accusations against her were clearly "absurd."
"The chancellor has no intention of taking part in a game of provocation," he added.
-NATO chief: Dutch and Turkish allies should battle external threats
-Dutch head to polls amid row with Turkey
-Rotterdam keeps cool head in Netherlands-Turkey dispute
The Turkish referendum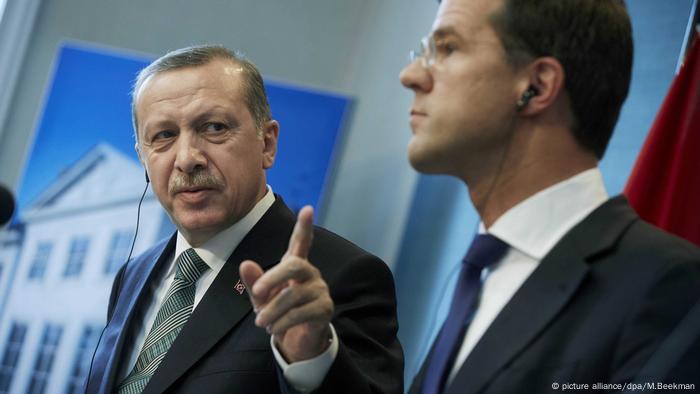 Erdogan's belligerent course comes as Dutch Premier Mark Rutte (r.) gets ready to hold elections, which could possibly result in him losing his mandate
The Netherlands responded angrily to Erdogan's repeated claims of Nazism over the referendum dispute. The country, Germany's neighbor, was bombed and occupied by German forces during World War II.
"Nazism, we can call this Neo-nazism. A new Nazism tendency," Erdogan said again on Monday.
His aggressive rhetoric comes with just one month to go to the referendum date. Expatriate Turkish voters could make all the difference in the plebiscite that, if passed, would greatly expand Erdogan's powers.
Escalating conflict
The standoff with the Netherlands meanwhile led to a complete halt in the diplomatic relationship between the two nations. Turkey banned the Dutch ambassador from the country and stopped all high-level political discussions. The escalation came on the eve of general elections in the Netherlands.
Turkish Prime Minister Binali Yildirim meanwhile also threatened to cancel the refugee deal struck between Turkey and the European Union one year ago, which has helped in keeping the number of migrants arriving in Germany and elsewhere in Europe at bay.
On Tuesday, Dutch Prime Minister Rutte said that the measures taken by Turkey so far were "not too bad."
"On the other hand, I continue to find it bizarre that in Turkey they're talking about sanctions when you see that we have reasons to be very angy about what happened this weekend," he added.
Updated travel advisories
The German Foreign Ministry meanwhile updated its travel advisory on Turkey, saying that Germans there should be worried about "heightened political tensions and protests that could be directed at Germans."
The revision also recommends that German visitors to Turkey "stay away from political gatherings and from larger groups of people in general."
The Netherlands followed suit and also revised their travel advice for Turkey, urging Dutch citizens visiting Turkey to exercise caution.
"There have been diplomatic tensions between Turkey and the Netherlands," the ministry wrote.
"Be alert and avoid large crowds."
ss,dj,ksb/rt (AFP, Reuters, dpa)