"Can tech make a better world?"
That's the motto of the Conference of European Rabbis (CER) awards, given annually to the most deserving online entrepreneurs. And it's a key question says Mounir Mahjoubi, France's Secretary of State for Digital Affairs, who gave the inaugural address at this year's award ceremony in Paris.
"Of course it's about making a profit and drawing as many customers as possible to one's product," Mahjoubi said. "But digital technologies should also help to take better care of people and to develop things more sustainably."
The CER conference is normally devoted to topics such as interfaith dialogue or fighting anti-Semitism and radicalization. But through its Internet Entrepreneurs Prize it also honors startups that use new technologies according to the principle of tikkun olam – Hebrew for "fixing the world." The three victors evidently showed evidence of this, winning €26,000 ($30,130) for first prize and €18,000 each for second and third place.
A life-saving little box
Israel-based CardioScale took first prize for this innovation
A small box by the Israeli startup CardioScale took first prize. You strap it on like a blood pressure sleeve and it measures five different vital signs – blood pressure, pulse, breaths per minute, and the body's oxygen and carbon dioxide levels.
"An algorithm we developed can help us predict whether someone could soon fall into shock," says company founder Maoz Ben-Ari.
In the process, it can outthink the body's own mechanisms that can falsify some signs such as blood pressure, or for example, conceal internal bleeding after a severe accident or incident.
Read more: Tel Aviv shows off status as startup paradise
The ideal originated with the doctor Uri Gabby, Ben-Ari's father-in-law, and the electrical engineer Ben-Zion Bobrowski. However, by 2012 both wanted to drop the project because they were struggling to bring it to market.
Ben-Ari convinced them otherwise. A businessman who had previously sold diamonds for ten years, he helped them launch a startup and soon they landed a contract with the Israeli army.
"It was unbelievably difficult to do this project. We constantly had to convince people about our idea and keep raising more money," he says. "But the possibility of saving lives is better than money or anything else. That's worth getting up early in the morning for."
The three founders have so far invested around $1 million in the company and hope to be in the black within two years.
New tech which helps wheelchair users
The smart glasses from the Munich startup Munevo, which won second prize, cannot save lives but they can certainly improve them. They help disabled people steer their wheelchairs by making simple movements of their head.
"Typically, they have done this using their chins on a joystick, but that's often unpleasant and not very elegant for them either," says Claudiu Leverenz, the company's cofounder. "Our glasses recognize their head movements. When they tilt them backwards, for example, the wheelchair starts moving. Also, they can adjust their seat through a menu on the glasses and even take pictures with them."
Steering a wheelchair with one's glasses – second prize went to Munich-based Munevo
Officially, Leverenz and his three cofounders launched Munevo this year. But the idea originated back in 2014 as part of a university project.
Read more: New trend: Mental and social health startups
"Back then I wanted to be an IT entrepreneur," Munevo says. "But once we found out the limited extent to which wheelchair users are technologically integrated, we thought: we have to do something for them."
Time and time again, the students met people with disabilities whose willpower left a lasting impression. To date, the project has collected more than €600,000 from foundations, public institutions and private donors. The product has now been authorized for use in Europe.
Soon, the first pair of glasses is expected to be delivered to a wheelchair user in Augsburg, financed by the public health insurance system. In the future, the glasses may also be used to control her computer, smartphone and home environment, for example the lighting and heating controls.
An electrical impulse
Power for gadgets such as these could soon be produced by the so-called green pack of the Inergys company, which took third place in the awards. This small device combines a wind rotor with a solar panel, producing enough power for a European household of three to four people.
Read more: Smart tech propels Germany's switch to renewables
The company, based in the southwestern French town of Limoges, is close to the heart of its founder Thierry Lamidieu. "We must do something against global warming and produce more sustainable electricity, otherwise we'll hit the wall soon," he says.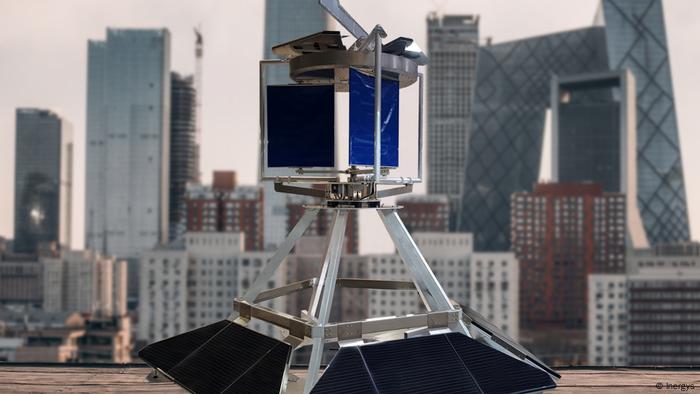 Wind power and solar energy – the Green Pack by Limoges-based Inergys wins 3rd prize
The green pack is so small – just over five meters high – that one can set it up where no conventional wind turbine could fit. And the combination of wind and solar energy is naturally complementary. "At night there's no sun but there is often wind," Lamidieu says.
Inergys already has six clients, including major corporations such as energy giant Engie (formerly GDF Suez) and telecoms operator Orange. Another 30 could soon follow. So far Lamidieu has managed to raise €1.7 million, but he needs about €2 million more.
"We have cut our production costs to one third of what they were, but we must cut them in half again," he says. That way the company could turn a profit in two to three years, he believes.
Doing more good with prize money
Some 500 companies competed for the prizes this year. Five years ago, when the awards first took place, only 50 were in contention. "It's great that more and more people are joining in," says Pinchas Goldschmidt, CER President and the Chief Rabbi of Moscow. "The prize often helps our winners achieve a breakthrough to do even more good," he says.
That's something the three prizewinners want to do immediately. CardioScale wants to use the money to finance rescuers in France and Israel while Munevo wants to use the funding to donate more than a dozen pairs of glasses to disabled children in Jerusalem's Alyn Hospital. For its part, Inergys wants to donate a green pack to a village in a developing country. The company is currently searching for an NGO that could help them do this.