The Trans-Adriatic-Pipeline (TAP) is to deliver natural gas from the Caspian Sea in Azerbaijan - via Georgia, Turkey, northern Greece and Albania - to southern Italy to feed into the European gas network.
The financing of the southern European gas pipeline seemed initially to be on shaky foundations, after the German energy giant E.ON and French firmTotal signaled their intention to withdraw from TAP in February - and then did so at the end of September. But now another investor has emerged - Enagás, one of Spain's biggest gas suppliers, will take over most of E.ON's shares. TAP's biggest shareholders remain the British energy giant BP, the Norwegian Statoil, and the Azerbaijan's state-owned energy company, Socar, who each own a 20-percent stake.
"Of course we regret that E.ON and Total have pulled out, but every company has to decide whether this investment fits into its portfolio," TAP's commercial director Lutz Landwehr told DW. But Enagás is a strong alternative that brings real experience to the project, he argued, and the TAP project will emerge stronger from the substitution.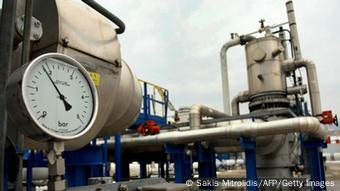 The TAP project is particularly vital for Greece
Preparatory investments, for things like access roads, are due in 2015, Landwehr told the "Balkans and the Adriatic Oil and Gas Summit" in Athens on October 1. But the first gas deliveries - from the Azerbaijani Shah Deniz gas field, said to contain a billion cubic meters of gas - are not expected until the beginning of 2020. TAP is supposed to supply up to 20 percent of Europe's demand.
A key role for Greece
Of the planned pipeline's 880 kilometers (547 milies) in Europe, some 540 km will go through Greece, giving the country a key role in the implementation of the project. In February 2013, Greece, Albania, and Italy signed an agreement in Athens for the construction of TAP, which was simultaneously a clear signal for the political support for the billion-euro project.
But there have still been delays. The pipeline's exact route through northern Greece has not yet been decided, since several cities, communities, and local initiatives have demanded alterations to the current construction plans. According to the Athens newspaper TA NEA, there are more than 140 such requests pending. The TAP consortium has promised to assess each of these carefully and to implement a "social investment program" together with local communities, in an attempt to win more support for the infrastructure project.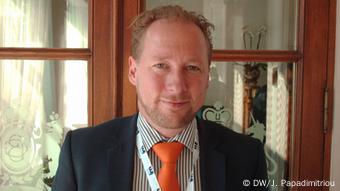 Landwehr is confident the project will pay dividends
But the process hasn't always run smoothly. Checking the official environmental standards, for instance, is taking some time. But the wait has finally ended, says Greek Energy Minister Jannis Maniatis. "It is my pleasure to announce to you today that about 20 days ago I approved the environmental regulations of the TAP project," he told DW. "From my point of view we're now well on schedule."
The announcement recently caused some irritation for Greece's left-wing opposition party Syriza, which has vowed to renegotiate the TAP deal if they win the next election. Maniatis has already engaged in arguments with leftist representatives in parliament, and shows little sympathy for the opposition criticism. He said it was unthinkable for a project with Europe-wide importance to be renegotiated. In any case, he said, since all the relevant competition and transparency standards have been respected, so there was little grounds for any renegotiations.
Access to European energy networks
TAP is not only attractive because it offers cost-efficient access to gas reserves in the Caspian region. The participating nations are also hoping to re-position the European energy market. Albania, for instance, has barely had an opportunity to tap into the European energy grids. This will now change, said Albania's deputy Energy and Industry Minister Dorian Ducka. "The TAP project ... makes Albania part of the southern gas corridor," he told DW. "It makes Albania part of the networks of energy, especially in the gas sector."
TAP also makes sound business sense, he claimed, because Albania can expect direct foreign investment of up a billion euros ($1.25 billion), as well as jobs and higher tax revenue.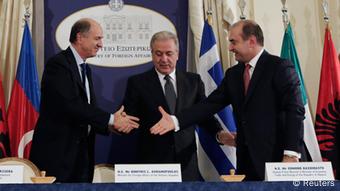 Greece, Albania, and Italy struck the construction deal in February
More important still - Tirana's long-term plan is for TAP to connect with the Ionian-Adriatic-Pipeline (IAP). "Albania will be the connection place for the transit of gas in the western Balkans towards Montenegro, Bosnia and Croatia," said Ducka. "And in doing so, it gives Albania the role of being not only a transit route, but also a hub." Similar deliberations are being made in northern Greece from where a 180-kilometer Greek-Bulgarian pipeline will bring gas from Azerbaijan to Bulgaria, Romania, and Hungary.
Unwelcome competition for Russia?
It remains to be seen whether Russia sees TAP as competition for the South-Stream-Pipeline, intended to bring Russian gas around Ukraine through the Black Sea to Bulgaria and western Europe from 2018. Almost all the participants at the Balkans and the Adriatic Oil & Gas Summit denied this. Maniatis said the question is irrelevant, since Europe is expected to need an additional 100 billion cubic meters of gas in the next few years, and so will be grateful for any new supply it can get.
Thedoros Tsakiris, assistant professor for geo-politics at the University of Nicosia in Cyprus, agrees. "South Stream will not increase Europe's dependence on Russian gas imports, and will not conquer any new share of the market, it offers only an alternative route for already agreed gas deals. TAP is not serious competition for that - not least because of its smaller capacity. While South Stream will deliver up to 150 billion cubic meters per year, TAP will provide 20 billion in 2025, at most."