A two-room flat, a black leather sofa in the living room, off-white wall cupboards in the kitchen, Hello Kitty sheets in the bedroom - judging from the furniture, you wouldn't necessarily guess that six people from Syria are living in this 60-square-meter (645-square-foot) flat in the small town of Sinzig in Germany's central Rhine region. And yet, it does make up the new home for two families from the Syrian metropolis of Aleppo.
Dalal Abdulkader, who is 33, fled Syria together with her two daughters one year ago. Two months ago, her sister-in-law Gulistan Ayo, along with her two sons, also made it to Germany.
Today, they are receiving visitors: Dalal's mother, her sister and uncle. There's an abundance of food and drinks: Arabic coffee in small cups, followed by sweet black tea, rice pudding with cinnamon and walnuts, and then a late lunch of pasta and tomato sauce. "German food is OK," said Dalal's 11-year-old daughter Lidia, adding that she does love pasta and French fries.
Fleeing the homeland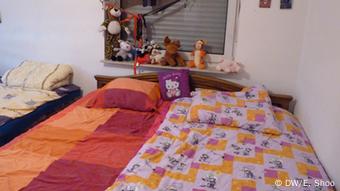 The two families share the house's only bedroom
In contrast to the 5,000 Syrian refugees who are being flown to Germany from refugee camps in Lebanon - the first 100-some of which have already arrived - Gulistan and Dalal embarked on the journey to Germany on their own, hoping to be reunited with relatives who have already been living in Germany for years.
Dalal is a modern Arab woman. She wears tight jeans and boots, has her hair down and has on pink lipstick. She will never forget how they finally arrived in Germany - the mother of two had nearly given up hope. On the way from Turkey to Greece, she and her children wandered about aimlessly in a forest with virtually nothing to eat or drink for four consecutive days.
"I had my camera in my pocket and made short videos," she said. "I wanted to leave a trail so that our relatives would know that I had been in that forest."
When they finally arrived in Greece, she bought a fake passport, and later took the train from Rome to Munich. One of her cousins and her uncle were waiting for them at the train station - as were the police. Dalal and her daughters spent 12 hours in a police cell. She remembered how one policeman refused to let her daughter use the toilet. "I told him that he reminded me of the secret service in Syria," Dalal said.
Arrest, then refugee camp
Dalal and her daughters were sent to the refugee camp in the German town of Trier. The first reception facility for asylum seekers has room for up to 700 refugees, who are allowed to stay for a maximum of three months. After that, they're sent to various communities across Germany, based on a national allotment system.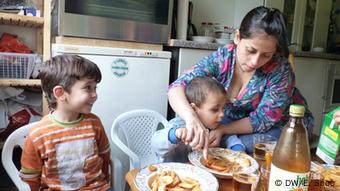 Gulistan is glad that she and her children are safe at last
Officials in the communities decide where and how the refugees will be accommodated. After a few weeks in Trier, Dalal received permission to join her sister Fatima Stöhr in the town of Ahrweiler. Fatima has been in Germany for about 20 years, and has a job at a bakery in Bonn.
Dalal and Fatima's sister-in-law Gulistan has only been in Germany since July this year. She and her sons also spent their first days in Trier. "I was glad to be in the camp, and to be safe," the 26-year-old said.
"But I had problems with my pregnancy," Gulistan said. "I asked them to give me a room on the ground floor instead of the third floor so I didn't have to climb the stairs up and down all the time. But they didn't respect my wish."
Dalal and Gulistan say they feel grateful to be in Germany. But they added that they would like to have more freedom. "In our home country we could work freely," said Dalal. She is allowed to travel across Germany, yet only has permission to work in the German state of Rhineland-Palatinate.
That's a big difference to her life in Syria - and it's a challenge. Back in Syria, she owned a large beauty salon. She says she would like to work in Bonn or Cologne, which are both not far from Sinzig. But there is a problem: those two cities are situated in the state of North Rhine-Westphalia.
Dalal's sister-in-law Gulistan, who is pregnant, isn't even allowed to leave Rhineland-Palatinate. She has filed an asylum application, and is waiting for her hearing.
New beginning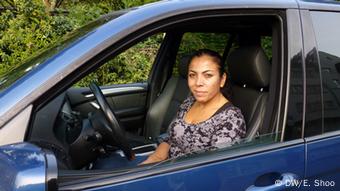 Fatima drives her relatives wherever they need to go
Relatives who already live in Germany are a great help for people who have had to flee Syria. The veteran immigrants can accompany new arrivals to the municipal immigration offices or to the doctor's office, where it's vital to have a trusted translator.
Fatima Stöhr, for her part, said she enjoys supporting her relatives. She drives her siblings to the train station on days they have to attend an integration course; she helps with all the necessary phone calls, and accompanies in their search for a flat.
Stöhr is currently looking for a flat for her sister Dalal, but the hunt has been difficult. Fatima has already been turned down several times because landlords don't want to rent to refugees. Now, Stöhr keeps some of the truth to herself when she calls: "I just say that Dalal is a beautician by trade and that she's currently enrolled in a re-training program."
Dalal's daughters don't want to move out of their small flat. "I like this house," said 11-year-old Lidia. "I cried," she said, when she found out about plans to move. "Because we have friends here," added her elder sister Sidera. "Our friends also cried because we're leaving. They want us to stay."