Emotions ranged from disappointment to disgust from the international community in response to Russia and China's decision to veto a resolution on Syria at the United Nations Security Council.
For weeks a resolution drawn up by European and Arab nations has been debated in the Security Council that would call on Syrian President Bashar al-Assad to step down in the midst of a violent crackdown on his own people.
Following the veto, reactions from other nations on the Security Council were swift and to the point.
"For months this council has been held hostage by a couple of members," said US Ambassador Susan Rice, referring to the fact that Russia and China had vetoed a previous resolution in October. "These members stand behind empty arguments and individual interests while delaying and seeking to strip bare any text that would pressure Assad to change his actions."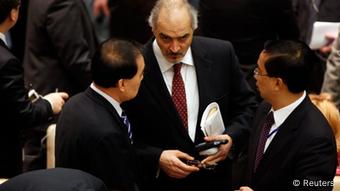 Syria found allies in China and Russia
Rice said the US was "disgusted" by the vetoes by Russia and China and that "any further bloodshed that flows will be on their hands."
"Today the Security Council has failed to live up to its responsibility," said Germany's Ambassador Peter Wittig. "The people in Syria have been let down again."
'Friends of the Syrian People'
UN Secretary General Ban Ki-Moon expressed "deep regret" over the council's inability to reach a consensus and said it was "a great disappointment to the people of Syria and the Middle East, and to all supporters of democracy and human rights."
French Ambassador Gerard Araud struck a similar tone, saying "it is a sad say fort his council, a sad day for Syrians, and a sad day for all friends of democracy."
France's president, Nicolas Sarkozy, said he was joining with other European and Arab partners to create a "Friends of the Syrian People Group" which would attempt to drum up international support for an Arab League plan that would have Assad relinquish power.
German Foreign Minister Guido Westerwelle echoed this sentiment, saying "it is very important now that the international community doesn't give up."
Russia defends its actions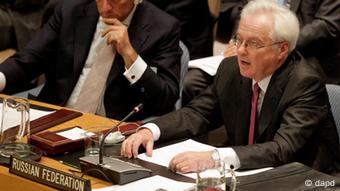 Churkin did not make many friends on Saturday
Russia's UN Ambassador Vitaly Churkin said after the vote that the proposed resolution "sent an unbalanced signal to the Syrian parties," and "did not adequately reflect the real state of affairs in Syria." Russia had sought alterations to the resolution that would have also laid some blame for the conflict with anti-government activists. Some concessions and amendments were made to the draft, but the Kremlin said these did not go far enough.
China's official Xinhua news agency, meanwhile, quoted Beijing's representative at the UN, Li Baodong, as saying: "To push through a vote when parties are still seriously divided over the issue will not help maintain the unity and authority of the Security Council, or help resolve the issue."
Russia and China both maintain healthy trade ties with Syria.
Had Russia and China chosen to abstain from the vote, as they did with 2011's controversial Security Council resolution on the conflict in Libya, the motion would have passed.
mz/msh/ai (dpa, Reuters, AFP, AP)